Moshi Audio Dulcia headphones hands-on
8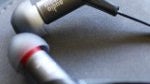 Although it's still regarded as a secondary staple amongst smartphones, we're increasingly seeing a bigger focus when it comes to the
audio experience
. As we all know way too well, things like Beat Audio has popularized the audio experience with our smartphones, but then again, that's only half the equation, as the kind of headphones you use can either make or break the entire experience.
If pure audio vocals are more your kind of thing, as opposed to heavy bass tones pumping in and out constantly, then the
Moshi Audio Dulcia headphones
just might suit your needs perfectly. Whereas as some focus solely on deep tones, the Dulcia headphones aims to be an all-around contender with its premium construction, tangle-resistant properties, and superb mid-range tones.
Conveniently priced at
$60
, it's not as bank busting compared to some of the other offerings out there on the market, but it's still considerably better in quality versus the super-cheap stuff floating around. Therefore, if you prefer a
balanced performance
out of your in-ear headphones, you should take Moshi Audio's Dulcia headphones into consideration.