Microsoft Lumia 950 and 950 XL: all you need to know about the Windows 10 flagships
16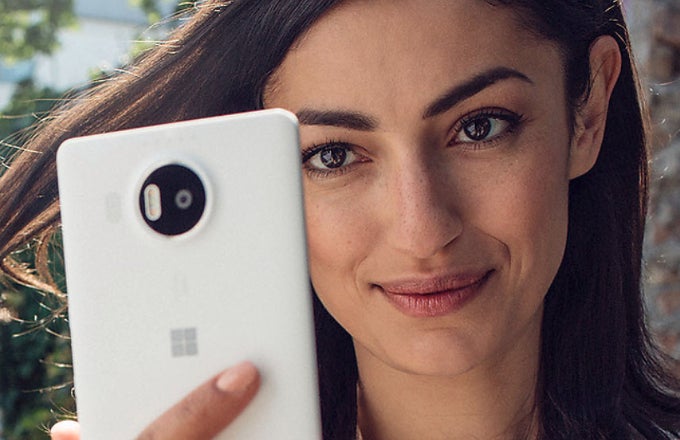 Microsoft has been pretty much absent from the mobile scene for the last year or so, but today, it has returned! With a bang! It has unveiled two new high-end smartphones (along with an entry-level one) – the Lumia 950 and Lumia 950 XL (aaaand the Lumia 550, which is yawn). And while the new Windows 10 flagships are very well spec'd, it's actually the software features that come with them that get us excited.
Lumia 950 & Lumia 950 XL specs, features, price and release date

First off, we have the Lumia 950, which your regularly-sized smartphone with 5.2" QHD display and Snapdragon 808 SoC. Meanwhile, the Lumia 950 XL is an offering for phablet lovers that comes with a 5.7" QHD screen and the beefier Snapdragon 810 chipset. The cameras on these handsets are also quite promising: 20 MP sensors with triple-LED RGB flashes, 4K video recording and optical image stabilization. That's what we call a good package!
All of these specs, however... we've already seen in other high-level smartphones. What gets us excited here is the Windows 10 software (app gap aside), and more specifically, its Continuum feature, which is basically going to allow the user to get a true desktop experience out of their phone. How is this magic going to happen? Well, through the use of a small dock, to which you connect all of your peripherals like a monitor, keyboard and mouse, that's how. The rest is just a matter of connecting your Lumia phone to the dock, and voila – you have a desktop-grade interface complete with a task bar, Start menu, and more importantly – desktop programs for Office, Outlook mail, and pretty much anything else that has been designed to be a universal program.
So, have we gotten you convinced that the future is promising for Microsoft and its Windows 10 mobile device line-up? Wait until you here this: the MS Lumia 950 will start at $550, while the MS Lumia 950 XL will start at $650. Not that bad of a deal, eh? But since both handsets are scheduled to arrive in November, it means there will be a bit of waiting involved. So here's a perfect opportunity for you to go through all of the materials we've listed below – go ahead, gobble up as much info as you can, and let us know if you're as excited as we are for the new Windows phones!
Lumia 950 & Lumia 950 XL against the world
Recommended Stories