Microsoft Lumia 950 uncovered: the new top-tier Windows phone, comes with Continuum
28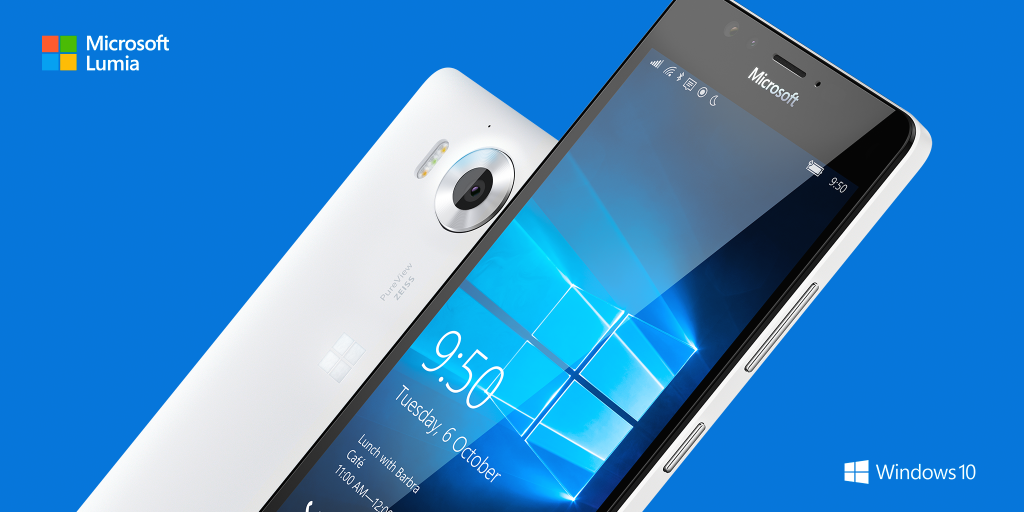 The Lumia 950 is a premium phone made by Microsoft and running on Windows 10. It features a 5.2-inch display with a Quad HD resolution and is powered by the Snapdragon 808 system chip. On the back, it sports a powerful, 20 MP camera with a ZEISS lens and triple LED flash, while up front it has a 5-megapixel selfie cam. It's also got USB Type C with support for rapid charging and wireless charging.
The two most imporant features of the Lumia 950 are the infra-red sensor that supports Windows Hello beta for securely unlocking the phone, and you can also use the phone to power up a monitor and run full blown Windows with Continuum and a separate docking station.
First, here is a quick list at the specs:
Dimensions:
82.1 x 145 x 73.2 mm
Screen:
5.2-inch AMOLED screen with a resolution of 1440 x 2560 pixels (564ppi)
SoC:
Qualcomm Snapdragon 808 @ 1.8GHz, liquid cooling
Internal Storage:
32GB, with microSD card slot
Main camera:
20 MP with triple LED flash and 4K video with 5th gen OIS
Front cam:
5MP selfie cam
Connectivity:
4G LTE, dual-band antenna, and USB Type C connector
Battery:
3000mAh, supports rapid charging and wireless charging
All in all, the Lumia 950 checks all the boxes with no immediate weaknesses in terms of pure specs: the battery is larger than average for its class, the storage starts at the rather plentiful 32GB, there is support for expandable storage, and you even get optical stabilization for the camera. The only thing obviously missing is a fingerprint scanner, but Microsoft has come up with a secure alternative with Hello.
There are quite a few nice touches as well: a dedicated camera shutter key that you can use to capture an image or a video without having to first go through the hassle of unlocking the phone.
Not all about the specs: Continuum and Hello make a difference
Microsoft is the first phone maker that equips its phones with liquid cooling tech. You can joke all you want about Snapdragon processors overheating, but the likely reason for this is more likely to lie in the extremely taxing and extremely useful Continuum.




Speaking of it, it's not all about the specs this time around as Microsoft has a couple of aces up its sleeve.
Continuum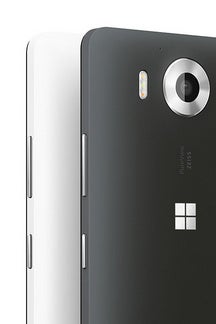 Continuum is a hugely appealing new feature that comes with Windows 10. With it you can connect your phone to a monitor and have it work as a desktop computer, running desktop apps (likely, with some limitations, but we're yet to hear about them).
It all happens simply via a dedicated dock that you plug your phone into. While it is powering the monitor with a desktop Windows experience, you can still use your phone independently and fully: get phone calls, or just play around with it.
Windows Hello beta
Both new Lumia phones and the 950 in particular unlocks with an infra-red scanner located on the front. It allows you to use Windows Hello, a new and totally secure method for unlocking your phone.
Neatly, the infra-red part means that the front facing infra-red camera tech will work even in low light, so you can unlock the phone in a variety of lighting conditions.
Price and release date
The Lumia 950 price is set at $550 and that's the full retail price. It's a sweet price point that's $100 below the cost of the top-tier smartphones from others like the Apple iPhone 6.
For those who are already sold on the idea, Microsoft said that the new Lumia 950 release date is pinned for November, so you'd need to wait at least a month until you're able to buy the handset.
This story is being developed as the news unfolds...