Microsoft Lumia 950 vs Apple iPhone 6 vs Samsung Galaxy S6: specs comparison
11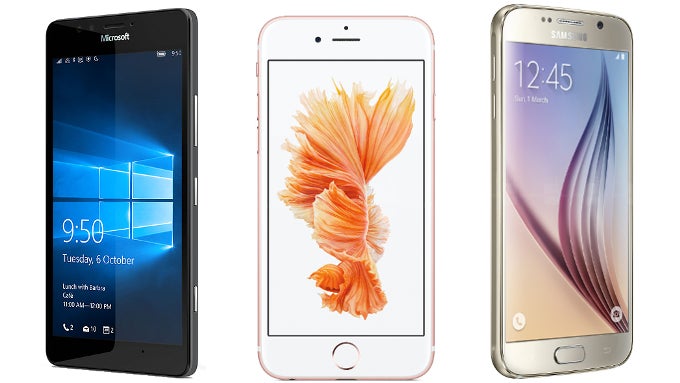 Microsoft has finally announced a new flagship — well, two flagships — after a long, long absence from the top-class smartphone market. And, let's be fair, the Windows platform may not be as popular as Microsoft would want it to be, but if you're going to put out a high-rank device, it had better be up to par. Thus far this year, we've seen some hard-hitters, in the face of Samsung's Galaxy S6 series, the new Xperia Z5 devices, and Google's Nexuses, not to mention the update of Apple's
iPhone 6
– the
iPhone 6s
.
So, with that being said, let's check out how the
Microsoft Lumia 950
stacks up against two of the market leaders – the Apple iPhone 6s and Samsung
Galaxy S6
. Of course, that's just a preliminery look – we can't wait to get some in-depth time with the new devices!
Super AMOLED
IPS LCD
AMOLED
Scratch-resistant glass, Ambient light sensor, Proximity sensor
Pressure-sensitive, Oleophobic coating, Scratch-resistant glass, Ambient light sensor, Proximity sensor
Scratch-resistant glass, Ambient light sensor, Proximity sensor
Samsung Exynos 7 Octa 7420 (14 nm)
Apple A9 APL0898
Qualcomm Snapdragon 808 MSM8992
Octa-core, 2100 MHz, ARM Cortex-A57 and ARM Cortex-A53, 64-bit
Dual-core, 1840 MHz, Twister, 64-bit
Hexa-core, 1800 MHz, ARM Cortex-A57 and ARM Cortex-A53, 64-bit
Mali-T760 MP8
PowerVR GT7600
Adreno 418
128GB, not expandable
128GB, not expandable
32GB
Android (7.0 Nougat, 6.0 Marshmallow, 5.1 Lollipop, 5.0 Lollipop), Samsung TouchWiz UI
iOS (15.x, 14.x, 13.x, 12.x, 11.x, 10.x, 9.x)
Windows (10 Mobile)
Fast charging
Fast charging
23.00 hours
the

average

is 11 h (660 min)
10.0 days (240 hours)
the

average

is 29 days (688 h)
12.0 days (288 hours)
the

average

is 29 days (688 h)
23.00 hours
the

average

is 0 h (0 min)
14.00 hours
the

average

is 0 h (0 min)
18.00 hours
the

average

is 0 h (0 min)
3G: 10 hours; LTE: 12 hours; Wi-Fi: 12 hours
3G: 10 hours; LTE: 10 hours; Wi-Fi: 11 hours
57.00 hours
50.00 hours
67.00 hours
13.00 hours
11.00 hours
10.00 hours
Single camera
Single camera
Single camera
16 MP (OIS, Autofocus, BSI sensor)
12 MP (Sapphire crystal lens cover, PDAF, BSI sensor)
20 MP (OIS, Autofocus, BSI sensor)
Aperture size: F1.9; Focal length: 28 mm; Sensor size: 1/2.6"; Pixel size: 1.12 μm
Aperture size: F2.2; Focal length: 29 mm; Sensor size: 1/3"; Pixel size: 1.22 μm
Aperture size: F1.9; Focal length: 26 mm; Sensor size: 1/2.4"; Pixel size: 1.12 μm
3840x2160 (4K UHD) (30 fps), 1920x1080 (Full HD) (60 fps), 1280x720 (HD) (120 fps)
3840x2160 (4K UHD) (30 fps), 1920x1080 (Full HD) (120 fps), 1280x720 (HD) (240 fps)
3840x2160 (4K UHD) (30 fps), 1920x1080 (Full HD) (60 fps)
OIS, HDR, Continuous autofocus, Picture-taking during video recording, Video light, Video calling
Time-lapse video, Continuous autofocus, EIS, Video calling, Video sharing
OIS, Continuous autofocus, Video light, Video calling, Video sharing
5 MP
5 MP
5 MP
2560x1440 (QHD) (30 fps)
1920x1080 (Full HD)
5.65 x 2.78 x 0.27 inches (143.4 x 70.5 x 6.8 mm)
5.44 x 2.64 x 0.28 inches (138.3 x 67.1 x 7.1 mm)
5.71 x 2.88 x 0.32 inches (145 x 73.2 x 8.2 mm)
4.87 oz (138.0 g)
the

average

is 6.2 oz (178 g)
5.04 oz (143.0 g)
the

average

is 6.2 oz (178 g)
5.29 oz (150.0 g)
the

average

is 6.2 oz (178 g)
Back: Glass; Frame: Aluminum
Back: Aluminum
Back: Plastic
Fingerprint (touch)
Fingerprint (touch)
Iris scanner
Notification light, Touch sensitive control keys
Touch sensitive control keys