Microsoft Lumia 950 & 950XL: All the new features
25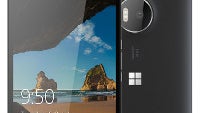 Announced mere hours ago, the Lumia 950 and Lumia 950XL commemorate Microsoft's return to the high-end market with home-cooked devices after over a year-long hiatus. And boy, was the wait worth it!
To start off, these will be the reference Windows 10 for Mobile devices to call on for some time going forward, and they're packed to the brim with hardware that excites. Starting with large, super-detailed OLED displays, through hexa- and octa-core processors, impressive-sounding cameras with OIS and
triple
LED flashes on board, USB Type-C connectors, quick charging — all the stops.
As can be expected, these won't come cheap once they're ready for game time in November. The Microsoft Lumia 950 will cost $549 outright, while the Lumia 950XL will fetch $649 off-contract. Not the most affordable pair, sure, but quite frankly, the feature set is impressive enough to warrant the price.
Here's what you can expect: