Microsoft Lumia 950 XL hands-on
39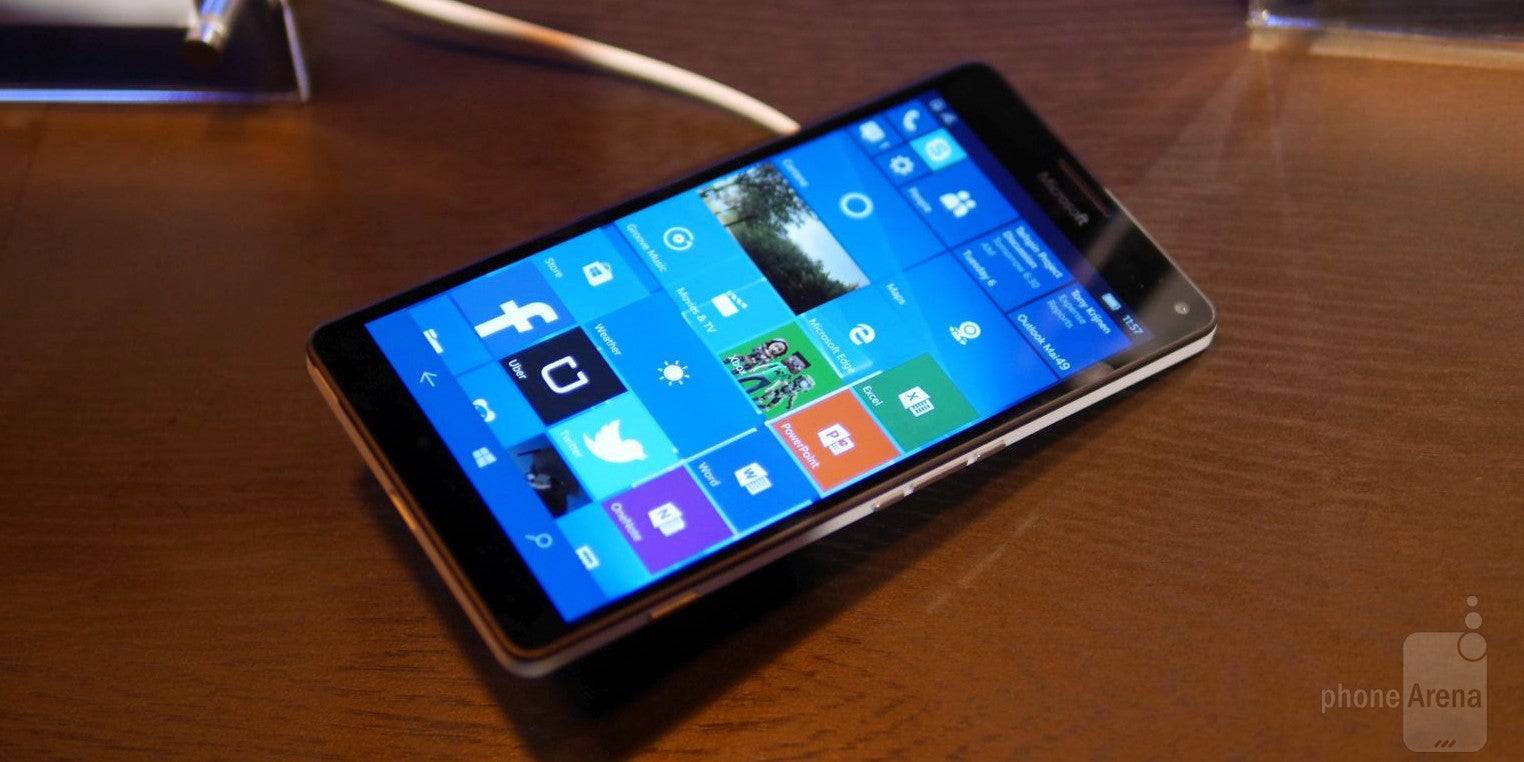 Rather than announcing just one single smartphone for the upcoming holiday season, Microsoft announced two today at its giant unveiling in New York City. The trends have shown that big phones are big business, so that's arguably why we have the Microsoft Lumia 950 XL to supplement its smaller sibling in the standard Lumia 950. This kind of thinking isn't new, as many companies reserve the fall holiday season to announce their phablet-esque offerings – just like what we've been exposed to of late with devices like the Galaxy Note5 and LG V10. Now, it's most notable for the fact that it's one of the first to be running Windows 10, while also being accompanied with a specs sheet to die for.
Design
What's there more to say than it being simply an over-sized, larger version of the Lumia 950? That's just the undeniable reality, as the Lumia 950 XL sports the same design language of its smaller sized sibling, but on a larger scale. So yeah, in terms of holding it, we're required to have a wider grasp in order for us to hold it properly. Even with its girth and all, its plastic construction makes it pretty lightweight for something of its size – though, it lacks that premium feel to really elevate its design to the same level as Microsoft's Surface line.
And that's something that sticks out like a sore thumb, just because the subdued design does little to garner attention over the other, meticulously crafted smartphones in the space. The design, in fact, reminds us of a slight alteration of the Lumia 640 XL, which as we know, is a super budget Windows Phone – so the dull design isn't shocking. Considering the kind of price point attached to the Lumia 950 XL, we were hoping to see something a bit more daring and aggressive. Maybe along the lines of the Lumia 1520 and 930 before it?
Display
The beefy size of the handset is attributed to the 5.7-inch 1440 x 2560 OLED display, which just like its sibling, ushers Microsoft's mobile platform into the Quad-HD world. Not surprisingly, the screen is super sharp and highly detailed – allowing for more live tiles to be packed into the screen. Going with OLED isn't new, mainly because it helps to minimize battery loss with its Glance feature. This reduces the need to press the power button to turn on the display, ensuring that power is preserved in the process. OLED screens tend to do fare better than LCD for this purpose, seeing that the screen doesn't look like it's actually on whenever the color black is displayed.
From our cursory look with the handset, the OLED screen seems to embody all of the qualities of the technology – like its crisp and wide viewing angles, iridescence, and punchy looking colors. In the dimly lit condition of the showroom floor, its brightness output appears potent enough to make the screen visible to our eyes, but it'll be interesting to see how it handles outdoors with the sun present.
Interface
Beyond the high-end specs in tow with the Lumia 950 XL, what's most notable about the phone is that it's one of the first to be running Windows 10 – and boy are we excited for it! Spending just a short time playing with the phone, we're quite familiar with its layout and operation. In fact, users currently using a Windows Phone 8.1 device will transition easily to the new platform. We can see, however, that it shares many of the cues we already see in Windows 10 running on a PC.
What we're really astounded about, though, is the new Continuum feature that's baked into the experience. Essentially, it turns the smartphone to a fully function computer with the aid of this optional accessory dock – one that packs USB and a couple of display ports, to allow us to connect an assortment of devices and peripherals to it. Needless to say, this is pretty big news because we're given a relatively faithful desktop experience with Continuum. Therefore, mobile apps like the Microsoft Office suite run identically to what we get with the desktop experience. It's kind of a big thing, because we have the power of a PC in the palm of our hands.
Processor and Memory
Another main differentiator between this and the Lumia 950, is that it's powered by an octa-core Qualcomm Snapdragon 810 chipset – whereas the Lumia 950 sides with the hexa-core Snapdragon 808 SoC. This should prove to be enlightening for prospective owners, considering that it's the best of the best from Qualcomm's camp. Superficially, it handles all the fluffy and easy stuff, but we're confident that it's going to be a great performer as well in the graphics processing front.
Not only does Microsoft offer a generous 32GB of internal storage with the phone, but that tally can be supplemented by throwing in a card into its microSD slot. You'll have to remove the rear casing in order to access it, but it's nonetheless something we don't mind doing.
Camera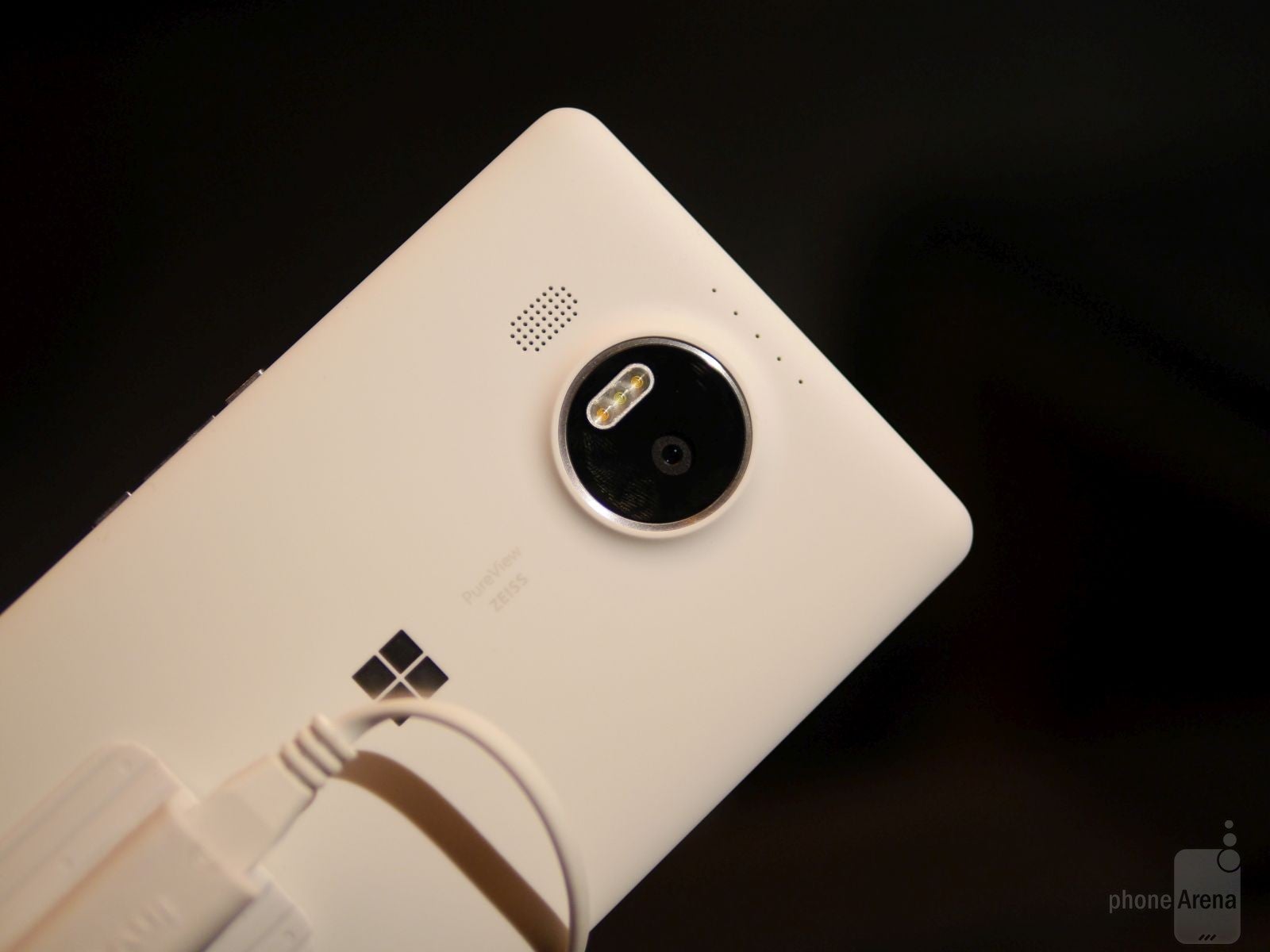 High-end Lumia smartphones have this reputation of being outfitted with some fantastic camera gear – this one is no exception either! In the rear, they've slapped on a 20-megapixel 1/2.4" camera sensor, which features an f/1.9 aperture lens. Even more surprising, they managed to accompany it with not just one, two, but three LED flashes to better illuminate the scenery, while also eliminating red eye.
Now, as much as the gear sounds delicious, we'll save our judgment until we see actual samples from a final retail unit. Even now, however, we're inclined to believe that it should be able to tangle with the greats. What's great as well, we're given the same lovable camera interface – one that mimics the styling and offering of a traditional camera. So, with that, it means that manual controls are on board with this one, including with video recording. Interestingly, we notice that we're able to adjust parameters such as the focus and exposure adjustment on the fly; while shooting video.
Expectations
Although it's similarly spec'd to the Lumia 950, the 950 XL does offer some notable changes in the form of its better Snapdragon 810 SoC, larger sized OLED screen, and higher 3340 mAh battery capacity. All of this, combined with the rest of its heavy handed specs sheet, incurs a cost of $649 when it's released sometime in November. We're told that so far it's going to be AT&T who will be selling the handset, but we're crossing our fingers that other carriers will also get their hands on this prized Windows 10 smartphone.
Its price point, naturally, undercuts some of the other prized phablets in the space, such as the Note5 and iPhone 6s Plus. While its specs sheet helps to keep it as a relevant player, it's Windows 10 that might truly help this handset reach higher acclaim due to some of its unique features – namely Continuum, in how it packs the power of a PC in the size of a smartphone.