Microsoft Lumia 950 and 950 XL price and release date (updated)
39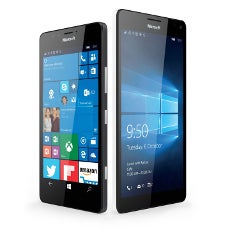 Microsoft just showcased its first Windows 10 Mobile handsets - the
Lumia 950
and its
XL
sidekick - along with the newest Surface convertible. The phones will be the poster kids for Microsoft's brand new push in mobile hardware, after it introduced the screen size-agnostic Win 10, and wrote off the Nokia merger, starting with a completely clean slate.
The 950 and 950 XL are every bit as cool as the rumors indicated, with high-res 5.2" and 5.7" displays, Snapdragon chipsets, 20 MP PureView cameras with ZEISS optics, the works.
How much for these beauties? Well, $549 for the Lumia 950, and $649 for the Lumia 950 XL. AT&T announced it will carry the Microsoft Lumia 950 in its retail stores and online, but pricing, availability and further details will be announced at a later date. In the UK, the Lumia 950 XL will be£549.99 (SIM-free), while the Lumia 950 will be available for £499.99.
That's in line with other flagship and midrange handsets in the Android-iOS duopoly land, so we'll see how the new Windows 10 Mobile gear fares in the market once it hits the shelves next month.