Massive leak reveals the iPhone 6's probable size, dimensions, and protruding rear camera
44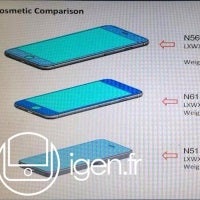 It's not everyday we get leaks like this one, folks. A daring leak artist infiltrated a Foxconn facility and walked out with photos of computer displays showing elaborate, authentic data sheets (Foxconn logo and all) detailing Apple's upcoming 4.7-inch and 5.5-inch iPhones' designs and dimensions. And from the looks of it, Apple will be rolling out its thinnest iPhones ever! Mind you, it is said that these sheets depict prototypes. But let's face it - the new iPhone is coming September 9, and there's absolutely no time to make any substantial changes to it.
With that out of the way, let's bite into the leaked images.
The first photograph shows
the N51
, which is the good old
iPhone 5s
sized 4.87 x 2.31 x 0.3 inches (123.8 x 58.6 x 7.6 mm) at a weight of 3.95oz (112 grams).
The N51 is followed by the
N61
, which has to be the
4.7-inch iPhone 6
, measuring 5.44 x 2.64 x 0.27 inches (138.14 x 66.97 x 6.9 mm). The iPhone has grown substantially taller, a bit wider, and slightly thinner, but its weight is unknown.
Finally, the
N56
is the
iPhone 6 with 5.5-inch display
in the form of two prototypes. The
first prototype
measures 6.2 x 2.64 x 0.27 inches (158.0 x 77.12 x 7 mm) at a weight of 5.94 Oz (168.5 grams). The
second prototype
measures 6.22 x 3.06 x 0.27 inches (158.07 x 77.79 x 7.1 mm) at a weight of 6.5 Oz (184.6 grams).
This information goes in tune with previous rumors of the next iPhone being 0.27 inches (7mm) thin. While 7mm isn't
Gionee Elife
level of anorexic thinness, it's pretty reasonable overall.
The second and third photographs contain two interesting bits of information we weren't supposed to know before September. First, the 4.7-inch iPhone 6 (N56) is depicted with the same design we know from the various "dummy" models we've seen over the summer. The next iPhone's look is pretty much set in stone at this point, although we're still curious whether Apple will cover up those plastic bands somehow, or leave them naked.
The second bit is that the N56 is described as being 0.3 inches (7.67mm) thick with the camera on its back taken into account. Remember those rumors about the protruding camera lens? Well, for good or bad, it appears the iPhone 6's lens will indeed stick out, instead of laying flush like in the iPhone 5s. The camera will add 0.77mm to the dimensions of the N61 and the N56's first prototype, and 0.67mm to the N56's second prototype.
Owners shouldn't worry too much about the possibility of lens scratching, as it is made of sapphire glass. But it's interesting to know what led Apple to that decision. We're not too far from the iPhone 6's September 9 reveal, so we'll learn soon enough.