LG patented this smartphone design with a wrap-around screen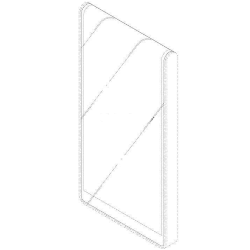 It's not a secret that LG is exploring the possibilities offered by curved OLED display behind closed doors. These patent drawings show LG working on an original design that sees the display wrap around the smartphone's upper body, resulting in a virtually two-screen device. The bottom part features a circular element that could be a camera lens, fingerprint sensor, or home button. The phone's sides have no buttons, such as power or volume.
The patent's existence doesn't prove that LG will ever release a smartphone like this, but it's refreshing to see the company conceptualizing new phones that use cutting-
edge
technology. We're pretty sure LG will find a way to surprise us when the time for such adventurous products is right. That won't be too far off in the future, considering flexible displays are ready for production.
ALSO READ