LG G6 prototype photos leak, show slim bezels and dual camera
44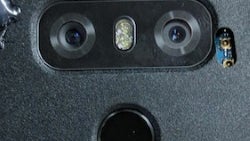 Photos of an LG G6 prototype showed up online, giving us another early peek at the smartphone after past week's renders. The photos are consistent with both leaked renders, although the prototype obviously doesn't portray the device in its finished state.
Up front, the smartphone boasts very slim screen bezels, although the display isn't curved. Rather than an "all-screen" design with curved edges or other bezel-destroying acrobatics, LG pursued an optimal screen-to-body ratio and went for an elegant design that looks understated and sturdy, rather than immediately striking.
The back has that prototype vibe going on with random cables sticking out, a mismatched hole, and what looks like a plastic panel instead of the metal that's expected in the final design. However, the dual camera, dual LED flash, and fingerprint scanner are clearly visible in an arrangement which resembles a surprised robot face.
The third photo shows the chamfered metal frame up close and personal. Cutouts for a mono speaker and an USB Type C port are found on the bottom side.
The LG G6 will be announced on February 26 at MWC 2017 in Barcelona. We'll probably see more of it in the weeks ahead, unless LG has shrouded the smartphone in an impenetrable veil of secrecy at this point.
ALSO READ