HD video recording & 5.1 surround sound expected to hit HTC phones in 2011?
This article contains unofficial information.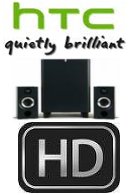 There is absolutely nothing inherently wrong with already thinking about the future despite getting past the hurdles of some of the goals needed to be accomplished right now. HTC is looking healthier with each device they seemingly release into the market – and there's no slowdown from the looks of it. As we are about to embark on yet another round of awe-inspiring handsets coming into fruition in the US, the Taiwan based manufacturer is thinking ahead on some new aspects about future devices. During an event held in South Africa to witness the launch of the HTC Desire, Legend, and Smart, an HTC official mentioned about having HD 1080p video recording and
5.1
surround sound in their future handsets. It's being speculated that HD recording could grace some HTC handset as early as Q2 2011 while 5.1 surround sound from Yamaha could make an appearance even earlier. It would've been hard to see these features make their way onto some of HTC's portfolio – especially when they continue to make leaps and bounds in the mobile space with their ingenious handsets. Nonetheless, they will surely be embraced by users as they complete the multimedia package.
via
Unwired View