First beta of Apple's iOS 4.2 released
1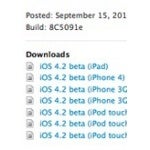 Apple just recently released the newest version of their mobile platform iOS 4.1, which is available on newer generations of the iPhone and iPod Touch. With their planned release of iOS version
4.2
sometime in November, the time is now for developers to get their hands on the first beta.
The latest version of iOS to make its way to developers is the one that is intended to unify all of the devices that run the mobile platform. This means that Apple's tablet the iPad will gain features found in its smaller brethren such as folders and multitasking.
This is good news for all of you patient iPad owners that have been awaiting a software update similar to that of the iPhone and iPod Touch. The ability to browse the web and listen to some music streaming over Pandora (or any other awesome internet radio app) is surely right around the corner.
Good news, right?
source:
MacRumors