Fat wallet - 10 swish wallet cases for the Apple iPhone 6
2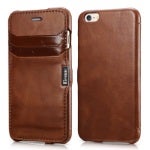 Wallet cases are creatures born out of simple convenience, along with the age-old craft of making stuff from genuine leather. Instead of carrying a wallet and a phone, you get to carry both at the same time. And instead of buying an expensive genuine leather wallet, you can buy an expensive genuine leather wallet that also carries your smartphone.
Mind you, we're only toying around with the word "expensive", as $30 can get you a solid, fine-looking product these days. In addition to keeping your phone, cards and cash in one place, wallet cases feel good and sometimes have built-in kickstands to let you comfortably watch stuff on your phone. If you fancy the idea and own an
iPhone 6
, look no further than this selection of affordable wallet cases. Clicking or tapping the blue text will lead you straight to the product's Amazon page, where you can learn more about it and place an order.