Dolce & Gabbana and Motorola's new V3i Gold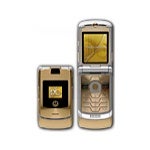 Last Christmas, Dolce & Gabbana, an Italian design firm launched limited edition of only 1223 units of the Motorola's V3i phone. The luxury edition was dressed in gold and had personalized background and screensaver with the DG logo in black, custom sound an power on and off and a special polyphonic ring tone. Today a new version in gold and silver is announced which comes with pendent featuring the gold DG initials. The new version adds more customized backgrounds, screensavers, MP3 ring tones and animations.



Exclusive accessories for the V3i Dolce & Gabbana were also unveilved and can be purchased separately. These include S200 gold headphones and matching compatible Bluetooth® enabled H700 headset and DG gold eel skin carry case.


Source: