Deal: get a 128GB Samsung Evo+ microSD card for just $37.79, 63% off the usual price
7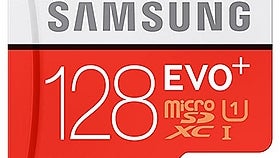 Amazon currently sells the 128GB Samsung Evo+ microSD card slot at just $37.79. The card is usually priced at $102.99, which brings the discount to a respectable 63%.
If you own a modern premium smartphone with 4K video recording, chances are that the internal storage on your device is far from enough to store all of your high-definition video footage.
If your handset rocks a microSD card slot, the easiest way to make sure that you always have space for your next footage is to install a high capacity microSD card. In this context, this Amazon deal for the 128GB Samsung Evo+ microSD might be just what the doctor ordered.
Note that this card is a Class 10 microSD card, which means that it's certified to provide write speeds between 10 and 20MB per second.
Aside from guaranteeing some of the fastest write and read speeds, the 128GB Evo+ microSD card is also built to resist water, high temperatures, impact shock, and even X-Rays and magnetic fields. Amazon Prime members from the United States get free shipping on the card, which only makes this deal even sweeter.
What do you guys think of this deal? Isn't Samsung's 128GB Evo+ microSD card worth $37.79?