BlackBerry owners can now send money with Mastercard's MoneySend app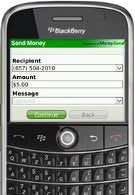 Apple iPhone owners have been able to experience all of the neat wonders that MasterCard's MoneySend app is able to accomplish for some time, but it appears as though BlackBerry users will share the same experience. Owners of BlackBerry smartphones will now be able to download the MoneySend application which will enable them to send or request money from debit, credit, and prepaid MasterCards through their handset and with the aid of participating financial institutions and credit unions. Although it's finally here, there are some shortcoming with it such that it's only available in the US for right now and that your specific bank needs to be supported by it.
Some of the other features of SendMoney include accepting credit/debit card payments, sending money to family members, paying for informal goods & services, requesting money from people who owe money, simplified business or non-profit collection effort through the Request Funds feature, and manage MoneySend transaction history from a BlackBerry device. Needless to say that the mobile payments division is becoming a bit more competitive, so it's definitely nice to see this app branch out to other handsets.
via
SlashPhone