BlackBerry Q10 to officially launch on May 1st on Canadian carriers Rogers, Bell and TELUS
3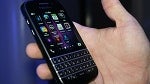 For those in BlackBerry's back yard that have been waiting (im)patiently for the BlackBerry 10 powered QWERTY successor to the Bold 9900-series, your wait is almost over.
Beginning May 1st, the
BlackBerry Q10
will be available on Rogers, TELUS, and Bell. The price with a three-year contract will be $199. The Q10 will also be available on Virgin Mobile Canada, Koodo, and Sasktel.
Retail partners are part of the rollout as well, with Best Buy, Future Shop, TBooth, The Source, WIRELESSWAVE and Walmart Canada all in the queue to begin selling what many see as the make-or-break-device for BlackBerry. BlackBerry was the jewel of the smartphone realm not even five years ago.
Now, BlackBerry is on a task just to remain relevant in the global smartphone world. The Z10 has stirred a lot of interest, but many have felt that the heart of BlackBerry is its stellar physical keyboards. The Q10's keyboard is a little bigger than the Bold 9900's. We expect it will live up to establishing the standard for physical keyboards yet again.
Source: BlackBerry via
BGR
The New BlackBerry Q10 Smartphone available in Canada May 1

The new BlackBerry® Q10, the first BlackBerry® 10 smartphone to feature a classic BlackBerry® QWERTY Keyboard, will be available in Canada starting May 1 on Rogers Wireless, Bell Mobility and TELUS. The BlackBerry Q10 combines the power of the BlackBerry 10 platform with a large, re-engineered physical keyboard and stunning touchscreen display – the largest ever on a BlackBerry QWERTY smartphone.

"We're thrilled that the BlackBerry Q10 will soon be available to Canadians," said Andrew MacLeod, Managing Director for Canada. "The new BlackBerry Q10 combines the power of BlackBerry 10 with a classic BlackBerry keyboard to help people communicate and collaborate faster and more efficiently. We're seeing strong momentum behind BlackBerry 10 from carriers, customers and partners around the world. The BlackBerry Q10 will accelerate this trend."

Availability:

The BlackBerry Q10 smartphone will be available in Canada starting May 1 on Rogers Wireless, Bell Mobility and TELUS starting at $199 with a 3 year contract. It will also be available on Virgin Mobile Canada, Fido, Koodo Mobile, and Sasktel, and available in select retail locations, including Best Buy, Future Shop, TBooth Wireless, The Source, Walmart Canada and WIRELESSWAVE.

Highlights of the BlackBerry Q10:

Meticulous attention has been paid to every detail of the BlackBerry Q10 smartphone's design, from its beautiful and distinctive form to its elegant and ergonomic QWERTY keyboard, which features a wider layout and larger sculpted keys. With the BlackBerry Q10 smartphone's advanced hardware, communications and multimedia features, along with long battery life, you can confidently stay ahead and take action all day long.

The re-designed, re-engineered and re-invented BlackBerry 10 platform offers you a powerful and unique new mobile computing experience that continuously adapts to your needs. Every feature, every gesture, and every detail is designed to keep you moving forward towards your goal, and includes advancements such as:

• The ever present BlackBerry® Hub, which brings all your conversations together in one easy to manage place that you can access at any time from any app with a simple "peek", so you're always only one swipe away from what matters to you.

• BlackBerry® Balance™ technology, which elegantly separates and secures work applications and data from personal content, protecting what's important to you and the business you work for..

• BBM™ (BlackBerry® Messenger), which lets you share things with the people that matter to you in an instant. BBM in BlackBerry 10 includes voice calling and video chat, and lets you share your screen with another BlackBerry 10 contact.

• BlackBerry® Remember, which helps you tackle tasks quickly with a new way to collect, organize and action all the information sitting in different places across your smartphone.