The best iPhone to buy in 2023: our ultimate guide
We may earn a commission if you make a purchase from the links on this page.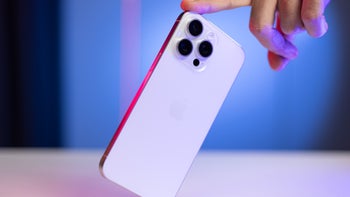 Now that the new
iPhone 15 series
is out, you maybe wondering — what's the
best iPhone
to spend money on? Not only do we have four new models added, older devices are still out there. Either sold and supported by Apple (in the case of old gen non-Pro models) or retailers clearing stock of the Pro devices that have been discontinued.
With
Black Friday
and
Cyber Monday
right around the corner, it's best to go into the iPhone deals armed with all the knowledge you can gather!
Here at PhoneArena, we have experience with iPhones since their appearance in 2007 and still hold on to all the latest models that currently run
iOS 17
right now. So, let us try and help you get a bargain; or the
best iPhone
money can buy.
It's always a personal choice, balancing budget against things like performance, camera, battery life, and overall usefulness. Some people may be ready to jump on the biggest and most expensive
iPhone 14 Pro Max
, but others may be just fine with a standard
iPhone 12
. Or, there are those that may prefer a small phone — that's where the SE and mini series come to play.
Below, you will find the iPhone models we believe are most worthy a purchase in the first half of 2023, with our reasoning behind those choices. Do be aware, the
iPhone 15
series will be coming in the latter half of the year, so the landscape may change a bit at that time.
Straight out of the gate, if you are out looking for the cheapest iPhone that can give you the best possible value — we've made a special article, where we hunt down offers on models that can still be found in new-old stock condition. Do have a look at the
Best cheap iPhone
article here.
The best iPhones in 2023, at a glance:
iPhone 15 Pro Max
Biggest iPhone, best camera, extra-long battery life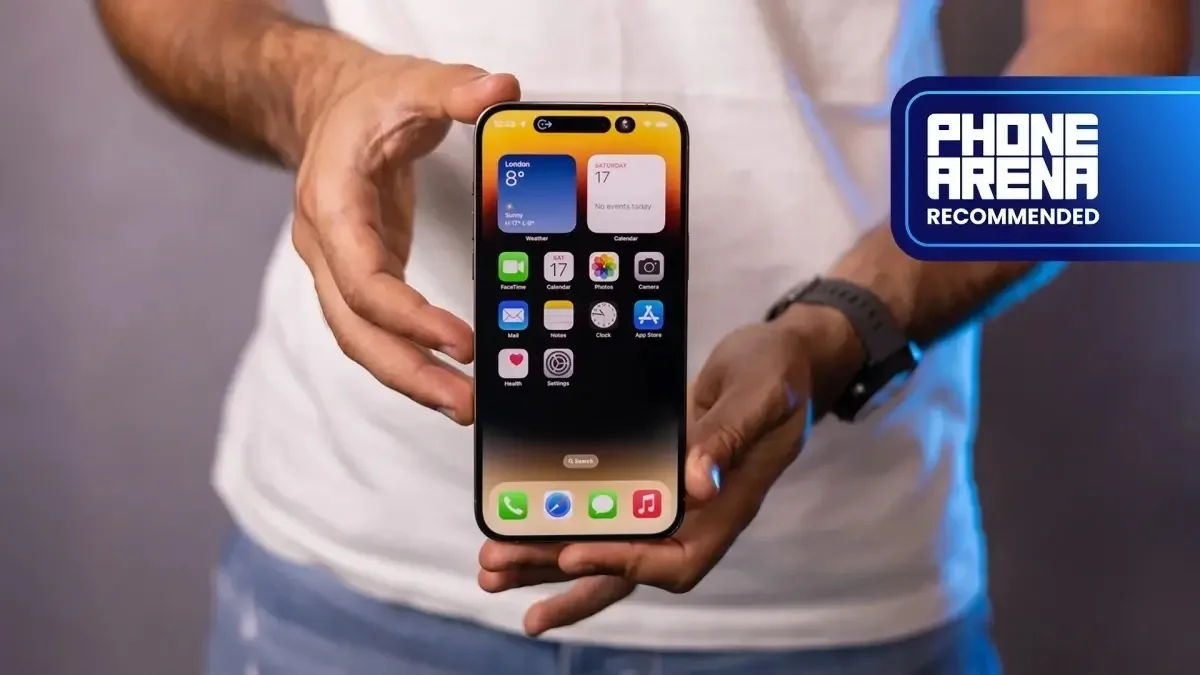 (Image Source - PhoneArena) The iPhone 14 Pro Max
Aside from being a large-screened iPhone for the phablet lovers out there, the new
iPhone 15 Pro Max
is the only one to come with the 5x (120 mm) zoom tetraprism lens.
For its main camera, it inherits the 48 MP main sensor from the
iPhone 14 Pro
line, but does more with it — with an upgraded image pipeline in the new
Apple A17
Pro SoC, we can now take 24 MP photos by default instead of the 12 MP of the past. And we can choose between three different default "mini zoom" levels for the main camera — 1x, 1.2x, and 1.5x, simulating different focal lengths favored among photographers.
We started with the camera, because Apple puts a lot of weight behind it, the Pro models now being marketed towards shutterbugs and videographers. The new USB Type-C port also allows for data transfer at USB 3 speeds, meaning you can even hook up an external drive and record 4K ProRes video directly to it. Makes it easier to transfer and edit footage externally.
It's a hefty investment, for sure, but certainly offers the top-tier Apple experience, and also one of the
best phones right now
in general. It starts at $1,200 for the base model, which has 256 GB storage, and that's a bit harsh, especially if you plan on enjoying the improved cameras, cinematic mode, and its ProRes video capabilities. In fact, iOS itself will not let you record in 4K ProRes unless you have a higher storage capacity — 256 GB and up.
The Pro models are still the only ones to have a 120 Hz screen and always-on display. Also, since they are the only ones to have the
Apple A17
Pro SoC, they will be the ones that will be able to run Assassin's Creed: Mirage and Resident Evil: Village when they launch. It seems that Apple is making a push to make iPhones into makeshift handheld gaming devices — kind of, sort of like a Steam Deck? That'd be a long road, and it seems we are at the start of it.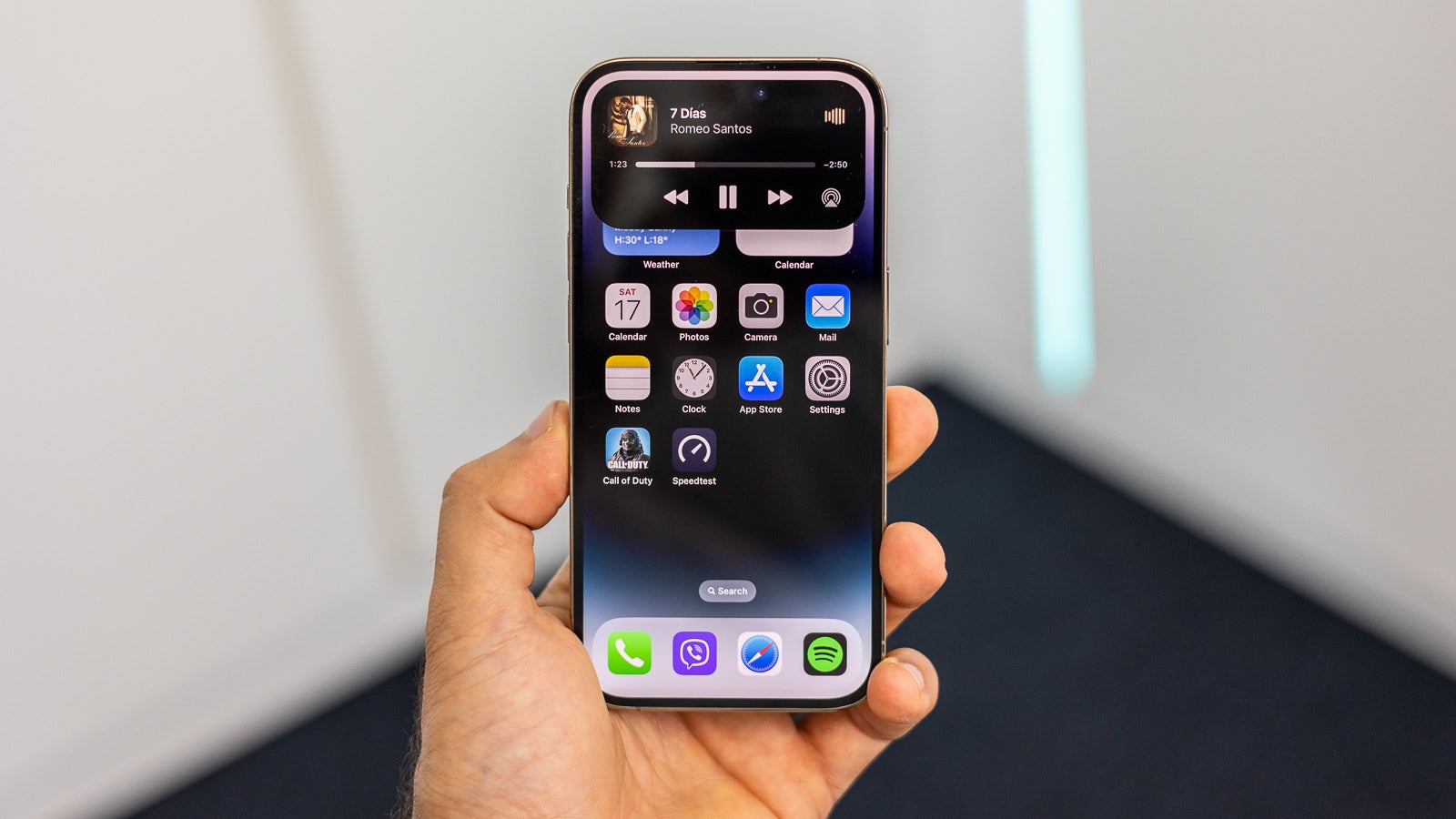 (Image Source - PhoneArena) The iPhone 14 Pro
The
iPhone 15 Pro
is just as great as the Pro Max counterpart, minus that new 5x tetraprism lens. However, that may be a bonus for those that prefer 3x Portrait Mode shots better than having a 5x zoom camera with more limited application. Plus, since it's not as huge as the Pro Max, the
iPhone 15 Pro
is easier to operate with one hand.
Then, there's the bonus that the base variant of the
iPhone 15 Pro Max
hasn't gone more expensive. It starts at $999, though that's for a 128 GB model. 128 GB isn't a small amount of space, but you can easily get it filled out if you love that camera. Or, if you choose to install those promised console-grade games that are coming from Ubisoft and Capcom.
By all means, it seems the
iPhone 15 Pro
is the more mainstream choice, while the
iPhone 15 Pro Max
now feels like an "enthusiast device". By going for the Pro, you don't forgo on the fast processor and bright display with ProMotion animations, nor do you lose out on the Dynamic Island and excellent 48 MP camera. You only lose out on the 5x tetraprism lens and the larger battery, present in the Pro Max' larger body.
Read more:
iPhone 15 Pro review
iPhone 14

Plus
The first oversized iPhone without a Pro price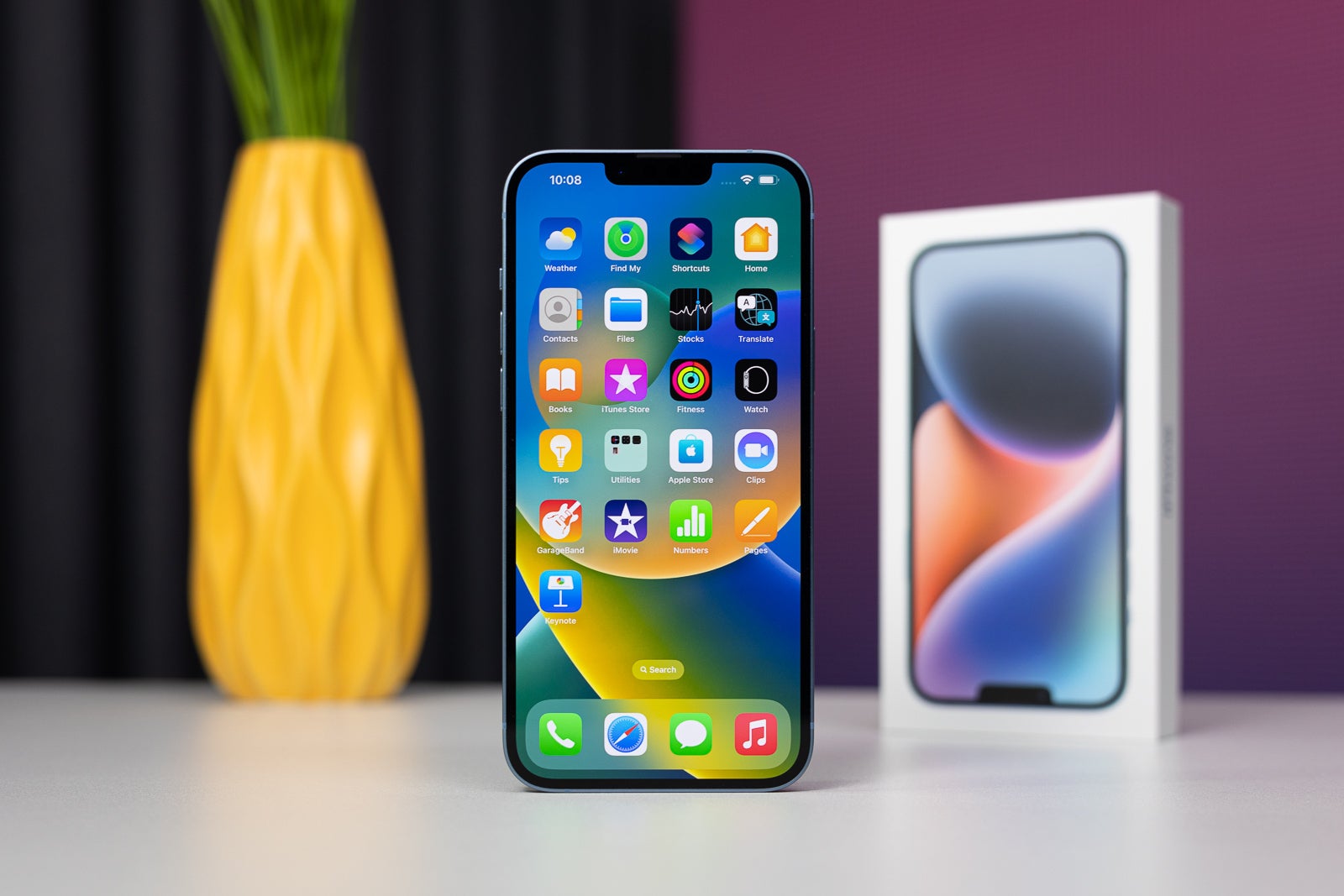 (Image Source - PhoneArena) The iPhone 14 Plus
It's kind of hard to recommend the new
iPhone 15 Plus
, when the old one is very similar. If you don't insist on having a Dynamic Island or a 48 MP camera, the 14 Plus will serve you just fine.
Now yes, the
iPhone 14
and
iPhone 14 Plus
' cameras do feel long in the tooth, but it's worth noting that the 48 MP sensor inside the
iPhone 15 Plus
is not the same as in the Pro devices, nor is the imaging pipeline. So, you are not getting the Pro imagery either way.
Since the
iPhone 15
line continues to stubbornly not give 120 Hz screens to the non-Pro models, that's still more the reason to just save some cash and shop for last year's models.
Read more:
iPhone 14 Plus review
The balancing act between size, features, and price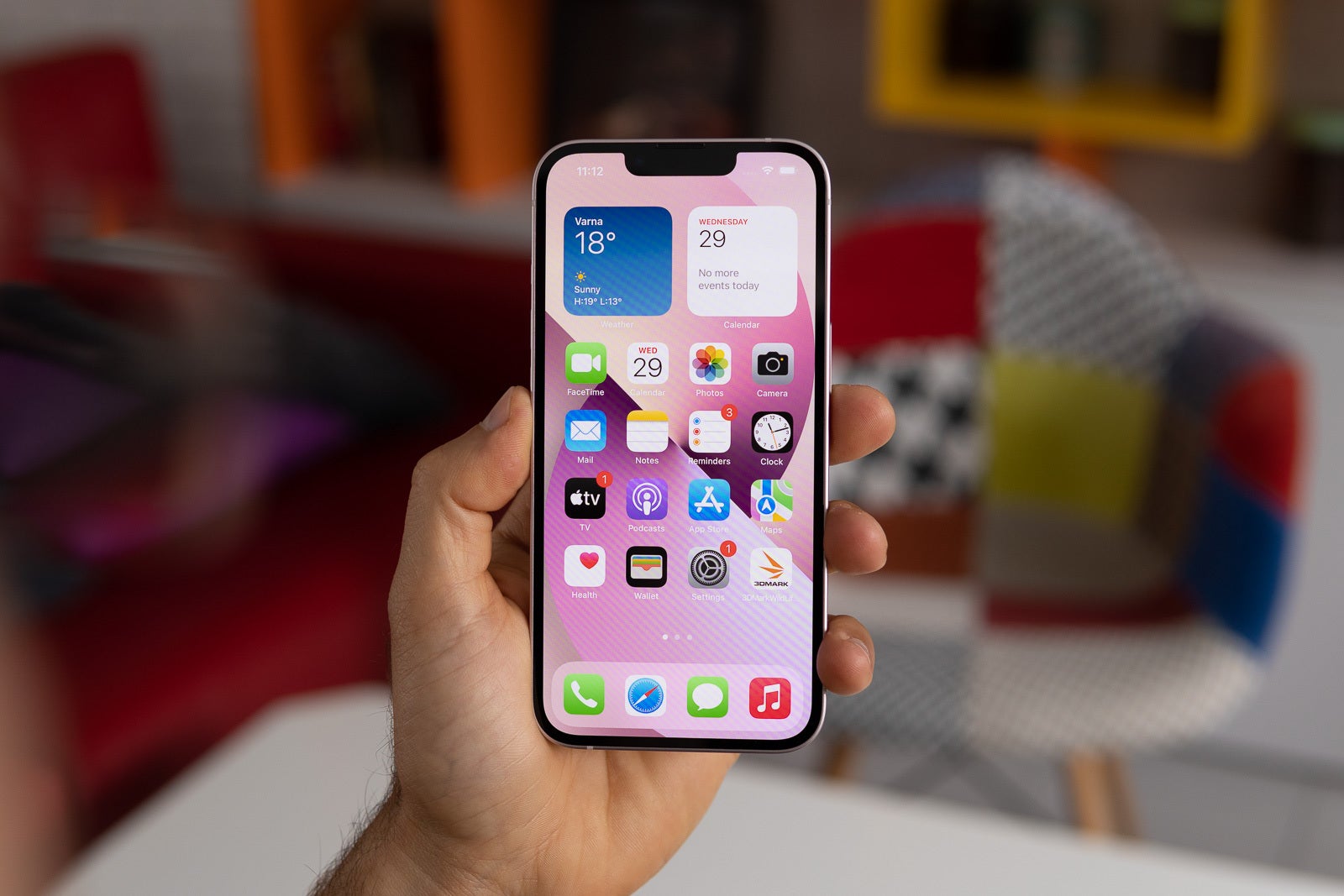 (Image Source - PhoneArena) The iPhone 13
Hopping back a couple generations, Apple still sells the
iPhone 13
as a midrange solution. And it can still hold its own, with a processor that still has the muscle and a screen that is still bright and pretty to look at. Its camera is no worse than the one on the
iPhone 14 Plus
, even if it can't compete with more contemporary devices out there.
The
iPhone 13
had a lot of tiny, but meaningful upgrades — a minor performance bump, a better battery life than its predecessor. It was hailed as a proper upgrade in its time, and it still holds up today. So, for anyone on a budget, it's a great iPhone to start off with.
At $600, it starts off at 128 GB of storage, which is not bad by 2023 standards. And it's $100 less than an
iPhone 14
— you will miss out on some of the more niche features, like Crash Detection or satellite SOS. But, considering we've been functioning without them thus far, and hoping you never ever need them — maybe it's a premium worth forgoing.
It is also worth noting that the
iPhone 13
is the last series with a physical SIM tray (in the US), if that's something that might sway your decision.
Read more:
iPhone 13 review
iPhone SE (2022)
Compact, classic design, most affordable iPhone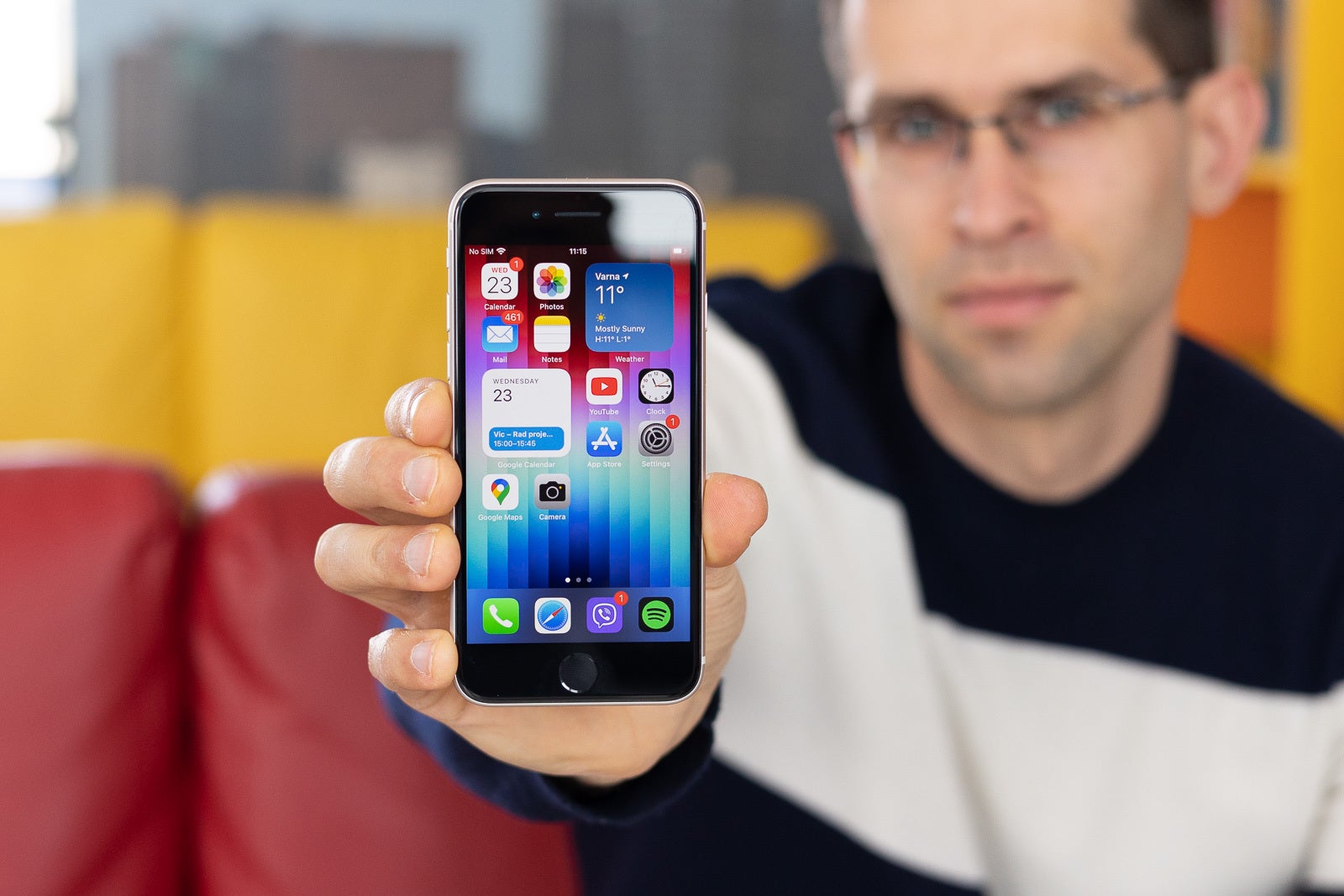 (Image Source - PhoneArena) The iPhone SE from 2022
The
iPhone SE
is here for these that want the cheapest, simplest iPhone out there. It is the only iPhone that still has a Touch ID fingerprint sensor and home button, and it has a tiny screen for today's standards. By all accounts, it's a phone for those that just want connectivity and don't care about media consumption or gaming on the device all that much.
But Apple still keeps it relevant — the
iPhone SE 3
(or
iPhone SE 2
022) is powered by the same chip that's inside the
iPhone 13
series. It has the same dependable-but-not-outstanding camera, it supports 5G connectivity and the convenience of wireless charging.
Now, if you are looking at the SE simply because you want a cheap iPhone, then an
iPhone 13 mini
or an
iPhone 12
might be a much better choice. The SE's shortcomings are too much of a sacrifice for those that want to spend a lot of time with the device in-hand.
But if you are looking for the simple, reliable Apple iPhone experience, just as a means for communication, with the familiarity of Touch ID, the classic iPhone design that will keep accepting all of the cases you've got for the iPhone 8 or the
iPhone SE (2020)
, and continued software support, well — here it is.
Read more:
iPhone SE (2022) review
Which iPhone is the best value for your money?
Looking at the present Apple iPhone lineup, we would say that the
iPhone 13
is probably the best value right now. Its base tier comes with 128 GB of storage, which will be plenty enough for most users out there. On the inside and out, it is not worse than the
iPhone 14
, which was supposed to dethrone it. It does lack a 120 Hz screen and a telephoto camera, which is a shame, but such is the plight of non-Pro iPhones.
If you want those premium features, you'd have to make quite the leap in price.
However, the good news is that some wireless carriers and 3rd party retailers still have units of the
iPhone 13 Pro
and Pro Max in stock. If you are craving that telephoto camera for better portraits, and the smoothness of a ProMotion display — you may do well seeking one of those out.
Thanks to Apple's software support, the 13 series still has a long life ahead of it, so it's a worthwhile investment at this point in time.
How to choose the iPhone that best fits your needs?
There are two things to consider when buying a new phone. Your usage habits and your budget. Plus, it also helps to pay attention to how long the phone will be supported for. Despite Android manufacturers making huge strides in this aspect in recent years, only the iPhone is known for getting 5 years of timely and steady OS updates.
It also helps that smartphone tech development has steadied in recent years, finding a comfortable plateau, and new features don't pop up at a relentless pace. Meaning, new phones stay new for longer, as they aren't immediately outshined by the next best thing.
Now, a lot can go wrong in these years, such as batteries going bad, but it's worth noting that Apple has upped its game considerably since the old iPhone 6 fiasco.
So, as far as usage habits go, you need to consider this:
Phone size and design:
Large phone: the Max and the Plus

- if you watch a lot of videos, play a lot of games, browse tons of social media on your iPhone, or even edit your own clips and pictures, you will probably want to sacrifice the comfort of a small device and gain the benefit of a larger screen. In that case, the Pro Max models or the new

iPhone 14

Plus will work out best. They also have the benefit of improved battery life, which lends itself well to your poweruser needs.
Medium size: the regular models

- you may wish to have a more comfortable grip on the phone, as you use it more to reply to messages and only watch talking head style YouTube videos. The regular iPhone with no Max or Plus monikers seems to strike this balance well. The screen has enough room for comfortable thumb-typing, and is big enough for the occasional enjoyment of multimedia. Yet, it's not too large and you won't be overwhelmed by its size if you decide to stick it in a case.
Super compact: the mini

- if you are out looking for a tiny smartphone that's easy to pocket, yet packs a performance punch and a dependable camera — the

iPhone 13 mini

is one of your very limited options. And it might as well be the best one, considering how much life it has left in it, thanks to the processor inside and Apple's software support habits.
Classic comfort, unexacting and simple:

iPhone SE

- if you or whoever you are buying for, prefers the older iPhone look and feel, with a Touch ID button — the only option is the

iPhone SE

.
Phone Features
Camera

- if you want a telephoto camera for better zoomed-in photos and more natural portraits, your option is quickly limited to the Pro models. Furthermore, if you want to experiment with the new-ish Cinematic Mode as well as the Photographic Styles — you need to go with an

iPhone 13

series at the least. Needless to say, if you want the absolute best and most advanced Apple camera to date — you will find it on an

iPhone 14 Pro

and Pro Max.
Screen quality

- Across the board, Apple uses OLED panels for all recent iPhones, save for the

iPhone SE

. So, color reproduction and accuracy will be on equal levels across models. The Pro variants, however, have brighter screens, capable of hitting 2,000 nits. Impressive as it is, in the real world, you will rarely need that much brightness, so that's not the real selling point here. No, that would be the 120 Hz ProMotion screen that is still being held hostage by the Pro iPhones — from the iPhone 12 Pro onwards.
Additionally, the
iPhone 14 Pro
and
iPhone 14 Pro Max
are the only ones with LTPO displays, capable of bringing their refresh rate down to 1 Hz. Apple utilizes this technology to get the Always On Display feature working on them — and only them, for the time being.
Safety and security

- The Secure Enclave is a subsystem within Apple chips that is present on all recent iPhones, making sure your sensitive data is encrypted and held safe on-device. As far as cyber safety is concerned, all modern Apple phones have you covered.
As for physical safety, iOS does provide Medical ID and Emergency SOS on all of them, however the new
iPhone 14
series has a slight edge. If you find yourself an avid trekker, you may want the new satellite SOS feature, for some peace of mind. That and the new Crash Detection feature are only found on the 2022 iPhones.
Battery life
Apple always aims for an "all day battery life" with all its mobile devices. It typically achieves that, especially since iOS is fantastic at preserving battery charge when in standby mode. Some, however, exceed those expectations — specifically the Plus models and Pro Max models, which have room for larger batteries in them.
There are also some models that fall short — like the
iPhone 12 mini
, which wasn't very dependable with its battery endurance. Especially if scanning often for an unreliable 5G connection.
Aside from that small mishap, most iPhones in recent years have had a dependable battery life.
Check out how these iPhones have performed in our extensive battery tests:
Performance
in the case of the Apple iPhone, we typically trust that the performance is — and will be — top-tier for years to come. The Apple A silicon is excellent and way ahead of the game, outperforming and outlasting the competition on a regular basis. This is why Apple is comfortable with releasing an
iPhone 14
series with the same chips that powered the
iPhone 13
, for example. Here is a rundown of the contemporary models and their capabilities:
Apple A16 Bionic (

iPhone 14 Pro

, Pro Max): hexa-core, first Apple chip built on 4 nm process. Up to 3.46 GHz clock speed, 5-core GPU
Apple A15 Bionic (modified for

iPhone 14

, 14 Plus): hexa-core, 5 nm. Up to 3.23 GHz clock speed, 5-core GPU
Apple A15 Bionic (

iPhone 13

, 13 mini): hexa-core, 5 nm. Up to 3.23 GHz clock speed, 4-core GPU
Apple A14 Bionic (

iPhone 12

): hexa-core, 5 nm. Up to 3.1 GHz clock speed, 4-core GPU
In other words — if Apple sells it on its website, it still considers it fast enough to wear the brand on its back with pride.
Here's the performance of the iPhones in the lists on benchmark tests:
Why should you trust this buying guide
Preslav Kateliev has been with PhoneArena since 2014. Over the years, he became fascinated with anything and everything mobile that can be incorporated into his existing hobbies or work. He likes to tinker with "small technology" and make it work for him in fields where portability is a prime benefit. You can often spot him writing articles, recording guitars, or editing videos on an iPad Pro.
The Publisher
PhoneArena has been around since 2001 as a platform where phones can be explored, compared, and pitted against each other. For the 20 and more years since we first started, we've been evolving our experience and growing our knowledge. We now lead an audience of over 5 million monthly US readers to navigate through the mobile tech world.
The Approach
We believe that there is not one true phone that is "the best" as each user has their unique needs and preferences. However, we make sure to test every phone through a wide range of testing procedures and review approaches, so we can find where each phone shines and what it lacks. We also strictly follow our
rating guidelines
.On top of all that, you'll have our professional opinion about each phone after we spend a serious amount of time with it. All that is done to help you make the best and most informed decision on which iPhone is "the best" for you.
Recommended Stories