The best iPhone to buy in 2022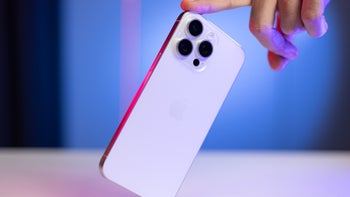 If you are in the market for an iPhone, there are so many models to pick from nowadays. Since Apple started to launch 4 variants per year, not counting the SE models that are interspersed here and there, we are spoiled for choice.
The mini variants for those that want a super-compact phone are still available at retailers. The Max line is no longer your only go-to if you want a big iPhone, as this year we saw the introduction of the
iPhone 14 Plus
.
So, if you want an iPhone, which one is best to buy? Let's explore!
Which is the best iPhone to buy?
iPhone 14 Pro Max
Aside from being the biggest iPhone for the phablet lovers out there, the iPhone 14 Pro Max also offers the best battery life. It's truly a power user's iPhone and has the processor and camera performance to carry that statement. Not to mention the 120 Hz ProMotion screen, which gives us extremely smooth iOS experience.
It's a hefty investment, for sure, but certainly offers the top-tier Apple experience. It starts at $1,100 for the base model, which has 128 GB storage, and that's a bit harsh.
The
iPhone 14 Pro
is just as great, with a slightly shorter battery life. But definitely the better choice for those that want a more manageable screen size.
iPhone 14 Plus
Thus far, if you wanted a big iPhone, you basically had to buy the most expensive Pro Max. Well, this changed in 2022 when Apple announced the iPhone 14 Plus. It has the same shape and size as a Pro Max but with non-Pro internals. So, it's powered by the Apple A15 chip, it doesn't have a telephoto camera, and its main snapper still has the old 12 MP sensor. Also, its screen is still 60 Hz instead of 120 Hz.
If none of that bothers you, the iPhone 14 Plus is finally here to serve you with its big screen working perfectly for gaming and video binging.
You will notice we skipped the iPhone 14 here. That's because, save for an extra GPU core in the processor, it's pretty much just an iPhone 13. So, why not just buy last year's model and save some cash?
The iPhone 13 had a lot of tiny, but meaningful upgrades — a minor performance bump, a nice battery boost, a few camera improvements. And then the big upgrade — the base model iPhone 13 starting at 128 GB instead of 64 GB.
With all its parts combined, the iPhone 13 is a very solid phone for a lowered price of $699 (or $729 unlocked). That's $100 less than an iPhone 14 and we kind of feel like you won't miss a lot of features — certainly not a $100 worth of them.
iPhone 13 mini
There is still a number of fans of compact smartphones out there and — honestly — they don't have a whole lot of choice. Apple did experiment with a mini line, but apparently — it wasn't doing well enough.
You can still buy the iPhone 12 mini and iPhone 13 mini, as they are available and probably your last chance for a small iPhone in the near future. Out of the two, we prefer the iPhone 13 mini because it brought a much-needed upgrade to battery life.
iPhone 12
The "new" iPhone design — those flat sides and square-ish looks — started in 2020. So, if you nab yourself and iPhone 12, you will still have a modern-looking iPhone with support for MagSafe accessories. In fact, the 12 is still a performer and has an OK battery life — not as killer as on the 13 series, but still perfectly good for a day.
You still don't lose much if you choose an iPhone 12 over and iPhone 14, since the non-Pro series weren't upgraded to have ProMotion screens anyway. Sure, the iPhone 12's camera sensor is slightly smaller and doesn't have sensor-shift stabilization. That didn't bother us much in 2020, though it is showing its age in 2022. But if you are not a shutterbug — the 12 is fine.
Do we recommend the iPhone 12 mini over an iPhone 13 mini? Mostly not, because the 13 series came with a substantial bump to battery life. And the mini series needed that a lot!
iPhone SE (2022)
The iPhone SE is here for these that want the cheapest, simplest iPhone out there. It still has a home button, and it has a tiny screen for today's standards. By all accounts, it's a phone for those that just want connectivity and don't care about media consumption or gaming on the device all that much.
But Apple still keeps it relevant — the iPhone SE 3 (or iPhone SE 2022) is powered by the same chip that's inside the latest iPhone 13 series. And it has a pretty good camera. Plus, it now comes with 5G support.
Now, if you are looking at the SE simply because you want a cheap iPhone, then an iPhone 13 mini or an iPhone 11 might be a much better choice. But if you are looking for the simple, reliable iPhone experience and want to keep using all of the cases you've got for the iPhone 8 or the iPhone SE (2020), well — here it is.
Read more: iPhone SE (2022) review
Conclusion
So, what's the best iPhone to buy? If you are looking for the meanest, fastest, newest model — the answer is pretty simple, as that would be the iPhone 14 Pro Max. If you are looking to save some cash but still want the benefits of MagSafe and an OLED screen, then the iPhone 12 might be the one. Then, if you just want a basic smartphone that's easy to wrap your head around, and you don't care too much about bells, whistles, and extra perks — the iPhone SE is still a solid choice.