Apple iPhone Lite to have two versions: Zenvo and Zagato/Bertone codenames appear
20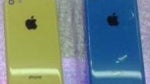 The
Apple iPhone Lite
will have two different versions targeting different markets, but otherwise very similar. Both will feature 4-inch displays, but the difference will be in the processor and connectivity options.
The
iPhone Zenvo
is said to be the slightly more affordable one as it runs on a 'H5P dual-core processor' made by Samsung, 1GB of RAM, and supports FDD 4G connectivity and Bluetooth 4.0.
The
iPhone Zagato/Bertone
will support TDD 4G LTE and feature an 'H6P' processor. These will obviously be the versions for China as support for the local LTE standard is listed.
The leaked documents with those new codenames is from China and comes with yet another image of the colorful iPhone Lite back plates. With so much smoke, there must be fire, don't you think?