All you need to know about the iPad mini
33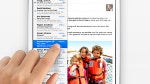 Fans of small tablets have a reason to celebrate today, as a much-anticipated device has finally been made official - the iPad mini! That's right, the leading tablet has finally gotten a smaller sibling, aimed at those users who'd prefer a more compact and comfortable to hold device.
The iPad mini seems like a perfect companion for web browsing, reading books and magazines, but will also for using the hundreds of thousands tablet-optimized apps already available in the App Store. Sure, the experience won't be as rich as on the bigger screen of the iPad, but the mini is going to compensate with its lighter and thinner body.
With all of that said, we are fully aware that the ton of coverage that we posted around the iPad mini launch can be a bit difficult to read at once, that's why we've decided to have this page right here, where you can always return for more info. In fact, be sure to return here from time to time, as we'll continue to add more content to the list below, so there'll always be something new to read about this hot device.
So, without further ado, here's our amazing, phenomenal, magical and incredible content about the iPad mini and iPad 4!
APPLE IPAD MINI AND IPAD 4 COVERAGE
Highlights