Apple iPad mini: here are all the new features
54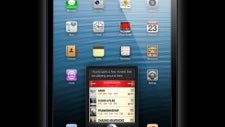 The
Apple iPad mini
is now official. After shockingly bringing a fourth-generation iPad to the stage and making us doubt for a second the existence of the mini, it's finally here. Deep breaths.
Now, as the excitement starts to slowly fade away let's take a look at all of its
new features
. Most of them aren't really new as we've all heard the rumors, seen the leaked pictures, mockup, we knew it all.
What we didn't have is Apple's context on why this tablet is important and why it chose those particular features and that particular 7.85-inch form factor. And - as Microsoft's Steve Ballmer would probably say if he was on stage today - it's the screen, screen, screen. But also apps, LTE, and an affordable price. Well, check it all out in our summary of the iPad mini new features below.