Can you really hold the iPad mini with one hand?
64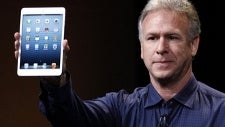 The new
Apple iPad mini
comes with a 7.85-inch screen and very little bezel on the sides, and one of the reasons for the latter is easier one handed operation. But can you really
hold the new more compact Apple tablet with a single hand
?
Here is a funny selection of pictures showing just how hard it is for most people to stretch their hands to hold it. Even Apple's marketing guru Phil Schiller seems to be in pain holding the tablet with one hand.
Maybe Apple should have made an exception and have someone else with larger hands demo the new tablet? Jokes aside, it's clear that the new form factor is a welcome addition to the tablet landscape, but really, can you really hold it with one hand?
source:
BuzzFeed