Is bigger better with the iPad mini?
35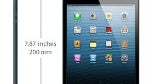 If you watched the Apple announcement today, and had the patience to sit through all of the new Mac products, and the iPad refresh, just to get to the iPad mini announcement, you would have been treated to something strange. The selling point for the iPad mini was that "bigger is better", at least when compared to the Nexus 7. This seems like a completely counter-intuitive argument, and we wanted to look into it a bit more.
We have known for a long time that the iPad mini would be clocking in at just under an 8" display, and that's exactly what Apple announced. We knew that it would be marketed as a great way to read books or magazines, and that's what was pitched. The strange thing about the announcement is that Apple tried to use the same "smaller but bigger" line that it used for the iPhone 5 to explain the iPad mini, but that argument doesn't really work.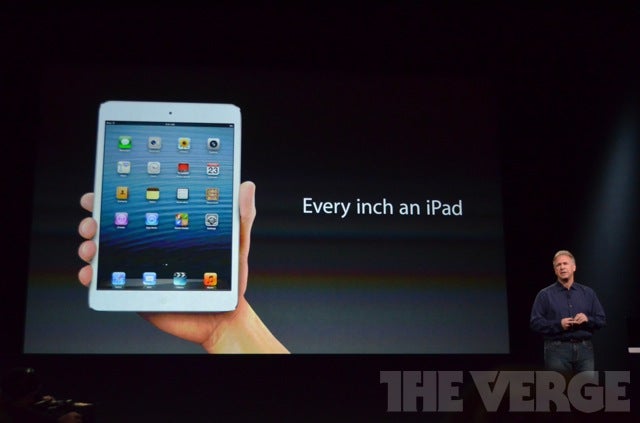 The argument with the iPhone 5 is that it's thinner and lighter, but has a bigger screen, and most importantly (from Apple's perspective) is that the iPhone 5 still fits well into the average sized hand. That's where the iPad mini looks to be in trouble. Yes, the mini is thinner than the Nexus 7 (7.2mm vs 10.45mm), and it's lighter (308g vs 340g), but that doesn't necessarily mean it will be easier to hold one-handed, because the mini is also wider (135mm vs 120mm). The weight and thinness look amazing, but if the width isn't right, it would force users to hold the tablet more like a book, with a thumb on the screen or the bezel for stability. The side bezel of the iPad mini looks to be far too small for this (although it can work on the Nexus 7), and leaving your thumb on the screen will cause too many issues on a touchscreen device.
If you have big hands, and a Nexus 7, you'll probably notice that holding it is quite comfortable to hold one-handed (as the dummy hand is holding the iPad mini in Apple's announcement), and we repeat, that is if you have big hands. Adding almost another 15mm (.6") to that width is simply too much. For example, the iPad mini is going to be just as wide as a Galaxy Nexus is tall (or a number of other smartphones), so give it a try holding a Galaxy Nexus one-handed in landscape view. Even for someone with big hands, that feels like a stretch, and that's before adding all of the extra weight associated with an iPad mini. For anyone with an "average sized hand" as Apple loves to use as a reference for the iPhone, holding the iPad mini one-handed as Apple shows in the presentation is going to be almost impossible. And, attempting to fit an iPad mini into a pocket (which is possible with the Nexus 7) is something we also expect to be very cumbersome, if not impossible.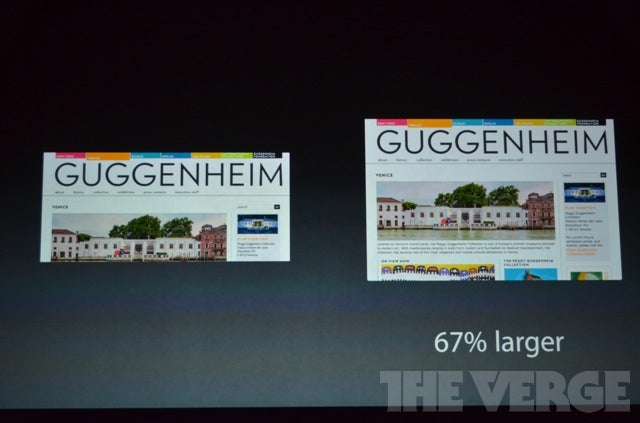 Of course, the trade-off for all of this is that you'll get quite a bit more screen real estate. According to Apple, the screen is 50% bigger than the Nexus 7, and has a functional difference even larger than that because of Android's on-screen buttons, which bumps it to about 67% more space. No mention from Apple that this is all at a lower resolution than the Nexus 7 (163 PPI vs 216 PPI), but we wouldn't expect Apple to mention that. What is probably more disappointing is that Apple has decided to stick with the 4:3 aspect ratio for the iPad mini, rather than go for the 16:9 it has on the iPhone 5.
The Nexus 7 also sports a 16:9 aspect ratio, which is why it isn't as wide as the iPad mini. This not only makes it easier to hold one-handed, but it means you can watch video without any annoying letterboxing (although Apple doesn't
seem to mind letterboxing
in the right context.) This all points to the fact that Apple is pushing the iPad mini more towards the iPad rather than making it a device that is more of a hybrid between the iPhone and iPad. The Nexus 7 was designed as a hybrid device, sitting directly between 4" screens and 10" screens, and even adding a new Android UI layout to accommodate the size.
By now, we all know that the iOS UI doesn't change, but Apple did prove with the iPhone 5 that it was willing to at least change the shape of an iOS device. It seems odd that the company promptly forgot its own theories about making devices that comfortably fit into the "average hand" in designing the iPad mini. We're pretty sure that the iPad mini will still sell incredibly well, but we wouldn't be surprised to hear some complaints from users that find it too big to hold one-handed, which should be the aim of offering a "mini" iPad.