iPad mini – are you getting one?
56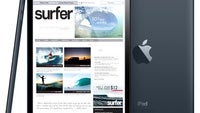 Well, folks, what was once deemed unthinkable is now reality.
Apple announced a smaller version of the iPad
– the
iPad mini
, as it is called, which comes with a 7.9-inch screen, compact form factor, a pair of cameras, and 10-hour battery life. Moreover, the iPad mini is the cheapest iPad Apple has ever unveiled, which makes it a perfect option for consumers who have always wanted one, but considered its price tag too steep to handle. Last but not least, it comes in LTE flavor as well, so one can stay connected to the internet even when in transit.
However, is it really worth getting one? Before we get to answering that question, there are a few things that have to be brought to the table. The iPad mini may be cheap for an iPad, but it isn't as a whole. Both the
Kindle Fire HD
and the
Google Nexus 7
, among other 7-inchers, start at only $200, and despite their limitations, they are still pretty decent alternatives to the iPad mini. Yeah, their screens might be physically smaller, but have higher resolution, meaning they are able to provide more detailed images and sharper text. The thing you'll have to sacrifice, however, if you go for one of these Android tablets is the availability of a decent main camera on the back. Currently, no $200 slate will offer a camera as good as the 5-megapixel iSight snapper that the iPad mini boasts.
And now it is time for the big question that we ask you today: are you getting the iPad mini? Are you ready to go with a small iPad and ignore the cheaper, albeit in some ways inferior, alternatives? Our poll below is now open so don't hesitate to cast your vote!