Apple iPad 4 shockingly official: double the performance with A6X chip
95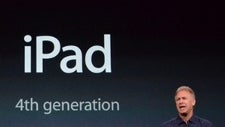 We came to see the iPad mini, but Apple has shockingly stunned us with a new 4th generation 9.7-inch iPad.
The fourth-generation iPad keeps the amazing screen resolution and general look and feel, but bumps up the specs with double the processing power and double the graphics power. The camera is also improved.
The new tablet also adds a Lightning connector instead of the (not so) good old 30-pin connector. It also has faster Wi-Fi connectivity and expanded LTE. Otherwise, the device is pretty much identical to the iPad third generation.
Prices and configurations are the same as they were in the iPad third-gen - prices start at $499 for the 16GB Wi-Fi only version and $629 for the 16GB one with cellular radio. The tablet comes in black and white as well, of course.
The big news for carriers is that Sprint in the United States is finally getting it. The Now Network was sorely missing Apple's tablet from its lineup and now it's got it. What do you think, how do you like it?
source: Apple
Images courtesy of TheVerge.