Watch Apple's iPad mini unveiling here
8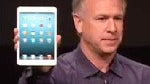 Well, it finally turned out that Apple's livestreaming of yesterday's iPad mini unveiling was limited to Mac and iOS devices. For the numerous Windows users out there, though, Apple has now uploaded the full presentation. You know what they say - better late than never!
As always, this Apple keynote is very interesting to watch (if you're a tech-savvy person, that is). It covers the new Macs, the new 4th generation iPad and, of course, the iPad mini - the main star of the show.
So, if you've missed yesterday's event, or if you'd just like to watch it on video, feel free to hit the link below, which will lead you to the magical, phenomenal, amazing and incredible world of Tim Cook and Phil Schiller.