Google Pixel 6 vs Apple iPhone 13
44
We may earn a commission if you make a purchase from the links on this page.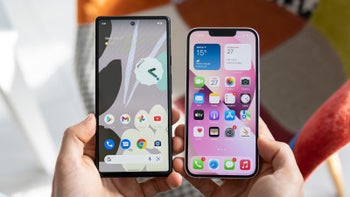 The
Google Pixel 6
and
Apple iPhone 13
are still very relevant devices in 2023 and with newer models available, prices on these two have gone down making them more appealing.
Both phones offer excellent cameras that can take great pictures in even more challenging conditions, and both are fast and powerful.
When it launched, the Pixel 6 was the first of a new generation of Pixel phones with
Google's own "Tensor" chip
, which brought a welcome leap in performance. It also comes with a high-resolution main camera and a distinctive new design.
The iPhone 13, on the other hand, perfected a winning formula. It refined the iPhone 12 design and brings a big improvement in battery life, as well as slightly better cameras and new features like Cinematic Mode for videos.
So... it's time for a direct Pixel 6 vs iPhone 13 comparison!
Pixel 6 vs iPhone 13 key differences:
6.4" size on the Pixel, 6.1" size on the iPhone, both use OLED screens
90Hz refresh rate on the Pixel 6 vs 60Hz traditional refresh rate on iPhone 13
iPhone has brighter screen
Google "Tensor" processor vs Apple A15 Bionic
8GB RAM on Pixel vs 4GB RAM on iPhone
Similar dual rear camera (wide and ultrawide) with no telephoto lens on either phone
iPhone has HDR video, Pixel does not
iPhone has better loudspeaker quality, boomier and richer sound
Bigger battery size on the Pixel
Pixel 6 pros and cons


iPhone 13 pros and cons


You may also want to read:
Design and Display
The Pixel has a bigger screen and fast refresh rate, two advantages over the iPhone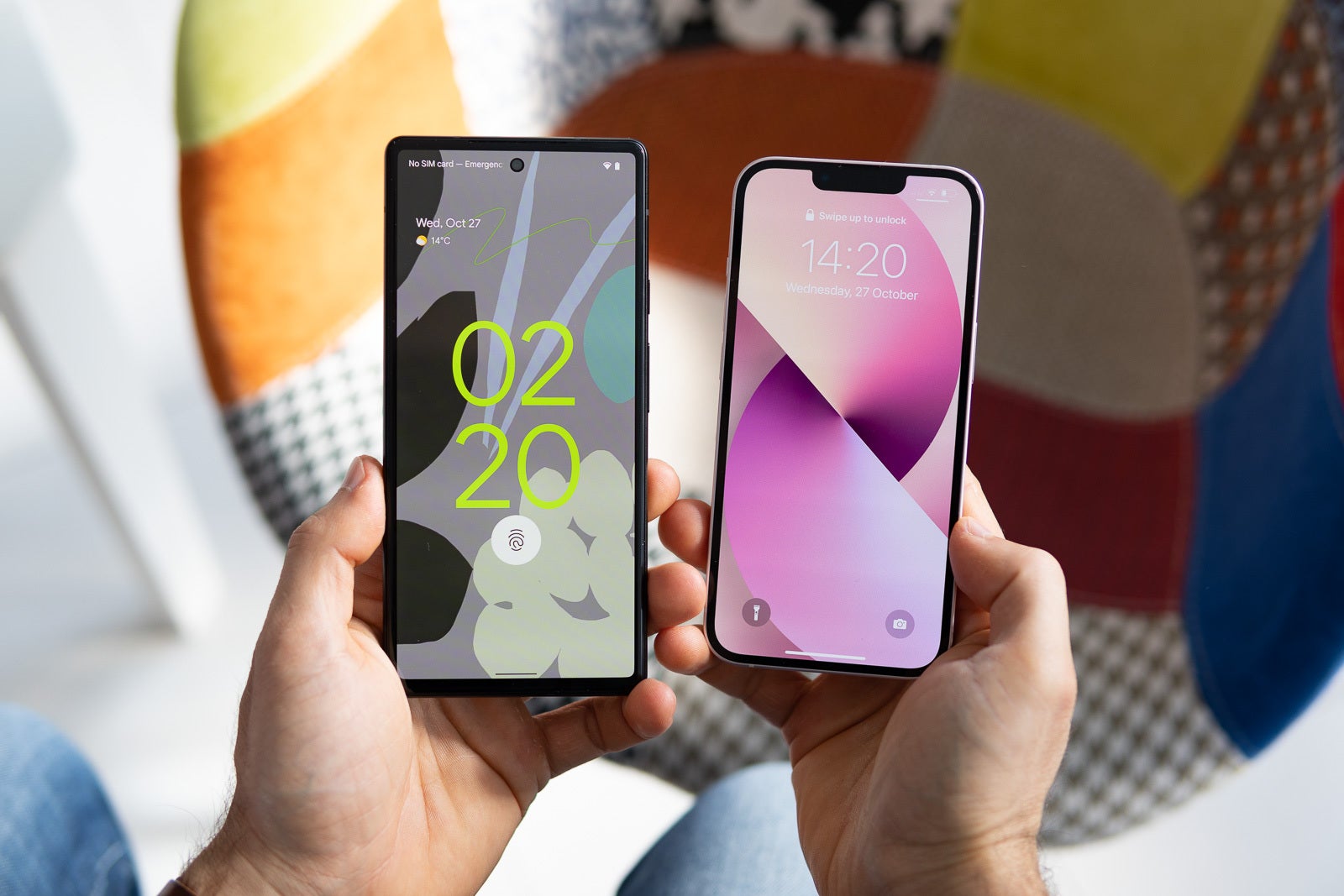 The biggest difference between these two is just in physical size as the iPhone is the more compact phone, while the Pixel is a wider and taller device.
On the image above, you can also notice how borders around the screen are noticeably bigger on the Pixel, compared to the iPhone. But then you also have the quite prominent notch on the iPhone, while the Pixel goes with a more discreet punch-hole design. By the way, Face ID is actually 20% smaller this year on iPhones, which is progress.
Apart from that, both are made from glass adding to a premium feel. The iPhone uses Ceramic Shield while the Pixel goes with Corning's latest Gorilla Glass Victus, both used on the front and back of the phones. Additionally, these two phones also feature IP68 water protection. Neither phone supports a headphone jack, in case you were curious.
Google's Pixel 6 also brings a high refresh rate screen that can go up to 90Hz, while the iPhone 13 sticks with a traditional 60Hz screen. So yes, scrolling around and gaming feels smoother on the Pixel, an important advantage.

As for screen sizes, the Pixel comes with a bigger, 6.4" screen compared to a 6.1" display on the iPhone. Both are flat screens, a win in our book.
In terms of biometrics, the Pixel relies on an optical fingerprint scanner that is a bit sluggish and is a common complaint for users. The Pixel does not support face recognition of any sorts. The iPhone, on the other hand, relies exclusively on Face ID, and good news is that it has been updated so that it works with masks too. It's hard to say which one is better, but the issues with the fingerprint reader on the Pixel are worth considering.
Display measurements and quality

The actual screen tech, however, is essentially the same on both phones: they use OLED panels with excellent contrast, deep black and great viewing angles. The iPhone has a slightly higher peak brightness, which makes the phone easier to use outdoors on a sunny day.
Cameras
No zoom cameras on either model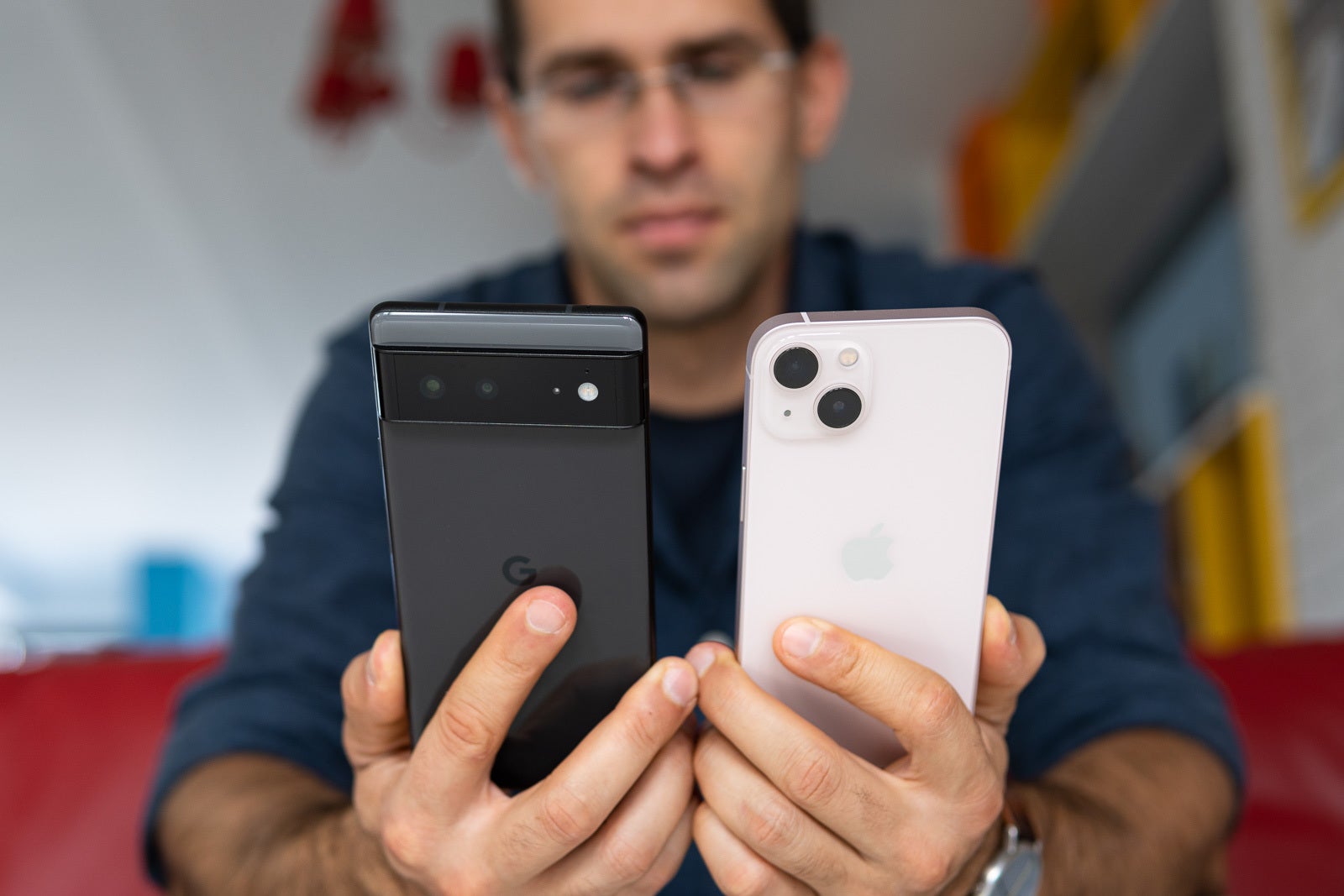 Pixel 6 features a dual rear camera in a distinct vertical bar that sticks out the back
The Pixel 6 and iPhone 13 both feature dual rear cameras, a main and an ultra-wide. At the same time, like most phones in their price range, they don't have a dedicated telephoto lens, meaning you get worse zoom quality than with premium flagships.
However, you do get some improvements with the main and ultra-wide cameras. The iPhone in particular has a main camera that lets in more light thanks to a very wide aperture, which helps in low light conditions, plus it gets sensor shift stabilization for the main camera.
| | Pixel 6 | iPhone 13 |
| --- | --- | --- |
| Main camera | 50MP sensor, f/1.9 | 12MP sensor, 26mm, f/1.6 |
| Ultra-wide camera | 12MP sensor | 12MP sensor, 13mm f/2.4 |
| Zoom camera | - | - |
The Google Pixel 6, on the other hand, is the first Pixel in a few years to feature a new and larger camera sensor.
Google has specifically mentioned that moving objects will be captured far better, great if you have a fast and furious toddler, and it will also bring improvements to HDR video (which wasn't all that great on the Pixel 5). The company has also fixed overheating issues while recording video that used to plague
Pixel phones
in earlier years.
During the day both phones capture nice looking shots that don't disappoint. However, there are subtle details to notice. The Pixel is just a bit inconsistent, we noticed that when you have a lot of foliage as we do now this season, it would capture a yellow-ish or orange tint photo, while the iPhone does a much better job with white balance.

Also, the Pixel is just super aggressive and lifts the shadows so you get this kind of flat looking photo, while the iPhone offers a lot more contrast, which we personally find a bit better.

Don't forget that on the iPhone you can also easily set a custom look with the new Photographic Styles option, making it more versatile in this regard.
Next up, you have an ultra-wide camera on both, and the iPhone here stands out with its 13mm lens that is wider. The differences are even more pronounced with the ultra-wide, but they are still essentially the same, which is to say some inconsistencies with white balance and this flat look with lifted shadows.
Both phones offer a portrait mode, and as you can see above it is far from perfect on both, especially when you get glasses in the frame. The Pixel supports 1X and 2X portraits, but that's a bit of a misnomer, 1X is actually a crop from the main camera and not quite identical with 1X in regular photo mode, and that means you are losing out on detail, while the iPhone supports a true 1X mode. The iPhone, however, lacks a 2X portrait mode, which is a big loss, and the Pixel shows that it can be done with just digital zoom, even if the quality drops a bit.
On top of the hardware changes, the iPhone 13 comes with Cinematic Mode for video, which will blur the background in real time as you record, plus it will automatically rack focus in a smooth and well... cinematic way. This option only records in 1080p 30fps, and won't work for 4K, but it's the first time that we get to see the ability to change the focus on a video, even after it's recorded.
We would say that the iPhone still has the upper hand in video offering more clarity, better low-light performance and a slightly superior video stabilization, but Google has shortened the gap in quality, and the two are now much closer.
Sound quality
No headphone jack is present on either phone, but that is something that doesn't surprise anyone at this point.
What's interesting is the difference in sound quality via the built-in loudspeakers on both phones. They both use a rear speaker coupled with a secondary speaker embedded in the earpiece, but the iPhone sounds far superior with richer and boomier sound, while the Pixel does fine, but no further than that. Keep that in mind, if you play music straight from the loudspeakers, or value sound quality in games and videos.
Performance: Google vs Apple processors
Pixel 6 Tensor chip vs iPhone 13's Apple A15 Bionic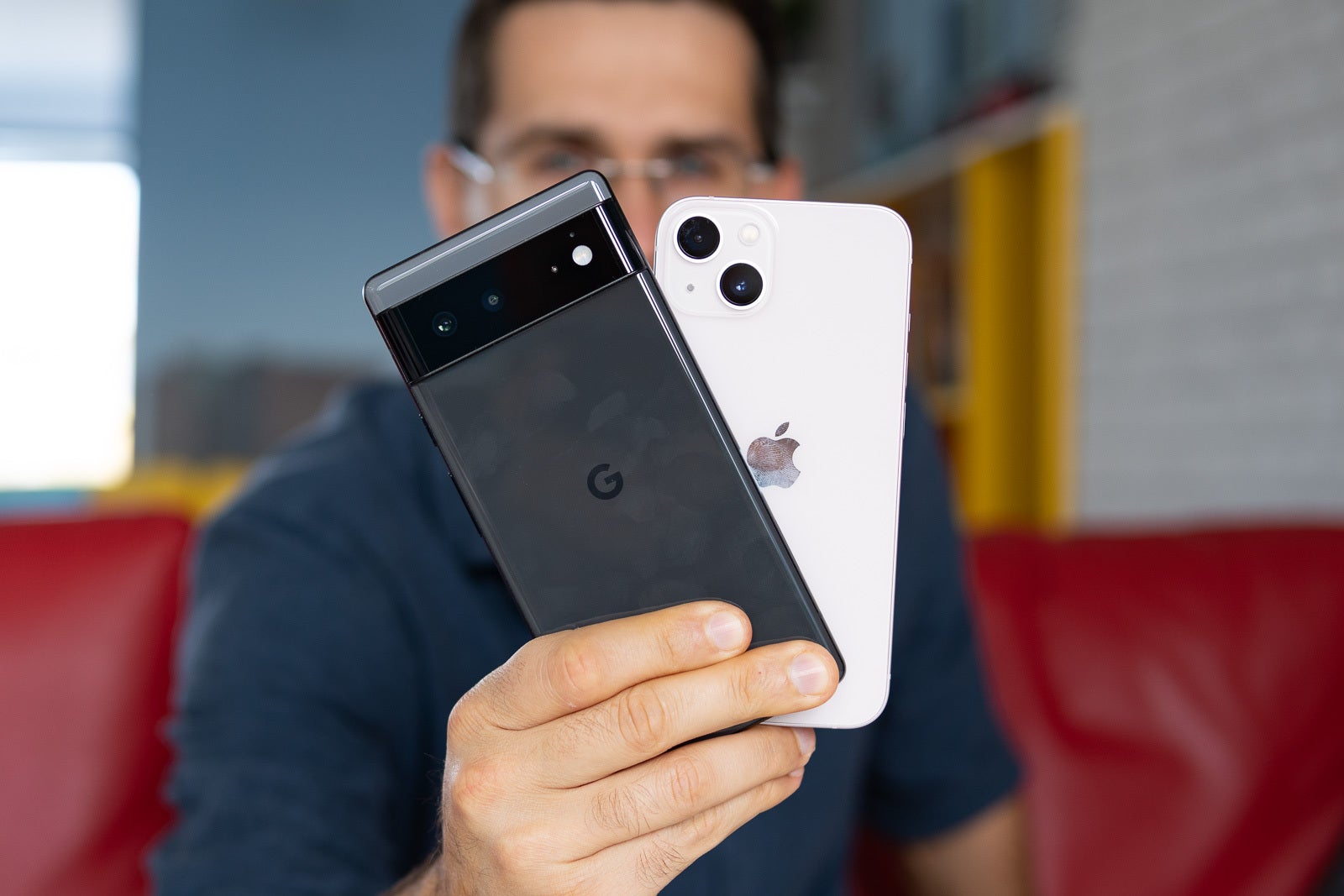 The Pixel 6 is the first phone with a Google-made chip called Tensor
Apple has been making its own processors for iPhones for nearly 8 years now, as the iPhone 5s from 2013 was the first phone with Apple silicon. Controlling the hardware and software allowed Apple to fine tune performance and it has been leading the charts when it comes to phone performance.
It's 2021, however, and Google is stepping into that space too. After years of relying on Qualcomm Snapdragon processors, the Pixel 6 is the first phone to break with that tradition and embrace the first Google-made mobile chip, codenamed
"Tensor"
.
As you can see in the CPU benchmark above, the performance of Tensor is not quite on par with the latest Apple A15, and not even the latest Snapdragon 888 processor. The Tensor chip currently outperforms some mid-range chips, but Google's focus here has been on AI and machine learning capabilities, and we'll explore that in more detail in a separate article.
The Pixel 6 also comes with 8GB of RAM on board, compared to half that at just 4GB RAM on the iPhone 13, so the Pixel could theoretically have more apps running in the background for faster multitasking.
Gaming performance
The iPhone retains that advantage when it comes to GPU performance.
In the 3D Mark Wildlife Extreme Stress Test, we see that the iPhone has an initial burst in performance, but quickly throttles. Nonetheless, even after hitting that lower nominal speed, it is much faster than the Pixel and renders even the most compelling graphics benchmarks at a consistently higher frame rate.
Storage
When it comes to storage, neither phone supports microSD cards for expandable storage, so the storage you buy is the storage you get throughout the lifetime of the device.
The Pixel 6 starts at 128GB of native storage, and we also have a 256GB version. The iPhone 13 also has a 128GB and 256GB model, but it is also available in a 512GB version for power users who need more storage.
Battery and Charging
iPhone 13 battery size might be a bit bigger, but not quite as big as on the Pixel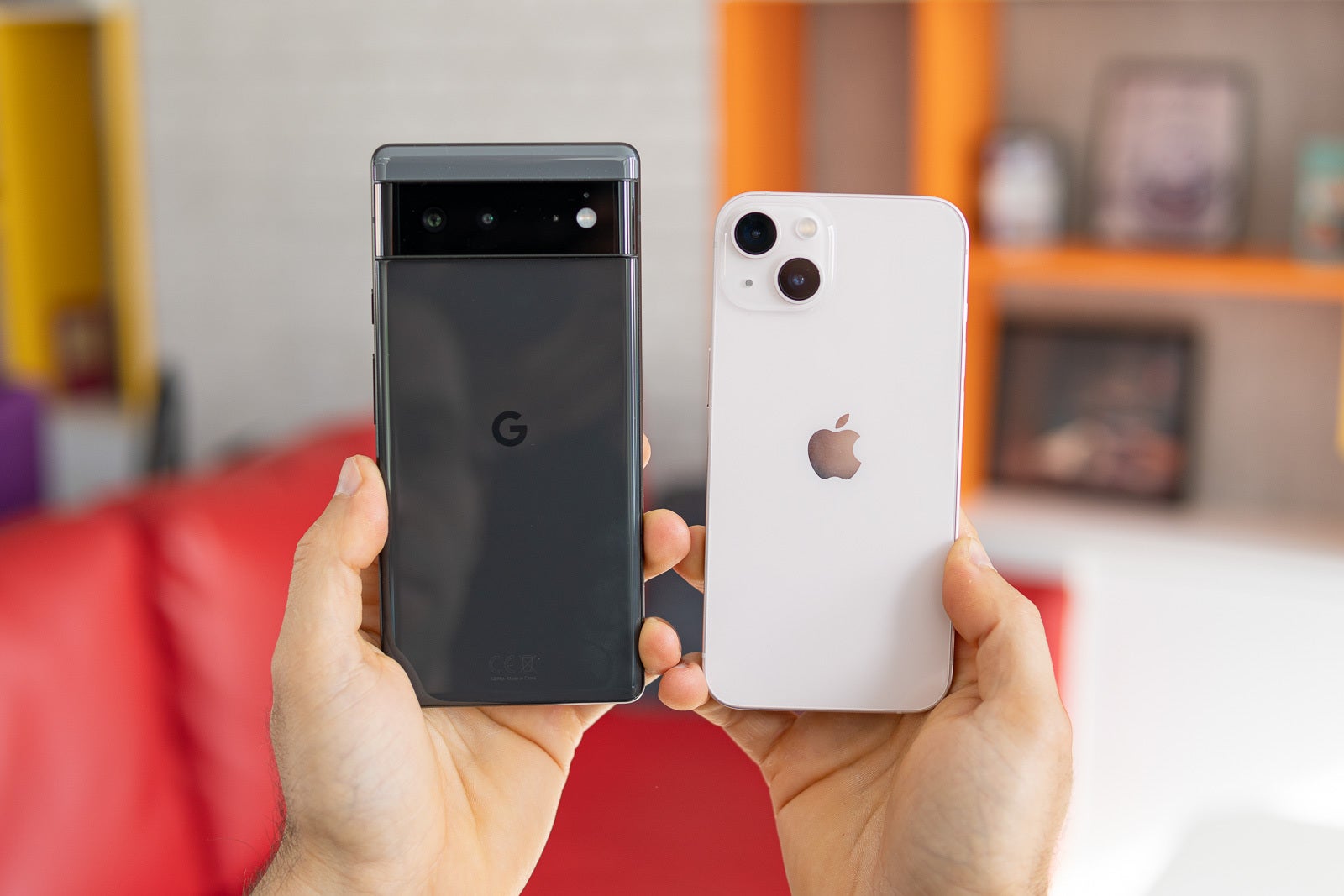 Apple has given the iPhone 13 a slightly larger battery, going from a 2,815mAh cell on the previous iPhone 12 model, to a 3,227mAh battery on the 13. The Google Pixel 6, on the other hand, has an absolutely massive battery size at around 4,600mAh.
While this is a considerable difference in favor of the Pixel, keep in mind that iOS on the iPhone and Android on the Pixel behave differently and iOS is more power efficient, especially when your phone sits idle.
Google is now on the record saying that the Pixel 6 has an "all day" battery life, about the same as you get on the iPhone 13.
We have run our independent battery tests on both phones, and the Pixel 6 has quite a bit longer life when streaming videos and a very tiny advantage in our lightest, web browsing test.

On the charger front, the iPhone 13 ships without a charger in the box, and Google has quickly followed Apple's example as the Pixel 6 also skips the charger in the box.
So unless you already have a proper charger, you will need to buy one separately for both these phones. Keep in mind that the iPhone maxes out at 20W wired charging speeds, while the Pixel 6 supports up to 30W speeds, quite a bit faster.
Both phones also support wireless charger, and the Pixel again has the speed advantage here. If you purchase the new Google Pixel Stand, you can get up to 21W wireless charging speeds on the Pixel (but a regular Qi wireless charger will only deliver up to 12W). The iPhone, on the other hand, supports MagSafe, which provides speeds of up to 15W wirelessly.
Pixel 6 vs iPhone 12: Specs Comparison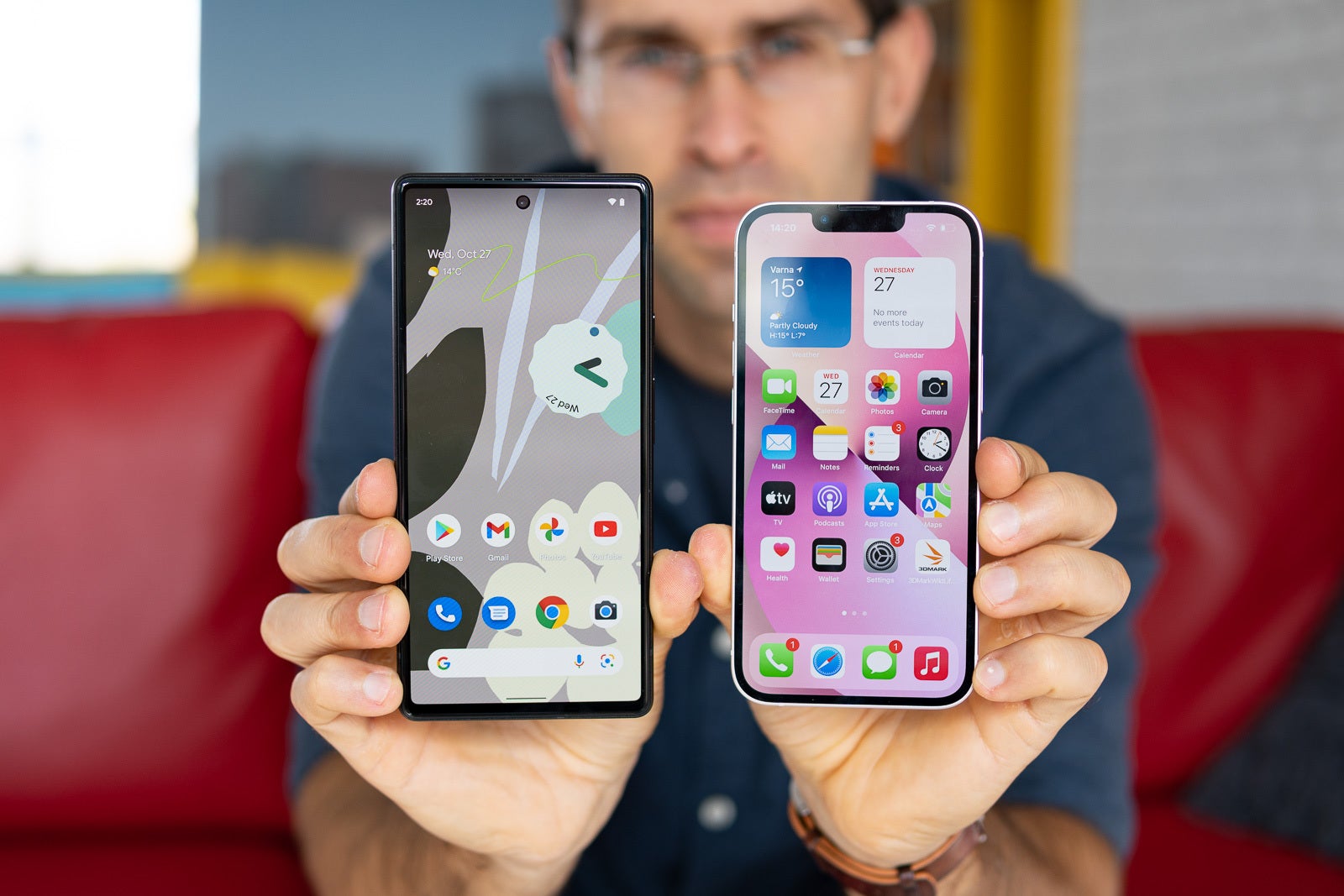 And here is a detailed specs comparison between the Pixel 6 and iPhone 13:
Google Pixel 6
Apple iPhone 13
Size and Weight
158.6 x 74.8 x 8.9mm, 207g weight
146.7 x 71.5 x 7.65mm, 174g weight
Display
6.4" OLED, 90Hz

6.1" OLED, 60Hz
*120Hz ProMotion available in Pro models only
Processor
Google Tensor SoC
Apple A15 Bionic
RAM
8GB
4GB
Storage
128GB / 256GB, non expandable
128 / 256 / 512GB, non expandable
Cameras
50MP wide camera
12MP ultra-wide camera
12MP wide camera
12MP ultra-wide
Battery size
4,614mAh battery size
3,240mAh battery size
Charging speeds
30W wired
21W wireless w/ Pixel stand, 12W wireless w/ other Qi chargers
20W wired
15W MagSafe wireless
Prices
starting from $600
starting from $800
The big surprise with the Pixel 6 is just how low it's priced. Starting at just $600, it undercuts the iPhone 13 and even traditionally more affordable brands like OnePlus, but just comparing to the iPhone 13, that phone costs $830 unlocked, or $800 if you buy it with a carrier contract. That's a difference of $200 or more, so the Pixel definitely allows you to save quite a bit of money.
One thing Google still hasn't quite figured out, though, is availability. The Pixel 6 is available on all three major US carriers, just like the iPhone, but internationally it is hard to come by, while iPhones are sold across most of the world and are far easier to find.
So... which one would you go for: the Pixel 6 with its more affordable price, larger screen, smooth refresh rate and improved camera, or the iPhone 13 with its more compact size and iOS ecosystem?
Recommended Stories