OnePlus 10T vs iPhone 13 comparison: Huge charging differences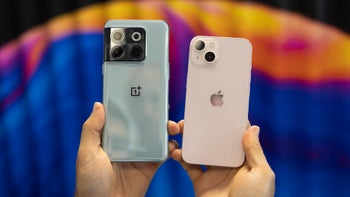 The OnePlus 10T is now here, and it's a new, powerful Android phone from the once-underdog company, which now rivals Apple in some regions. And speaking of rivaling Apple, we're about to compare the new OnePlus 10T against Apple's base-model flagship of last year - the iPhone 13, to see just how well those two measure up against each other.
So if you're torn between buying the OnePlus 10T and an iPhone, or you're just curious - let's dive into our comparison and see which phone wins you over.
OnePlus 10T vs iPhone 13 in a nutshell:

Android 12 (OxygenOS 12.1) vs iOS 15
6.7-inch 120Hz display vs 6.1-inch 60Hz display (both OLED)
Triple camera vs dual camera
Up to 150W charging vs 20W charging
Design and Display Quality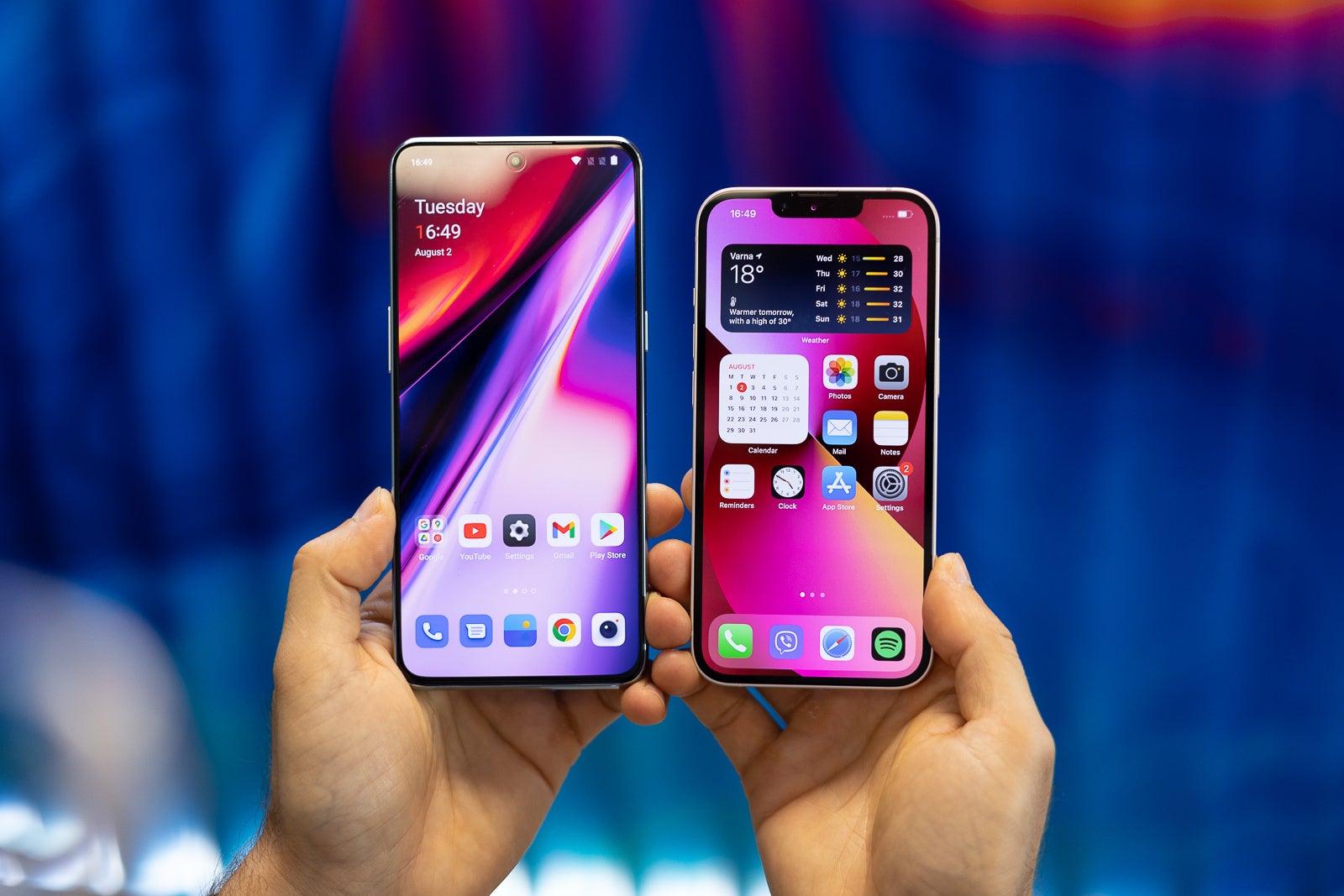 (Image credit - PhoneArena) OnePlus 10T display (left) vs iPhone 13 (right)
The new OnePlus 10T is unmistakably OnePlus - with its signature, large, square camera module on the back, slightly curved edge build, minimal bezels around the screen up front, and a centered holepunch selfie camera embedded in it.
The OnePlus 10T colors are Moonstone Black and Jade Green. As for the build materials, the OnePlus 10T is made out of glass on both sides, but the back has been processed to create a matte rock-like texture for the Moonstone Black color option. The Jade Green variant is different - smoother and glossier.
Meanwhile, the iPhone 13 has the familiar build of prior iPhones, glass back and front, a metal frame, a less pronounced "squircle" camera module and a notch up front, cutting into the display.
The iPhone 13 is available in a larger number of colors, which are Green, Pink, Blue, Midnight, Starlight and Product Red. Regardless of which one you choose, you're getting a glossy back, though.
Now onto the displays. The OnePlus 10T has the larger display, at 6.7 inches. It's OLED, with a refresh rate of 120Hz, or in Layman's terms - the best you can expect in 2022. OLED means it has great colors and pitch blacks, 120Hz refresh rate means the display of the OnePlus 10T is twice as fast to update than a traditional 60Hz screen, like the iPhone's. Speaking of which...
Yes, the iPhone also has an OLED display, smaller, at 6.1 inches, but most notably, not as smooth - as it runs at 60Hz.
Performance and Software
The OnePlus 10T is powered by the flagship 5G Qualcomm Snapdragon 8+ Gen 1 processor and a generous (up to) 16 GB of RAM. It's running Android 12 with OnePlus' OxygenOS 12.1 on top. OnePlus promises three major Android updates and four years of security updates for the 10T.
The iPhone 13 is driven by Apple's own A15 Bionic chip and only 4 GB of RAM. On the software side, it's currently on iOS 15, but we can expect many years of major software updates, knowing Apple's good track record.
Camera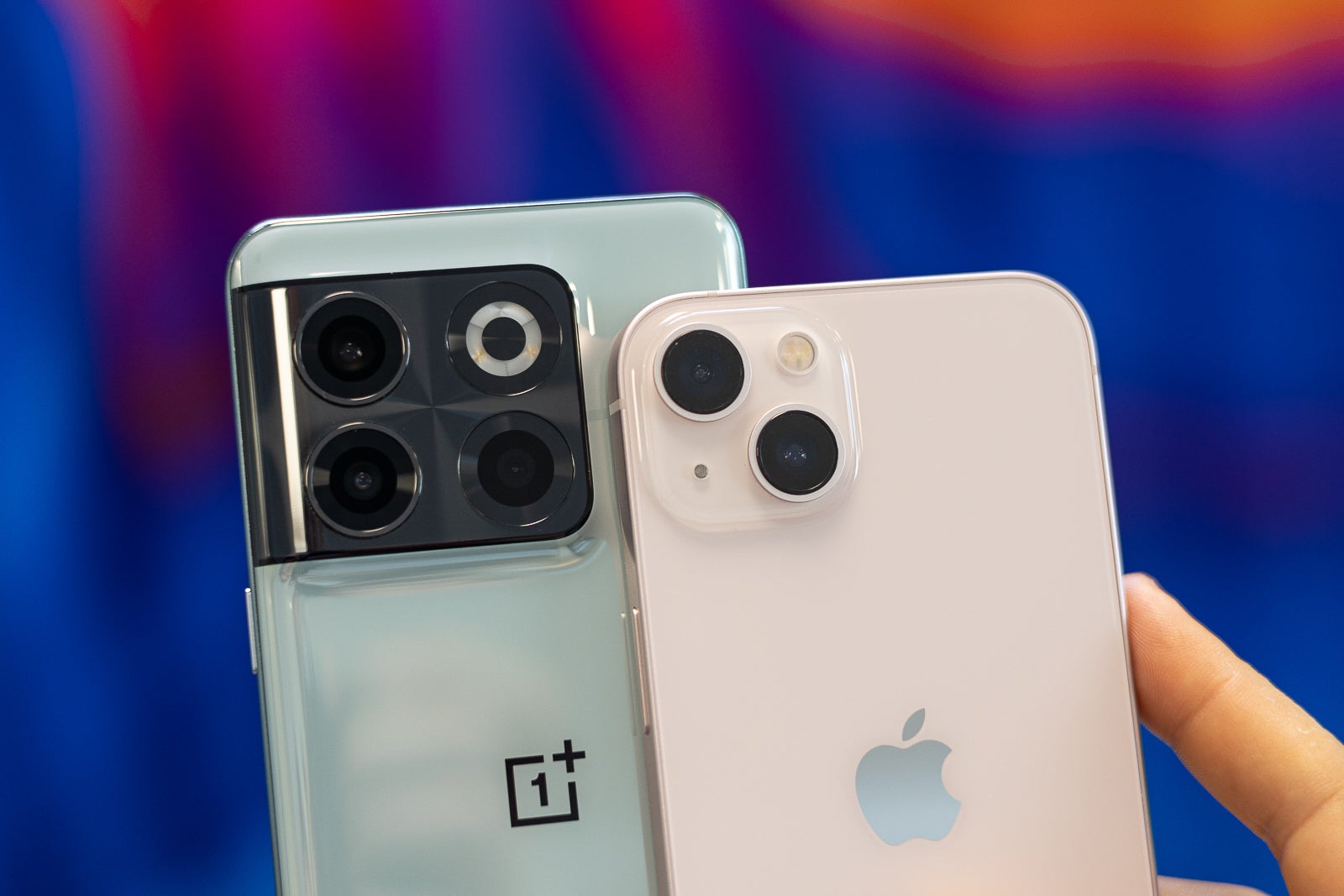 (Image credit - PhoneArena) OnePlus 10T camera (left) vs iPhone 13 (right)
In the OnePlus 10T's big, square camera module reside three cameras and a flash. The main camera is a 50 MP Sony IMX766 sensor with optical image stabilization (OIS), which should help greatly with reducing shaky video recordings. The second camera in there is an 8 MP ultra-wide one with a 119.9° field of view, and the third camera is a somewhat odd choice - a 2MP macro shooter "with an effective shooting distance of 2-4 cm."
As for the iPhone 13, it has one camera less - two in total. The main shooter is 12 MP, also with OIS, while the second cam is a 12 MP ultra-wide.
Both phones can shoot up to 4K video, at up to 60 frames-per-second.
Audio Quality
The OnePlus 10T sports dual stereo speakers with Dolby Atmos, and the exact same goes for the iPhone 13. It's important to note, however, that "dual stereo speakers" is a bit misleading, since both phones actually have a single, main, bottom-firing speaker, and utilize the weaker-sounding earpiece as a second speaker. This helps with giving the user a stereo effect when watching content in landscape orientation, but isn't exactly on par with what two, equally strong speakers on both sides of the phones could deliver in terms of sound.
In any case, there's no headphone jacks on either phone, so if you're still rocking wired headphones and plan on buying one of these phones, it's probably time to go wireless. Both OnePlus and Apple conveniently also sell true wireless earbuds, after all...
Battery Life and Charging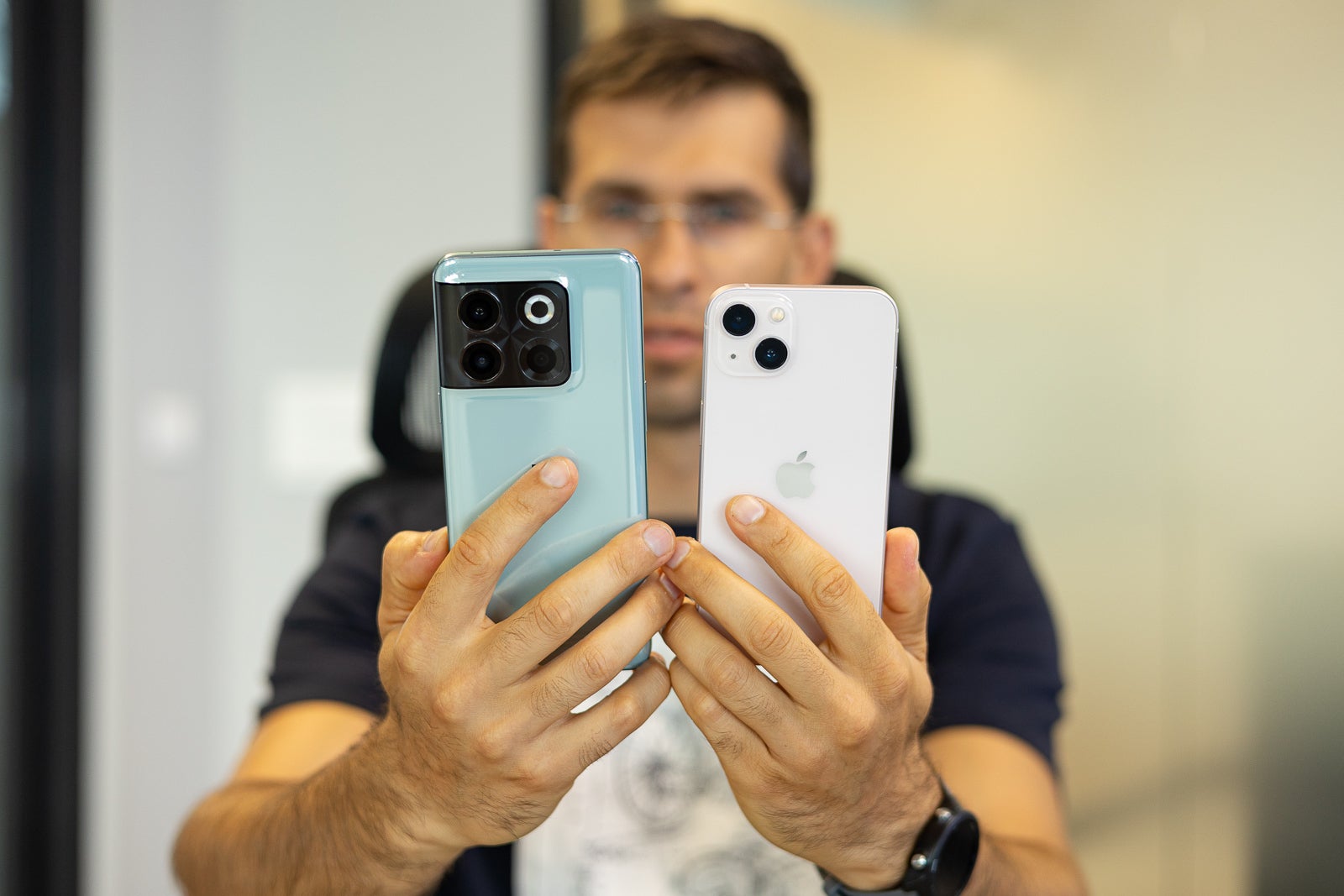 (Image credit - PhoneArena) OnePlus 10T back (left) vs iPhone 13 (right)
This is where the real differences are. The OnePlus 10T offers insane (up to) 150W fast charging speeds using SUPERVOOC technology. According to OnePlus, it only takes 19 minutes for this phone's 4,800 mAh battery to charge from 0 to 100%. Although realistically, US users should probably expect somewhere around 120W fast charging speeds, even though the phone is indeed capable of 150W. Also, unfortunately the OnePlus 10T does not offer wireless charging.
And since it's inevitable to get a bit worried about such fast wired charging, OnePlus is keen on reassuring us that the 10T has lots of "guaranteed" safety protections when it comes to the charging. Those include "a total of 13 temperature sensors" inside its battery system, which keep track of the battery, making sure everything's running safe.
As for the iPhone 13, it only offers up to 20W charging, but there's also 15W wireless charging on board. Its battery is also smaller, at 3,227 mAh. That doesn't make it a battery endurance slouch though. Check our battery performance benchmarks for both phones and see how they measure up:
Specs Comparison
Specs
OnePlus 10T
iPhone 13
Dimensions
163 mm x 75.37mm x 8.75 mm
146.7mm x 71.5mm x 7.65 mm
Weight
203.5 grams
174 grams
Screen
6.7 inches
2412 x 1080 pixels (394 pixels per inch)
120 Hz
AMOLED
HDR 10+
6.1 inches
2532 x 1170 pixels (457 pixels per inch)
60 Hz
OLED
HDR 10
Processor
Qualcomm Snapdragon 8+ Gen 1
Apple A15 Bionic
RAM
8 GB / 12 GB / 16 GB LPDDR58
4 GB LPDRR4X
Rear Cameras
50 MP main (with OIS)
8 MP ultra-wide
2 MP macro
12 MP main (with OIS)
12 MP ultra-wide
Front Camera
16 MP
12 MP
Battery Size
4,800 mAh
3,227 mAh
Charging Speeds
Up to 150W wired charging
No wireless charging
(160W SUPERVOOC Power Adapter included)
Up to 20W wired charging
Up to 15W wireless charging
(No charger included)
Price
$649 for 8 GB RAM / 128GB storage
$749 for 16 GB RAM / 256GB storage
$799 for 128 GB storage
$899 for 256 GB storage
$1,099 for 512 GB storage
We can conclude with the fact that the iPhone 13 is lighter and has the wireless charging option, while the OnePlus 10T offers the bigger screen with the higher refresh rate, and while it doesn't have wireless charging - it supports insane wired charging speeds. And, would you believe it, OnePlus actually gives you the super fast charger with your new OnePlus 10T. Apple does not give you any charger if you buy the iPhone 13, let alone a fast one.
Aside from everything we just looked at and compared between these two phones, whether you should buy the OnePlus 10T or the iPhone 13 would likely fall down to whether you want Android or iOS as your phone operating system.
Recommended Stories