iPhone XS vs Galaxy S9 vs LG G7 specs comparison
12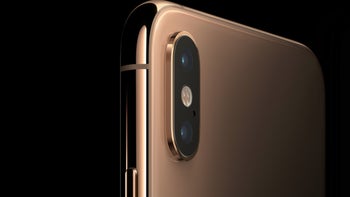 Apple's latest bread and butter - the
iPhone Xr
, XS, and the gargantuan XS Max - are now finally unveiled as Apple's headhitters for the 2018/2019 season, and from the looks of it, most Android manufacturers are in for lots of trouble.
Not only bugger but also meaner, the new iPhones are boasting super-fast hardware and the same sleek design that got shamelessly copied and imitated by almost all Android manufacturers.
The smallest iPhone, the
iPhone XS
, is very likely to be in the sweetest spot considering features, specs, size, and pricing, thus making it the prime candidate for being the most popular new iPhone around. Sure, the Xr is cheaper, but it's not an XS.
How good is the Xs, exactly, especially when compared with its rivals, the Samsung
Galaxy S9
and the LG
G7 ThinQ
? Should you be on the fence whether to upgrade or not, our timely specs comparison will undoubtedly come in handy in answering some vital hardware questions you all might have about this spectacular trio.
625 cd/m2 (nit)
1000 cd/m2 (nit)
HDR support, Scratch-resistant glass, Ambient light sensor, Proximity sensor
HDR support, Pressure-sensitive, Oleophobic coating, Scratch-resistant glass, Ambient light sensor, Proximity sensor
HDR support, Scratch-resistant glass, Ambient light sensor, Proximity sensor
Qualcomm Snapdragon 845 SDM845
Apple A12 Bionic APL1W81
Qualcomm Snapdragon 845 SDM845
Octa-core, 2800 MHz, Kryo 385, 64-bit, 10 nm
Hexa-core, 2490 MHz, Vortex and Tempest, 64-bit, 7 nm
Octa-core, 2800 MHz, Kryo 385, 64-bit, 10 nm
Adreno 630
Apple 4-core GPU
Adreno 630
64GB
64GB, not expandable
64GB
Android (10, 9.0 Pie, 8.0 Oreo), Samsung One UI
iOS (15.x, 14.x, 13.x, 12.x)
Android (9.0 Pie, 8.0 Oreo)
Qualcomm Quick Charge 2.0, Samsung Adaptive Fast Charging
USB Power Delivery
Qualcomm Quick Charge 3.0
31.00 hours
the

average

is 17 h (996 min)
20.00 hours
the

average

is 17 h (996 min)
20.00 hours
the

average

is 17 h (996 min)
3.4 days (82 hours)
the

average

is 20 days (472 h)
15.6 days (374 hours)
the

average

is 20 days (472 h)
3G: 11 hours; LTE: 12 hours; Wi-Fi: 14 hours
Single camera
Dual camera
Dual camera
12 MP (Sapphire crystal lens cover, OIS, PDAF, BSI sensor)
16 MP (OIS, Laser and PDAF, CMOS image sensor, BSI sensor)
Aperture size: F1.5/F2.4; Sensor size: 1/2.55"; Pixel size: 1.4 μm
Aperture size: F1.8; Focal length: 26 mm; Sensor size: 1/2.55"; Pixel size: 1.4 μm
Aperture size: F1.6; Focal length: 30 mm; Sensor size: 1/3.09"; Pixel size: 1 μm
12 MP (Telephoto, Sapphire crystal lens cover, OIS, PDAF, BSI sensor)
16 MP (Ultra-wide, PDAF, CMOS image sensor, BSI sensor)
Optical zoom: 2.0x; Aperture size: F2.4; Focal Length: 52 mm; Sensor size: 1/3.4"; Pixel size: 1 μm
Aperture size: F1.9; Focal Length: 16 mm; Sensor size: 1/3.09"; Pixel size: 1 μm
3840x2160 (4K UHD) (60 fps), 1920x1080 (Full HD) (240 fps), 1280x720 (HD) (960 fps)
3840x2160 (4K UHD) (60 fps), 1920x1080 (Full HD) (240 fps), 1280x720 (HD)
3840x2160 (4K UHD) (60 fps), 1920x1080 (Full HD) (60 fps), 1280x720 (HD) (240 fps)
HDR, Time-lapse video, Hyperlapse, Continuous autofocus, Object tracking, Picture-taking during video recording, Video calling, Video sharing
OIS, Time-lapse video, Continuous autofocus, Picture-taking during video recording
HDR, Time-lapse video, EIS, Video calling, Video sharing
8 MP
7 MP
8 MP
2560x1440 (QHD) (30 fps)
1920x1080 (Full HD) (60 fps)
1920x1080 (Full HD) (30 fps)
5.81 x 2.70 x 0.33 inches (147.7 x 68.7 x 8.5 mm)
5.65 x 2.79 x 0.30 inches (143.6 x 70.9 x 7.7 mm)
6.03 x 2.83 x 0.31 inches (153.2 x 71.9 x 7.9 mm)
5.75 oz (163.0 g)
the

average

is 6.5 oz (184 g)
6.24 oz (177.0 g)
the

average

is 6.5 oz (184 g)
5.71 oz (162.0 g)
the

average

is 6.5 oz (184 g)
Back: Glass (Corning Gorilla Glass 5); Frame: Aluminum
Back: Glass; Frame: Stainless steel
Back: Glass (Corning Gorilla Glass 5); Frame: Aluminum
Water, Dust; IP68
Water, Dust; IP68
Water, Dust; IP68; MIL-STD-810 certified
Iris scanner, 2D Face unlock, Fingerprint (touch)
3D Face unlock
2D Face unlock, Fingerprint (touch)