Verizon releases 4.7.1.53 for the BlackBerry Tour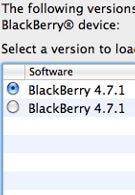 The BlackBerry Tour 9630 has some issues. After the morning alarm rings, you might have trouble turning on the phone, or you might find your Tour acting as if you still have a headset connected to it when you have already removed it from the device. Let's say you are in Setup Wizard trying to add an email account. Some Tour owners have complained that the phone jumps to Bluetooth setup, preventing them from going back and setting up the email account correctly. These are just a few of the problems that Verizon says that they have corrected with the upgrade to OS 4.
7.1
.53 for the model. BGR has put together a changelog for the upgrade which you can check out at the sourcelink. In the meantime, let us know if the update helps correct any issues that you have found with your handset.
RIM BlackBerry Tour 9630 Specifications
|
Review
source:
BGR