The iMessage sticker industry is exploding: 5 packs that prove it's a mixed blessing
2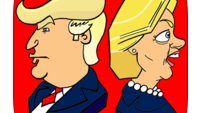 A crack here, a split there, and a whole fracture appears in Steve Jobs' closed iOS ecosystem concept. CEO Tim Cook opened the floodgates with the invitation for third-party keyboard makers to port their creations over to iOS 8, and now, with the latest iOS 10 edition, we have a veritable gasp-inducing storm of proprietary APIs, like those of Siri or iMessage, being partially opened to developers to work their magic into the innermost sanctity of the iOS code.
This is, of course, a good thing, at least in general principle, as there has never been such an abundance of choice for iPhone users, be it for keyboard replacements, or iMessage sticker packs. Apple even
bragged
about having thousands of sticker packs for iMessage already, and, if successful, these could bring millions of extra revenue to the bottom line, so there's that, too.
Well, with stickers that abundance is a bit of a mixed blessing, though. Looking at some of the sticker apps and sets that third-party developers are coming up with, one can't help but wonder what strain were these guys on when they were creating those, and here is your living proof.