The OnePlus 9 and Find X3 series to beat Apple and Samsung again with the first 'billion-color' phones
2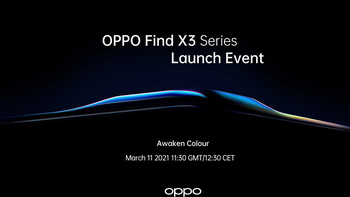 The original story continues below.

##
The first end-to-end billion color solution on a phone
Well, Oppo promised us that the
Find X3 Pro
would have an even better display when it launches some time this month. What could be better than granular refresh rate adjustments at the full resolution, near-perfect factory calibration, high brightness, and 10-bit dynamic range capabilities? Why, all of that, and an end-to-end billion-color solution for capturing, encoding, storing, decoding, and displaying HDR10+ content, teases Oppo:
OPPO announced its ground-breaking 10-bit Full-path Colour Management System as part of its commitment to experiential excellence. Now, the technology is ready to be shared with the world in Find X3 Pro.

If a chain is as strong as its weakest link, OPPO's Full-path Colour Management guarantees integrity at every point when it comes to colour. The results are true-to-life, evocative, rich visual experiences, from capture, to encoding, storage, decoding and display... In Find X3 Pro, OPPO painstakingly focuses on the full-spectrum of colour management, from high-impact enjoyment, eye safety, through to accessibility.

The OPPO Find X3 Pro isn't just a colour powerhouse. Its screen also delivers excellence across resolution, screen refresh rate, and high dynamic range content, bringing users the clearest, most accurate, smooth, and comfortable display to date.

Committed to capturing the moment, OPPO Find X3 Pro's camera capabilities have been tuned to empower photography and video capture at the highest quality across a range of scenarios.
It seems that the Find X3 series will include the first phone to do end-to-end wide-color management, and we hope that next week OnePlus will tease that this technology will trickle down to the 9 series as well, shared parent company and all.