OnePlus 9 Pro Review: A generational reset for OnePlus
34
We may earn a commission if you make a purchase from the links on this page.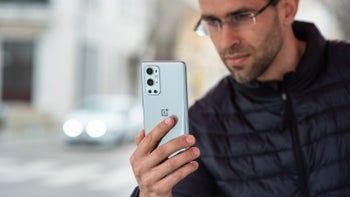 OnePlus 9 Pro Intro
There's no way around it: the
OnePlus 9 Pro
was one of the
best Android phones
of 2021.
This OnePlus flagship put quite a heavy emphasis on its camera and display, addressing some of the harsher criticisms for OnePlus' previous flagships. Indeed, the
OnePlus
9 Pro gave us a "return to the basics" and delivered a revamped camera experience that was pretty much on par with the ceontemporary Galaxies and iPhones, for the most part. The display was also one of the finest around at the time, introducing a couple of firsts that subsequently became industry standards.
The OnePlus 9 Pro was, and actually still ranks as one of the fastest-charging phones in the US, equipped with exceptionally quick wired and wireless charging.

To sum it all up, the OnePlus 9 Pro was an exceptional device that showcased the best of Android, and was excellent value for money. However, the OnePlus 9 Pro is already fairly old news, so you might want to consider its successor: the newer
OnePlus 10 Pro
or
OnePlus 11
, both of which improve the OnePlus flagship formula on all accounts, offering a better camera, performance, and battery life.
OnePlus 9 Pro specs
Specs
OnePlus 9 Pro
Size and Weight
6.43 x 2.90 x 0.34 inches (163.2 x 73.6 x 8.7 mm), 6.95 oz (197gr)
Display
6.7" AMOLED, 120Hz, 3216 x 1440 pixels, HDR
Processor
Qualcomm Snapdragon 888 (5 nm), Octa-core, 2840 MHz, Kryo 680, 64-bit
RAM
8GB / 12GB
Storage
128GB / 256GB no expandable storage
Software
Android 11, Android 12
Cameras
48MP wide, OIS, PDAF, F1.8, 1/1.4", 1.12 μm pixel size
8MP telephoto, OIS, PDAF, F2.4
50MP ultra-wide, F2.2
2MP monochrome sensor
16MP EIS front camera
Battery Size
4,500 mAh
Charging Speeds
65W wired, 50W wireless charging
Price
starting from $969
OnePlus 9 Pro models
Aside from the OnePlus 9 Pro, OnePlus also has the
OnePlus 9
in the ranks. It's a fairly toned-down version of the phone, with humbler camera, but still a great option for those on a slightly tighter budget. You can read our full
OnePlus 9 review
here.
OnePlus 9 Pro design & colors
OnePlus went extremely safe with the design of the
OnePlus 9 Pro
, and I'm definitely on the fence as to whether that was the right choice. On one hand, no matter what they tell you, OnePlus is desperately trying to become a more mainstream and recognizable brand that's trying to break away from its regular user-base that's more invested in hardware specs and Android flexibility than anything else, and I'm not sure a tacky and 'exciting' design would have helped the case.
A premium glass-aluminum sandwich is exactly what would make this OnePlus phone one you'd want to get instead of the latest Galaxy or iPhone. The three available colors — Stellar Black, Pine Green, and Morning Mist — are definitely super-stylish, and would fit just about any lifestyle.
But on the other hand, I'd have loved for OnePlus to have been a bit braver and gone with a slightly more exciting design. Don't get me wrong, there's nothing not to like here, it's just a bit on the boring side. More color options or a special edition would have probably made the OnePlus 9 Pro more exciting.
What makes a stark impression here is how compact the OnePlus 9 Pro feels in spite of its 6.7-inch display. Despite the size, the phone doesn't weigh you down — OnePlus has successfully kept the weight beneath 200gr, which is in contrast with all those heavier-than-life flagships that we've seen recently: for example, both the
Galaxy S21 Ultra
and the
iPhone 12 Pro Max
are noticeably heavier at 229gr and 228gr, respectively.
While the weight has been kept in check, OnePlus hasn't really cut any important corners on the OnePlus 9 Pro. The essential OnePlus hardware features are here — we have dual stereo speakers, the super-useful signature triple mute switch, and an optical fingerprint scanner embedded inside the AMOLED display. At the back, we have a large but acceptable camera island with a 'Hasselblad' logo, which I'm not sure I like from an aesthetical point of view. There's an improved haptic motor as well, which offers great vibration feedback.
Unlike some previous OnePlus devices, which were not officially waterproof but technically could survive a short dunk in water, the OnePlus 9 Pro is an IP68-resistant device, so rest assured it's as impervious to water and dust as its competitors.
OnePlus 9 Pro display
The 6.7-inch AMOLED display of the OnePlus 9 is gorgeous. Bright, smooth, and with tons of features and settings that let you customize your experience, it's easily the highlight of the phone for me. In a flagship OnePlus fashion, the display is slightly curved but not excessively so, making way for a pleasant navigation experience. The display is also tack-sharp at 525ppi thanks to the 1440 x 3216 resolution, and quite vivid, with a few different display color profiles to choose from. Viewing angles are very good, and so is the maximum brightness — you wouldn't have problems with screen legibility even under the bright noon sun.
There's also a variable refresh rate here thanks to the LPTO display technology on board. OnePlus says it will dynamically scale the refresh rate from 120 all the way down to 1Hz, which is superior to, say, the Galaxy S21 Ultra's screen which can 'only' go as low as 10Hz. Overall, this transition between different refresh rates happens in the background, without the user ever noticing stark refresh rate inconsistencies.
Display Measurements:
Browsing the web or your social media apps will mostly favor higher refresh rates, whereas watching a movie will scale things down to 24Hz for battery saving purposes, most YouTube videos will lock up the refresh rate to 60, while displaying static content like text or a photo will allegedly tone down things to 1Hz. I say "allegedly", because Android has no built-in tool for measuring refresh rate that works nicely with variable refresh rate, so you have to believe your own eyes and take OnePlus' claims for granted.

Taking the rose-colored glasses off, it's becoming glaringly obvious that Android and most popular apps aren't very well optimized with variable refresh rates just yet. For example, apps like Skype and running YouTube in PiP mode seem to lock up the interface at 60Hz, while viewing static images in the built-in OnePlus gallery runs at 120Hz and not much lower as one would expect.
OnePlus 9 Pro hardware & performance
Pound-for-pound, the OnePlus 9 Pro is easily one of the best-specced Android phones announced so far in 2021. With the new Snapdragon 888 on board, the OnePlus 9 Pro is a beast in terms of processing, seemingly always in excess of processing power.
You can have the phone with either 8 or 12GB of RAM, and 128 or 256GB of native storage without any expansion options, which is a pretty standard and mostly sufficient loadout for Android flagships these days.

The phone performs admirably in both synthetic benchmarks and real-life scenarios. Playing an intensive 3D game like Minecraft, for example, was quite enjoyable due to the consistently high frames per second achieved by the phone and the relatively low temperatures during the run: thanks to the cooling vapor chambers employed in the OnePlus 9 Pro, things are quite cool under the hood.

And if Fortnite is your thing, you might want to consider the OnePlus 9 Pro since recent OnePlus devices are the only ones capable of running the popular battle royale at nearly-consistent 90fps.


OnePlus 9 Pro features
Powering the OnePlus 9 Pro is OxygenOS, which has scored slightly refreshed looks and quality-of-life features and functionalities sprinkled across most menus. For example, you can finally schedule dark mode to switch on between sunset to sunrise, which was surprisingly not present on previous OnePlus phones.
As we've come to expect from OnePlus, the hardware and software run in perfect unison that makes for a superb user experience with smooth transitions, speedy response, and no sign of lag or jitters. Aside from that, Oxygen OS is the same stock-ish Android skin that offers just the right amount of additional customizability without feeling overburdened by hundreds of menus and tons of extraneous fluff on top of the basics.
Traditionally, OnePlus has its biometrics sorted to the nines. The not-so-secure but convenient face unlock is near-instantaneous, whereas the optical fingerprint scanner embedded within the display is still one of the quickest I've used to date. It's a joy to simply pick your phone up and unlock it in a jiffy, but you know what would have been even cooler? As pointed out by my colleague Victor, a raise-to-wake feature is weirdly missing from OnePlus' feature loadout.
OnePlus 9 Pro camera
The OnePlus 9 Pro comes with a triple camera that uses a new 50MP ultra-wide, wide-angle, and telephoto cameras. The ultra-wide camera utilizes a Sony IMX766 sensor with less noise and very little distortion around the edges of the frame in comparison with similar phones — OnePlus says the difference is as stark as 1% vs 10 and even 20%.
However, it's worth noting that the ultra-wide camera of the OnePlus is also much narrower than its competitors, which is especially obvious when shooting video. As an added bonus, it doubles as a quite versatile macro camera. The rest of the camera setup comprises a 48MP main camera with a custom Sony IMX789, with tons of improvements that aim to make it focus faster, deliver more color information, less noise in daylight or nighttime shots, and finally, less motion blur in videos.

We've got a stabilized telephoto as well, and this one delivers a 3.3X zoom which isn't as impressive as what some of the competitors deliver, but manages to capture perfectly usable photos. Finally, we have a monochromatic camera that helps with image sharpness. Yet, hardware's just part of the equation.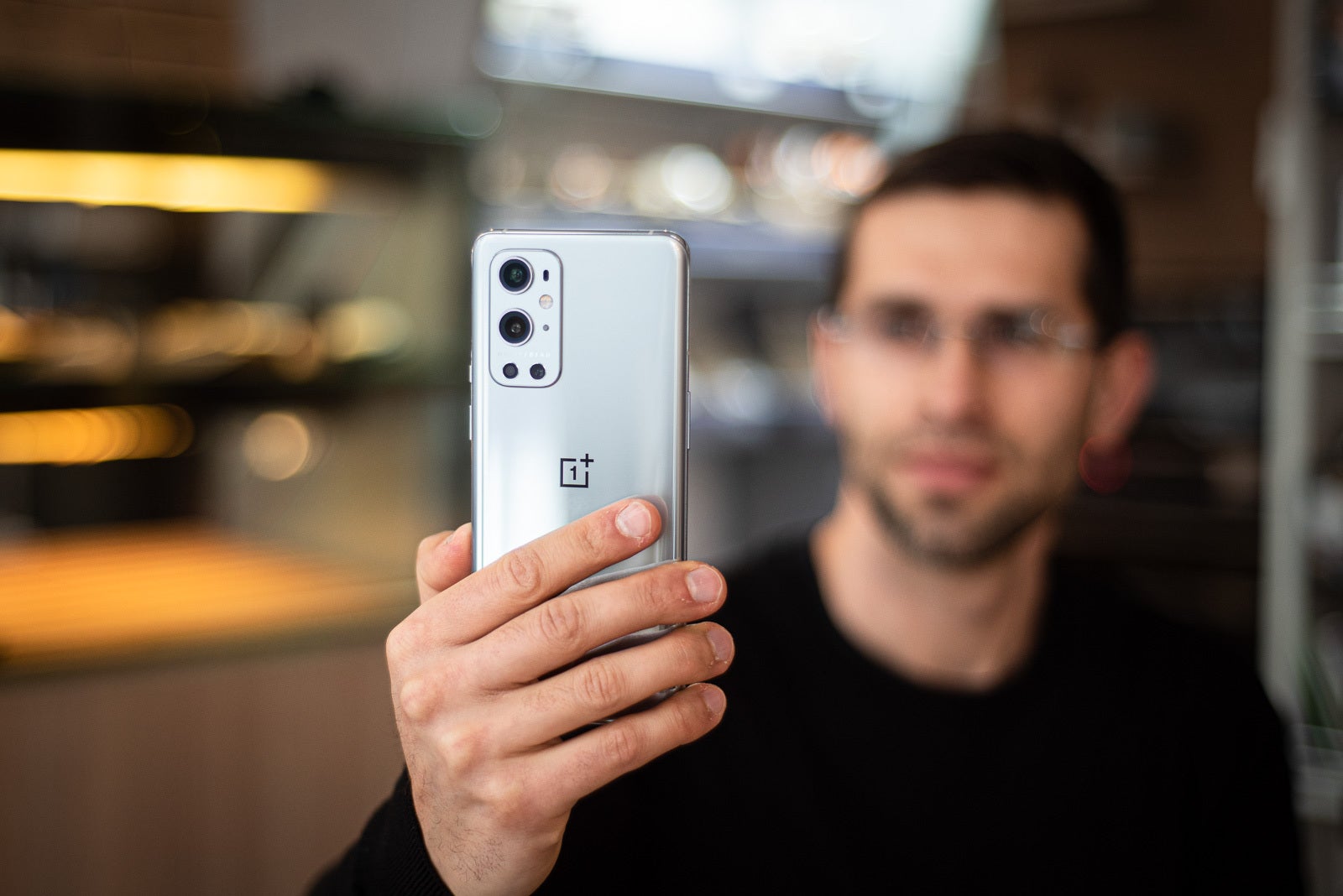 After years of "something's missing" and not really matching up with the iPhones and Galaxies of the world, OnePlus is finally taking mobile photography seriously with a recently-announced partnership with Hasselblad, the legendary Swedish camera manufacturer best known for its medium-format cameras.

This partnership mostly aims to fix the notorious "OnePlus colors" in photos, which emphasized reddish-purple and thus ensured an unnatural tint on most photos. This was quite possibly the biggest issue with the OnePlus camera, and finally, it's getting addressed.


For the most part, the OnePlus 9 Pro is a win when it comes to image quality. Photos turn out very detailed and with great dynamic range, but the real difference here are the colors. As expected, the OnePlus colors of old are out, whereas a more realistic, even slightly muted color temperature is in. If you're a fan of that, the OnePlus 9 Pro will be right up your alley, but you should know that a Galaxy or an iPhone would generally deliver a more vivid image. Portraits are great, though the crux of modern smartphone photography — subject separation from complex backgrounds — is present here as well. Low-light shots turn out great as well, with the ultra-wide camera being surprisingly adept.


By default, the 9 Pro shoots 12MP photos, but you can also easily select the high-res option that shoots using the full 48MP of the main camera. The high-res photos definitely come out with a cleaner detail as you can see above, but they are also much larger (an average 12MP shot was about 8MB in size, while a full-res picture takes up three times more storage space).
Videos taken with the OnePlus 9 Pro are superb and the autofocus is super quick to lock on the subject. The OnePlus 9 Pro is also the first phone to shoot 4K video at 120fps. There's also portrait video, which is surprisingly good, but ultimately a gimmick.
OnePlus 9 Pro battery life & charging
There's a 4,500mAh inside the latest OnePlus flagship, but it's clear as day that an improvement to battery life wasn't the focus here. This is not a two-day phone; if you're a very heavy user you might need your charger by the late afternoon. Is that a problem? Normally, it would be, but in the case of the OnePlus 9 Pro, it's not.
In our tests, it takes the OnePlus 9 Pro just 30 minutes to get fully juiced up with the 65W charger that's included in the box with the phone itself, which is exceptionally fast and actually beats many newer phones in this quite important discipline. With such fast charging on deck, battery life isn't an issue in case you're near a power outlet: just remember to carry the phone's charger with you and you can fully charge the battery in half an hour.
If that's not impressive enough, the company's newest 50W wireless charger will top up the phone in just 43 minutes, which is also exceptionally fast for a wireless charging solution. With such charging options in tow, battery life isn't really an issue anymore, as long as you've got power outlets in your immediate vicinity.
OnePlus 9 Pro Summary and final verdict
The OnePlus 9 Pro is a great phone with tons of qualities to it.

However, battery life isn't that good, and the price tag will definitely turn away some OnePlus fans who are still living in 2016 and can't stomach the slow but steady increase in pricing. Indeed, the basic version of the OnePlus 9 Pro with 8GB RAM and 128GB of storage starts at $969, while the 12GB RAM/256GB storage version goes for $1,069. To be perfectly honest, the OnePlus 9 Pro is definitely worth its price tag, so don't let OnePlus naysayers downplay the hardware and software advances that have warranted the latest price increases.
Overall, we feel that the OnePlus 9 Pro is a step in the right direction, but not quite there yet with the best-performing flagships out there, like the
Galaxy S21 Ultra
and the
iPhone 12 Pro Max
. What it failed to achieve was mostly accomplished by its successors, the OnePlus 10 Pro and the OnePlus11, which were building on the strong foundation established by OnePlus' 2021 flagship phone.