Samsung's Galaxy Z Fold 4 price slashed massively in an epic new Black Friday deal
1
We may earn a commission if you make a purchase from the links on this page.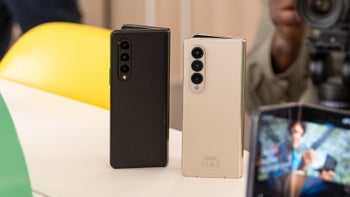 The ultimate Galaxy Z Fold 4 Black Friday deal has just dropped and it is not one to miss.
We already say the $400 discounts on the Galaxy Z Fold 4 on both of its models, the 256GB and the 512GB versions, but this offer is even better. Samsung steps up with a massive $450 discount over at the official website and good news is that you don't even need to trade-in a device to get that deal. Amazon also matches the savings when it comes to the 256GB Galaxy Z Fold 4, but it offers $430 off on the beefier 512GB model, while Samsung gives you a $450 price cut, which is better. Over at Best Buy both those models get a $400 discount, which is nowhere nearly as nice.
In our view, if you want a horizontal, book-like foldable, you should be very quick in getting this deal. It doesn't require a trade-in, it's pure savings, nice and simple.
The phone is shipped by the official Samsung store so it is perfectly legit. And in case you were wondering about the Amazon deal, it is shipped officially by Amazon, so it is also a decent alternative. This offer is for the unlocked model of the Fold 4, which means that you will be able to use it on your favorite carrier with no worries, and you will also be able to switch carriers if you decide so too.
If you are not sure about the Fold 4 just yet, head over to our selection of the best Black Friday deals for Samsung Galaxy phones or why not check out our insane overall round up of the
best Black Friday phone deals
in general.