Samsung M800 for Sprint is a touch-screen phone!
56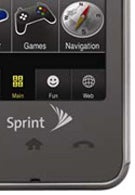 SamsungSPH-M800 for Sprint
. It appears to be the US CDMA variant of the F490,as the U940 for Verizon is a variant of the F700. It will have verysimilar design, candybar with a huge touch display and three buttons onthe front side, but it will have different features and specifications.Unfortunately, the 5-megapixel camera is replaced with a standard2-megapixel one, and most likely the Croix user interface is replacedwith one, matching the carrier's phones. Currently there are only a fewdetails about the phone, including EV-DO support, Stereo Bluetooth andGPS. We will update you once there is more information.
source:
Mobiledia