Samsung Galaxy Note 7 once again on sale in South Korea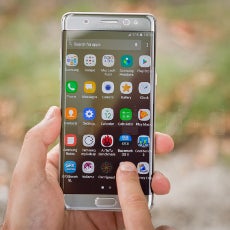 Samsung announced earlier this week
that its
Galaxy Note 7
would to resume sale in South Korea this weekend. The device's global roll-out as has been so fraught with roadblocks, that key dates have been subject to change. However, the October 1st relaunch in the company's native land has gone ahead as planned, with Korean consumers once again able to get their hands on Sammy's newest top-end phablet.
The Galaxy Note 7
has reviewed very well
and looked set, at one point,
to smash sales numbers
of the preceding
Note 5
. With a curved-
edge
, QHD display, Snapdragon 820, 4 GB RAM, expandable storage and Samsung's signature S Pen, it's packed to the gills with features that Note devotees have become accustomed to. A few incidents of
battery fires and explosions
quickly put the brakes on the Note 7's promising start, though, and as
the recall
continues, some markets still won't see the device for many weeks yet.
While Samsung's reputation has suffered across the world, Korean consumers are fiercely loyal to what is one of its largest and most celebrated electronics firms. As Sammy looks to earn back the trust of its native gadget lovers, though,
the company may have more difficulty doing so over in China
.
Are you still holding out for the Galaxy Note 7 to arrive in your area? Let us know which device you've got your eye on the comments.