Samsung exec says the Galaxy Note 7 will sell better than the Note 5 (and older Notes)
22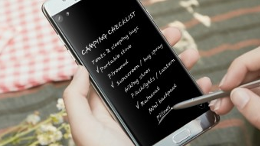 Now that the
Galaxy Note 7
has been officially announced and we know pretty much everything about it, we can say that this is shaping up to be the best Note yet. But will it also be the most successful Note to date? Well, Samsung certainly believes so.
According to The Korean Times, a Samsung executive said that "initial response about the Note 7" from carrier partners was very favorable, both in South Korea (Samsung's home country), and around the world. Moreover, the exec confidently declared that sales of the new Note would "exceed" sales of the previous models - obviously including the Note 5 from last year. The Samsung official couldn't disclose numbers, so we'll have to wait (probably a few months) before knowing just how many millions of units are/will be shipped.
It's worth noting that the Galaxy Note 5 was never officially released in Europe, so the Note 7 definitely has an advantage from this point of view (it should be out in Europe starting early September - a few weeks after being released in the US and other markets).
As you probably know, the Galaxy Note 7 is available to pre-order starting today, August 3, via all major US carriers, and will hit shelves on August 19. Prices (off contract) start at $850. Until you get the chance to test one yourself, here's
everything you need to know about the Samsung Galaxy Note 7
.