Qualcomm offers a full refund for FLO TV hardware
1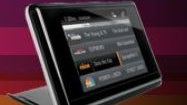 Qualcomm
's FLO TV mobile television service might have survived if it had come sooner. Now, there are simply too many competitors with better pricing (i.e. free), more options, and greater convenience. A dedicated mobile television device just isn't enough. That's why
FLO TV
is officially going offline on March 27, 2011.
If customers want to terminate their service before the cutoff date, they can qualify for full refunds on their hardware purchases. Owners of the FLO TV Personal Television, Audiovox Portable DVD Player with FLO TV, and FLO TV Auto Entertainments units can receive a rebate for the original retail price (minus taxes, shipping, etc.).
Your service will then be cut off within 72 hours of cancellation, and your account will be credited for what you didn't use in the given month. You can then expect a rebate check within 4 to 6 weeks. The termination option is good through April 30, so you can continue to use your device through it's service termination if you choose.
Turning lemons into lemonade, Qualcomm is attempting to auction off the 700MHz FLO TV spectrum. AT&T is reportedly considering the purchase, valued at US$2 billion, to complement their 3G network.
source:
FLO TV
via
Electronista
Recommended Stories