Next Nougat update could be Android 7.1 build NDE63B, shipping with Google Pixel and Pixel XL
23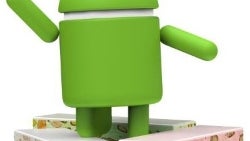 Serial leakster LlabTooFeR is unstoppable nowdays. Knowledgeable about all things HTC, he took to Twitter to announce that the upcoming Google Pixel and Pixel XL smartphones (codenamed Sailfish and Marlin) will ship with Android 7.1 in October. If he's to be believed, the current build number of Android 7.1 Nougat is
NDE63B
. This means owners of current Nexus devices (the Nexus 5X and Nexus 6P, Nexus 6 and Nexus 9) should look forward to an Android update carrying the same build number.
However, this depends on whether Google decides to release updates and factory images carrying the same build, and whether there's a possibility of changing the build number to correspond to an October release. The current Android 7.1 build is dated September 1.
Shipping the latest Android version on new devices is a virtue mostly associated with Google, whose Nexus handsets are the only ones with the privilege of receiving the latest Android updates the moment they are ready. Hopefully, other manufacturers will be able to provide timely updates to their devices, or at least ship Android 7.0 updated with the latest security patches (unless that's too much to ask for?)
Slated for announcement on October 4, the pair of Pixel handsets sees a change in name from Nexus (as Google is looking to unify its hardware portfolio). In addition to top-shelf specs and updated Sony cameras, they are supposed to deliver at least two new software additions – the Nexus launcher and a new Google Assistant.
ALSO READ