Motorola Moto X Style, Moto X Play, and the new Moto G: all you need to know
18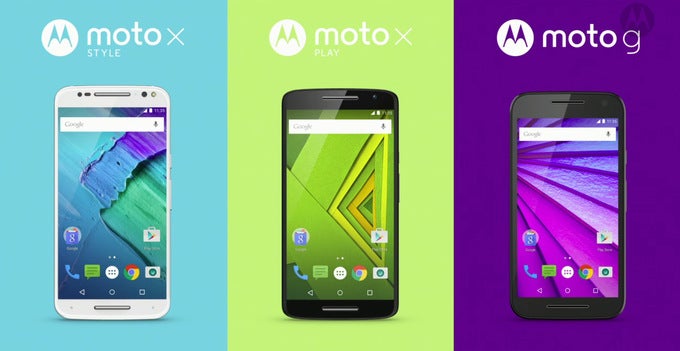 Today was a big day for Motorola – one marked by the largest product announcement event in the company's history. Taking a quick look at our news feed is enough to see why – three new (and quite exciting, we must add) Moto smartphones were made official. The
Motorola Moto X Style
is the leader of the gang, here to succeed last year's Moto X. Right behind it are the
Moto X Play
and the
2015-edition Moto G
, positioned in the mid-range and entry-level categories respectively. Care to learn more about them? Well, you've come to the right place. We've put together all of our news posts and articles dedicated to Motorola's trio of Moto handsets in a neat, tidy list for anyone who needs to catch up.
Official announcements
Here is a good place to start if you want to learn all there is to know about Motorola's new Android smartphones. Below are the news posts where we go over all their key features. And if you feel like watching the entire event on video, there's a link to that as well.
Hands-ons, images, and size comparisons
After the official announcement of the new Motos, we had the chance to take them for a quick spin. Check out our hands-on below. You'll also find size comparisons, where we put the phones side by side to see how they compare in terms of dimensions.
New features, prices, release dates
What can the new Motorola smartphones do that the older models couldn't? Learn in the articles linked below. When will they launch and how much will they cost? We have those details covered as well.
Specifications and specs comparisons
Because you're good to know what kind of bang you're getting for your buck. These are the hardware specifications for Motorola's three new smartphones. See what makes them tick and how they compare to some of their rivals.