Moto X Style vs Moto X Play vs Moto G 2015: specs comparison
25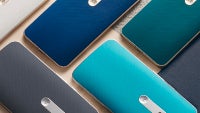 Moto has hit the competition hard today with not just one, not two, but three great new smartphones! The Moto X Style, X Play and new Moto G will all reach the market at different moments: the Moto G 2015, for example, is promised to become available as soon as today, while the Moto X Play is to launch in August, followed by the Moto X Style in September.
And while all three new Motorola smartphones fit in different categories: high-end for the X Style, upper-mid-range for the X Play, and lower-mid-range for the Moto G, we think it'll be a good idea to have a nice overview of the specs of all three - so we can all make out all the differences at a glance.
Without further ado, let's see how all three new Motos stack up against each other in the all-important specs department!
Scratch-resistant glass, Ambient light sensor, Proximity sensor
Scratch-resistant glass, Ambient light sensor, Proximity sensor
Scratch-resistant glass, Ambient light sensor, Proximity sensor
Qualcomm Snapdragon 410 8916
Qualcomm Snapdragon 808 MSM8992
Qualcomm Snapdragon 615 8939
Quad-core, 1400 MHz, ARM Cortex-A53, 64-bit
Hexa-core, 1800 MHz, ARM Cortex-A57 and ARM Cortex-A53, 64-bit
Octa-core, 1700 MHz, ARM Cortex-A53, 64-bit
Adreno 306
Adreno 418
Adreno 405
Android (6.0 Marshmallow, 5.1 Lollipop)
Android (7.0 Nougat, 6.0 Marshmallow, 5.1 Lollipop)
Android (7.1 Nougat, 6.0 Marshmallow, 5.1 Lollipop)
Qualcomm Quick Charge 2.0
Single camera
Single camera
Single camera
Aperture size: F2.0
Aperture size: F2.0; Focal length: 27 mm; Sensor size: 1/2.4"; Pixel size: 1.1 μm
Aperture size: F2.0; Sensor size: 1/2.4"; Pixel size: 1.1 μm
1920x1080 (Full HD) (30 fps)
3840x2160 (4K UHD) (30 fps), 1920x1080 (Full HD) (60 fps)
1920x1080 (Full HD) (30 fps)
MPEG4, H.264
MPEG4, H.264
Picture-taking during video recording, Video calling
HDR, Continuous autofocus, EIS, Video calling
HDR, Video calling
5.59 x 2.85 x 0.48 inches (142 x 72.4 x 12.2 mm)
6.06 x 3.00 x 0.44 inches (153.9 x 76.2 x 11.06 mm)
5.80 x 2.95 x 0.43 inches (147.3 x 75 x 10.9 mm)
5.47 oz (155.0 g)
the

average

is 6.5 oz (184 g)
6.31 oz (179.0 g)
the

average

is 6.5 oz (184 g)
5.96 oz (169.0 g)
the

average

is 6.5 oz (184 g)
Back: Plastic
Back: Plastic
Back: Plastic
Water; IPx7
Splash, Dust; IP52
Splash