LG G5 rumor review: a powerhouse with a metal body, Snapdragon 820 chip, and iris scanner security
63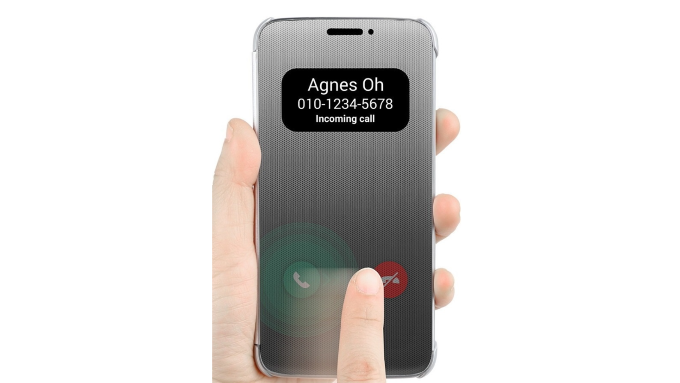 The LG G4
didn't conquer many buyers' wallets this year
, but it's certainly among 2015's
most memorable Android smartphones
. It caught our attention with its interesting choice for a chipset, the genuine leather back panel, competent camera setup, and alluring price tag. A strong seller the LG G4 wasn't, but it got even more people talking about LG handsets! Which means even more people will be talking about its successor, the LG G5, after it's announced on Feb 21 at MWC 2016.
Based on what we've heard, LG's new hero phone is shaping up to be a very competitive device! For all we know, the LG G5 will wave goodbye to plastic and proudly feature a refreshed metal design, in addition to the latest hardware and an updated user experience. There's also a strong possibility of iris scanning security coming to the smartphone. You can read more about that, and other interesting aspects of the LG G5 below.
Oh, and in case you don't feel like plowing through the whole thing — here's just the gist of it!
TL;DR
Design

: The LG G5 will have a metal body, a first for LG since its "Shine" series of feature phones from the recent past.

Hardware

: The Qualcomm Snapdragon 820 system chip is the one expected to power the LG G5. Iris scanning security is a legitimate possibility, as well as a moonshot "extension slot" that will be a first for smartphones.

Display

: A 5.6-inch, 1440 x 2560 resolution IPS LCD panel is expected, along with a secondary "ticker" display. No Force Touch, though. The display will have an "Always-On" mode, showing data at a glance.

Camera

: Dual rear camera setup (16MP + 8MP); 8MP front cam; Laser auto-focus; Dual-LED flash;

Release

date

and

price

: Announcement on Feb 21 at MWC 2016 in Barcelona. Price tag around $600. The LG G5 is supposed to be ready and in production as we speak.
Contents
Design
Waving plastic goodbye, LG takes "a major step forward" in design with a full metal body.
Less than a week before its announcement, an online retailer in Dubai has already put the LG G5 up for sale, or at least claims so. The smartphone pictured here is thoroughly consistent with the leaks that have surfaced so far. Rumored features such as the metal body, volume button placement, dual camera setup, and fingerprint scanner built in the power button are present. This might very well be the smartphone we've been waiting for!
Before that,
LG introduced the official Quick Cover case for the LG G5
. The "Always On" display mode is visible through the front cutout. The feature shows the time, date, and up to four notification icons underneath. LG points out the Quick Cover's "unique" film with glossy metallic finish, which "complements" the smartphone's design. We take that as a hint towards the G5's rumored metallic build. Moreover, the film is made to allow interacting with the screen underneath, so the user can take calls (and possibly do other things) without opening the cover. Nifty!
A few weeks before LG confirmed the G5's existence by revealing the cover, the leaked photos below claimed the LG G5 has a metal design and a dual rear camera setup (rumored to be 16MP and 8MP) present on the smartphone's back. We also got to see a fingerprint scanner, placed under the lenses. The SIM tray and microSD slot are on the lower right, and the previously mentioned USB Type-C port can be found on the bottom, along with speaker holes.
And before those pics set the internet on fire, an eyewitness leaked some information to CNet Korea, resulting in a render that alluded towards a drawer-like mechanism which makes the G5's bottom side removable and lets the juicer be taken out with ease. The design also reduces the risk of water and dust ingress.
You might also like:
Hardware
The Qualcomm Snapdragon 820 SoC and an iris scanner are highlights in the LG G5's spec sheet.
LG's flagship smartphones have a reputation for including the best hardware available at the time, and the LG G5 won't be one to differ. Here's everything we know about the smartphone's performance and features as of now.
Processor & memory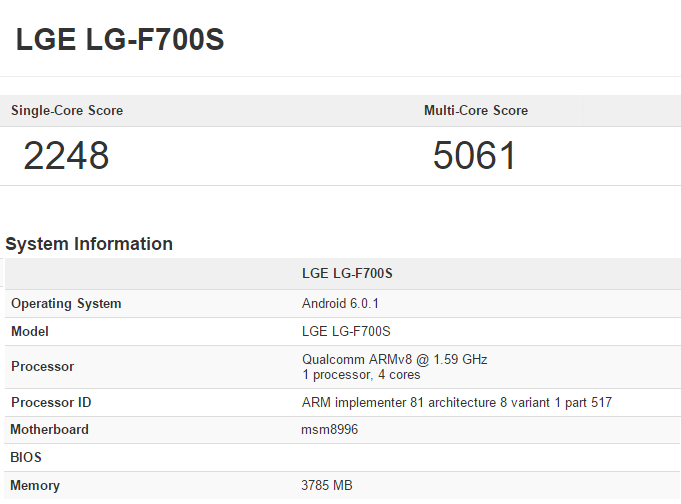 Leaked LG G5 benchmark confirms Snapdragon 820 SoC and 4GB of RAM.
The most solid intel we have on the LG G5's spec sheet is this entry in the Geekbench database. The listing shows that the G5 is going by the model number F700, a natural progression for the G5 following last year's LG G4 F500 and LG V10 F600. The smartphone is listed with a quad-core Qualcomm Snapdragon 820 chip, 4GB of RAM, and runs Android 6.0.1 Marshmallow. This means the LG G5's hardware is on par with that of the Samsung Galaxy S7's American version, and the two should have similar baseline performance. Below, you can read some technical details to get a better impression of the LG G5's spec sheet.
Fabricated by Samsung on its industry-leading 14nm FinFET technology, the Snapdragon 820 chipset boasts four custom 64-bit CPU cores, an in-house made Adreno 530 GPU, and LPDDR4 RAM. Although the number of CPU cores has been reduced to four from the eight stock ARM cores ticking in the previous-gen SD 810 chip, on paper, the 820 scores 30% to 35% improvements in performance and power efficiency.
Likewise, the new Adreno 530 GPU is up to 40% faster than the Adreno 430 before it, and the processing units will be paired with 4GB of the fastest and most power-efficient LPDDR4 RAM there is. The chip also features Qualcomm's Quick Charge 3.0 technology, which will inevitably decrease the time it takes to charge the G5's big battery.
Storage-wise, the base model LG G5 will probably ship with 32GB of expandable flash memory. We aren't so sure whether LG will ship other storage size variants, or not, given that the LG G4 was only sold with 32GB of memory.
Iris scanning biometric security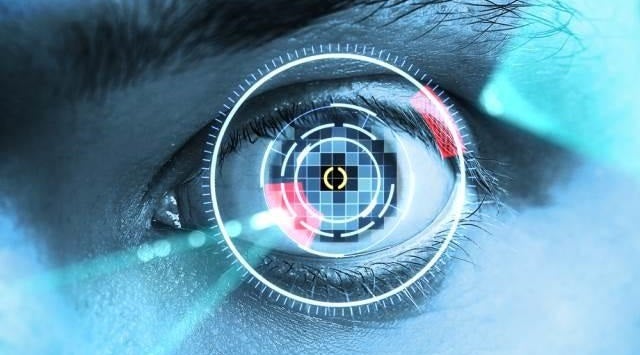 The presence of iris scanning biometric security is among the most persistent, and also plausible rumors surrounding the LG G5. We remember
hearing something like this about the Galaxy S5 and the LG G3
months before their introduction last year. Back then, it sounded straight up sci-fi, but in 2015, iris scanning is already a thing in consumer-grade electronics.
This year,
Fujitsu
and
ZTE
became the first to ship smartphones with optical security (in Japan and China, respectively), but it was really Microsoft to break it out globally with the
Lumia 950
and 950 XL. We are fond of how quickly and reliably the iris scanner works in the Windows 10 hero phones, so we're eager to see what LG could potentially make of it!
Anyway, what makes this rumor so believable?
Apparently, LG has been working with fellow Korean firm Irience
to develop an iris scanning module for a smartphone scheduled for the first half of 2016. In late May this year, we heard that the two had completed the hardware part of the project, and will keep striving for other goals, such as increasing the iris recognition range from 12in (30cm) to at least 20in (50cm).
Curious about the technology itself and how it may work in the LG G5?
Check out this article
we whipped up on the topic of eye scanning security.
Display
A 1440 x 2560 resolution IPS LCD screen with a purported size up to 5.6 inches is rumored, along with a 'ticker' display and "Always On" screen mode.
With the image below, LG confirmed that the G5's display has an "Always On" mode, which will let users see incoming notifications (like missed calls, messages, or emails) without turning the entire screen on. Also visible is the LG G5's outline, which seems to correspond with leaked renders, photos, and other materials.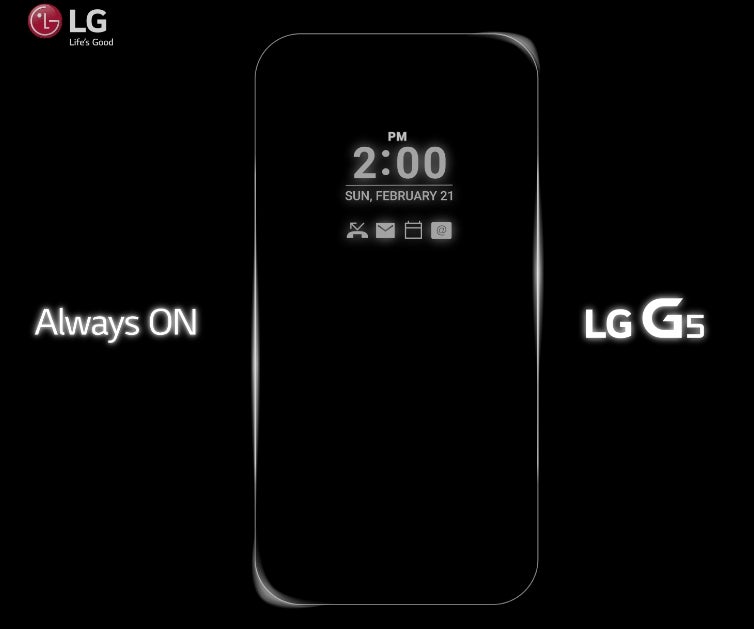 Still, one of the questions you might have on the LG G5's display is whether LG will make a leap towards 4K-resolution screens. We don't hold much hope for fans of absurdly pixel-dense displays.
According to a report from December 17 2015
, both Samsung and LG have decided that next year
may be too early to go all-out and ship 4K smartphones
. Instead, the two are said to focus on improving the power draw and outdoor visibility characteristics of their existing displays across the board, which sounds reasonable.
Thus, we expect the LG G5 will have a 1440 x 2560 resolution IPS LCD screen sized 5.6 inches by diagonal, which sounds a little odd, but still within the realm of possibility. Perhaps the size has something to do with the smartphone's new metal clothes and maximizing the screen-to-body ratio? Hopefully, that's the case!
There's also that smaller question you may be having. Will the LG G5 feature an auxiliary display playing "partner" with the main screen (as seen in the LG V10)? We're not 100% positive on this one, as we're yet to see it make an appearance.
Camera
A 16MP + 8MP dual rear cam setup, and an 8MP front cam, along with whatever crazy new tech LG may come up with.
The LG G4 won
a fair bit of praise for its competent 16MP camera
that came with features such as manual mode, laser auto-focus, and color spectrum sensor. The subsequent LG V10 literally doubled down on its momentum with a
dual front camera setup
, designed to take the ultimate group shots. The LG G5 is expected to employ a dual camera setup — a 16MP cam + 8MP cam, according to a credible source who had access to a prototype unit. The dual camera is visible in the leaked photo below. It appears surrounded by a dual-LED flash and laser auto-focus. Meanwhile, the front camera will probably stay at 8MP.
What does a dual camera do, though? For starters, dual-lens cameras come with tangible improvements in low-light image quality, the option to adjust focus after you capture an image, and clever computational photography effects like the ability to easily remove someone or something from a picture without destroying it. There's plenty more in the same bag of tricks, though. Feel free to
read up on the various dual camera technologies in development and their abilities
.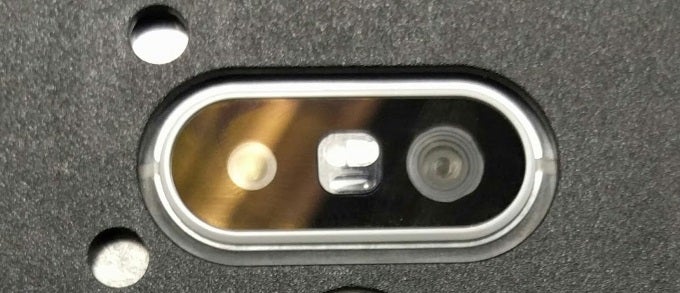 Camera, times two.
Release date and price
A Feb 21 launch at MWC 2016 in Barcelona, price tag about $600.
The LG G5 is slated for an announcement on Feb 21 at MWC 2016 in Barcelona
. Korean news outlet ETNews claims that LG is pushing to release the phone right after the announcement, and may have already started initial production of the LG G5 to fulfill timely shipments.
Check out this table for a brief timeline of LG G-series handsets' announcements:
| | |
| --- | --- |
| Model | Announcement date |
| LG G2 | 8/7/2013 |
| LG G3 | 5/27/2014 |
| LG G4 | 4/29/2015 |
| LG G5 | 2/21/2016 |
With regards to pricing, all the premium design materials and hardware components featured in the smartphone will probably place its price tag in the flagship smartphone segment, which is around $600.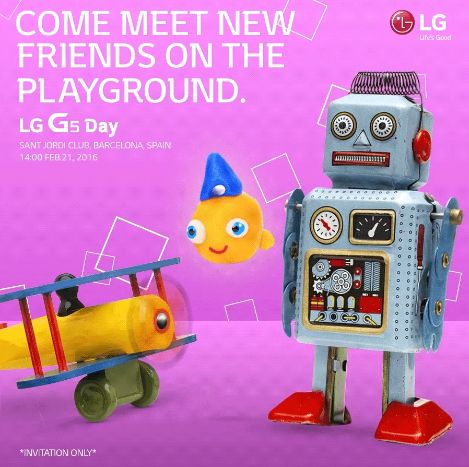 LG's invite for the LG G5 announcement event.
Here's even more LG G5 coverage: