The LG G5's rumored iris scanner security makes fingerprint reading sound so 2015
25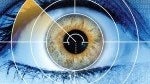 The latest reports on LG's doings suggests you should keep your eyes wide open for next year's LG G5, as the Koreans' next hero phone will most likely come with iris scanning security! Reportedly, LG has been working with Korean-based biometrics firm Irience to integrate iris recognition technology in the G5, which is scheduled for 2016's first half. It is said that Irience has already completed work on the hardware module which will go into the smartphone, and is now polishing its algorithms to increase the recognition range from 12in (30cm) to a cool 20in (50cm).
LG has adopted differentiating its smartphones' design and functionality as its own tactic of competing, and it has been showing throughout its G-series line-up for the past three years. Back panel button placements and reduced screen bezels adorned the LG G2 & LG G3. The LG G4 eschewed the prevailing metal and glass design tendency for the organic touch of genuine leather. And now, it looks like the LG G5 will sidestep the competition's fingerprint recognition security with a futuristic-sounding iris scanner.
Beyond doubt, eye scanning is more secure than fingerprint reading, which already offers a very strong level of protection. The big elephant in the room is the implementation, or whether eye authentication could work at least as seamlessly as Apple and Samsung's technology across complicated usage scenarios. Imagine fumbling around with your phone's iris scanner to authorize a payment in a crowded line at the supermarket, busy and in less than stellar lighting conditions. Not a very enthusiastic proposition, is it? These are the kind of challenges that Irience and LG must be hard at work tackling as we speak.
Then again, iris scanning isn't exactly new for smartphone makers. Apple and Samsung have been working to bring the technology to a consumer-ready state for a number of years, while Asian manufacturers, such as
ZTE
and
Fujitsu
, have already made their low-key debuts in the field. There's plenty of expertise to draw upon, and the possible fact that LG — a significant and reputable smartphone maker — is considering iris scanning as a technological highlight for its next flagship product certainly makes for optimistic expectations. What do you think?
source:
WhoWiredWho
via
G For Games