Google Nexus 6 vs Samsung Galaxy Note 4 vs Apple iPhone 6 Plus: specs comparison showdown
38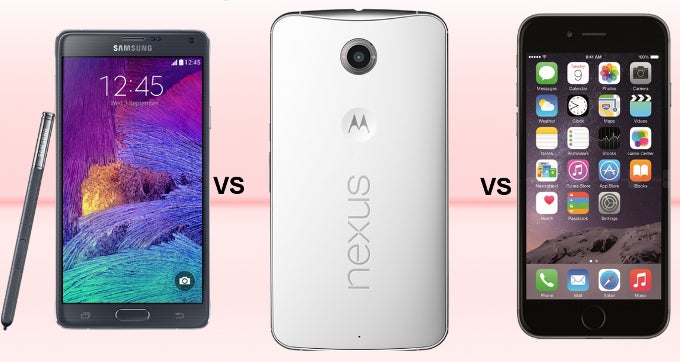 The
wait is over
! The new member of the Nexus line of devices has broken cover at long last – the Google Nexus 6 is here, hot out of the oven, and it is really a beast and each and every aspect. It has not only greatly grown in size with comparison with last year's Nexus 5, it is also packing mind-boggling hardware specs that can easily dwarf almost each and every representative of the current flagship crop you might through at it (except for the
Samsung Galaxy Note 4
, that is).
The latter is poised to land on most of the major markets across the globe in two days' time and is already running circles around the Quad HD competition in terms of battery endurance, camera performance, and sheer hardware prowess. Meanwhile at Cupertino, we have the supersized
Apple iPhone 6
, which is the largest and most advanced iPhone the world has ever seen. Along with its smaller counterpart, the behemothy iPhone is already breaking records on the market.
Being among the hottest devices on the market at the moment, we couldn't help but put the trio in the ring and sound the gong. Yes, it's time specs comparison time!
Super AMOLED
AMOLED
IPS LCD
Scratch-resistant glass, Ambient light sensor, Proximity sensor
Scratch-resistant glass, Ambient light sensor, Proximity sensor
Oleophobic coating, Scratch-resistant glass, Ambient light sensor, Proximity sensor
Samsung Exynos 7 Octa 5433 (20 nm)
Qualcomm Snapdragon 805 APQ8084
Apple A8
Octa-core, 1900 MHz, ARM Cortex-A57 and ARM Cortex-A53, 64-bit
Quad-core, 2700 MHz, Krait 450
Dual-core, 1400 MHz, Cyclone ARMv8-A 2nd gen., 64-bit
Mali-T760 MP6
Adreno 420
PowerVR GX6450
32GB
64GB
128GB, not expandable
Android (6.0 Marshmallow, 5.1 Lollipop, 5.0 Lollipop, 4.4), Samsung TouchWiz UI
Android (7.1 Nougat, 7.0 Nougat, 6.0 Marshmallow, 5.1 Lollipop, 5.0 Lollipop)
iOS (12.x, 11.x, 10.x, 9.x, 8.x)
Qualcomm Quick Charge 2.0
24.00 hours
the

average

is 11 h (660 min)
13.8 days (330 hours)
the

average

is 29 days (688 h)
16.0 days (384 hours)
the

average

is 29 days (688 h)
20.00 hours
the

average

is 0 h (0 min)
24.00 hours
the

average

is 0 h (0 min)
3G: 12 hours; LTE: 12 hours; Wi-Fi: 12 hours
14.00 hours
10.00 hours
14.00 hours
Single camera
Single camera
Single camera
16 MP (OIS, Autofocus, BSI sensor)
8 MP (Sapphire crystal lens cover, OIS, PDAF, BSI sensor)
Aperture size: F2.2; Focal length: 31 mm; Sensor size: 1/2.6"; Pixel size: 1.12 μm
Aperture size: F2.0
Aperture size: F2.2; Focal length: 29 mm; Sensor size: 1/3"; Pixel size: 1.5 μm
3840x2160 (4K UHD) (30 fps), 1920x1080 (Full HD) (60 fps)
3840x2160 (4K UHD) (30 fps), 1920x1080 (Full HD) (30 fps), 1280x720 (HD) (30 fps)
1920x1080 (Full HD) (60 fps), 1280x720 (HD) (240 fps)
OIS, Continuous autofocus, Picture-taking during video recording, Video calling, Video sharing
OIS, Time-lapse video, Continuous autofocus, Picture-taking during video recording, Video calling, Video sharing
3.7 MP
2 MP
1.2 MP
2560x1440 (QHD) (30 fps)
1920x1080 (Full HD)
1280x720 (HD)
6.04 x 3.09 x 0.33 inches (153.5 x 78.6 x 8.5 mm)
6.27 x 3.27 x 0.40 inches (159.26 x 82.98 x 10.06 mm)
6.22 x 3.06 x 0.28 inches (158.1 x 77.8 x 7.1 mm)
6.21 oz (176.0 g)
the

average

is 6 oz (171 g)
6.49 oz (184.0 g)
the

average

is 6 oz (171 g)
6.07 oz (172.0 g)
the

average

is 6 oz (171 g)
Back: Plastic; Frame: Aluminum
Back: Aluminum
Fingerprint (swipe)
Fingerprint (touch)
Notification light, Touch sensitive control keys