Did LG just pull a Samsung? LG Optimus G specs review and comparison vs Samsung Galaxy S III vs HTC One X
99+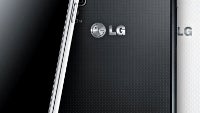 In contrast, the NTT DoCoMo Optimus G L-01E version in red and black that you see on the left doesn't seem to sport the same "polarized glass" cover LG touts, but in Japan flagship phones have to answer to different standards, like being waterproof, for example.
The handset will sport a 13MP sensor, with the only others with such resolution being the Exmor RS phones of the Sony Xperia lineup, like the Xperia GX, and the upcoming Xperia T flagship. This can also explain the compact body of its new Optimus further, as Sony utilizes a "stacked" sensor tech with the 13MP unit, saving space for other components. NTT DoCoMo, however, lists the camera as 13.25 with 13.13 effective megapixels, which leans towards the IMX135 Exmor RS sensor, that Sony quotes to be with exactly 13.13MP effective as well, and is done with 1.12 micron pixel technology, just what LG says is in the Optimus G.
In certain markets, the fine print reads in the video above, the Optimus G will be launched with an 8MP unit, and coincidentally Sony also makes an 8MP Exmor RS sensor, but in the US we will most likely get the 13MP versions.
The Korean LG Optimus G will ship with Android 4.0 Ice Cream Sandwich, says the press release, and we don't know if Jelly Bean will be onboard yet for the global rollout later. The added value in the Optimus UX overlay will be in the following features:
If LG has managed to finally escape the stigmata of subpar cameras and wimpy loudspeakers of its flagship handsets with the Optimus G, it has every chance to turn what is already the best-spec'd Android phone on paper, into a truly formidable device that others, including Samsung, will have to look up to this holiday season.
Using premium materials like glass in an extremely compact body is already a huge step forward in Android land, not to mention the 2GB of RAM and 32GB internal memory form the get-go, so we can't wait to obtain a review unit of the LG Optimus G, and put it through its paces to determine if this new "vertical integration" strategy will put it LG on the Android map with a vengeance. What do you think about the Optimus G so far?
Recommended Stories