LG says the hard times with in-cell touchscreen production are behind it, Tim Cook nods approvingly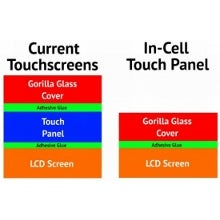 Apple's next iPhone is
widely rumored to sport an in-cell touchscreen technology
that fuses the touch layer into the glass, making the screen thinner and improving backlight throughput for increased brightness.
Now LG display's CEO confirmed in a statement for reporters that all is well in integrated touch layer land, and LG has been mass-producing such screens with vengeance since the beginning of August: "
We had some hard times (in developing the new in-cell technology) at first...but it seems those hard times have finally ended. The in-cell technology is the industry's latest development. (But) we will be able to supply the panels without any fail.
"
That's good to know, and it seems that Japan Display Co. - a government-backed joint venture of Sony, Toshiba and Hitachi - has been the good student here when it comes to implementing the new display technology. Samsung's Super AMOLED screen technology already uses the same approach, allowing for the incredible thinness of devices such as the
Galaxy S III
biggie.