Xiaomi Phone 2 announced - the first with quad-core Snapdragon S4 Pro tops Quadrant, is just $310
59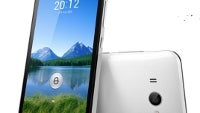 UPDATE:
Sample shots from the 8MP rear camera added in the slideshow below, Xiaomi claims they haven't been modified in any way.
Xiaomi Phone 2
finally launched with great fanfare and amidst great anticipation, as it is intended to show that
China can not only make cheap and cheerful knockoff Androids
, but issue groundbreaking handsets that won't make you raid your kid's college fund. too.
The specs are literally breathtaking, as the Xiaomi Phone 2 indeed utilizes the rumored
quad-core Snapdragon S4 Pro APQ8064 chipset
, which is so powerful, that it is actually intended for tablet use. The guys didn't stop here, though - they slapped a 720p 4.3" IPS-LCD display for 342ppi pixel density, and added 2GB of RAM to ensure Android 4.1 Jelly Bean with a MIUI overlay is running smooth with many apps loaded in the background. As for wireless, the handset supports 850/1900/2100 MHz UMTS and has a 42Mbps HSPA+ radio, which means T-Mobile is left out of the downloading party should someone import it.
There is a back-illuminated camera sensor on the rear, seemingly the same 5-element lens that is in the iPhone 4S and Galaxy S III, but the stock battery seems somewhat wimpy at 2000mAh for all that might. This can be easily remedied, since the company will sell a version of the Xiaomi Phone 2 with 3000mAh juicer that will add 2mm to the thickness of the device, not exactly a dealbreaker, although it will bring the device to 12mm, which is on the chubby side these days. The slim 3.9mm side bezel is also touted in the slideshow below, comparing it as the thinnest from the flagships on the market.
The whole premise is that this compelling components package comes in an affordable manner, and the $310 price equivalent certainly puts the big guys Samsung and Apple flagship smartphone pricing to shame. Such price tag certainly won't allow the Xiaomi team buy yachts and Hampton mansions any time soon, but is likely to make them heroes in the eyes of their Chinese customers, and
that smartphone market will be the largest in the world
for the foreseeable future. Availability for the device is slated for October, and by that time it might be battling
S4 Pro phones from more established smartphone makers
, which, however, are likely to be much more expensive.
source:
Xiaomi
via
Engadget
Recommended Stories