Apple's new iPad graphics benchmarked, beats every mobile device out there
99+
We just noticed that the GLBenchmark
2.1
scores of the new iPad have appeared in the top 5 list of the graphics performance measurement software, perhaps uploaded by those same
Vietnamese guys that did the first unboxing today
.
We kid, but it is referred to as Apple iPad 3 and, needless to say,
occupies the top spot
, which all but confirms our
new iPad specs review suspicion
that the "quad-core graphics" Apple bragged about at the unveiling are none other than the mighty PowerVR SGX543 MP4 chip.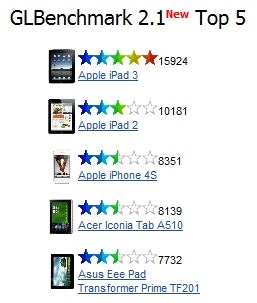 NVIDIA argued
that the claim "the new iPad's graphics are 4x those of Tegra 3" Apple threw out at the announcement is not substantiated by anything, but now we have something more tangible to lean on. Well, it's not 4x, and yet 2x faster than Tegra 3 in a synthetic benchmark is still pretty impressive.
We can only imagine what will happen with gadgets that use the
recently announced Series 6 of PowerVR
that has 20x the performance of the Series 5 in the new iPad at 5x less energy consumption.
These PowerVR Series 6 GPUs from Imagination Technologies will likely be appearing in phones and tablets next year at the earliest, though, so for now the new iPad takes the graphics cake.