Deal: Samsung Active InEar headphones are on sale for only $12 (60% off) on Amazon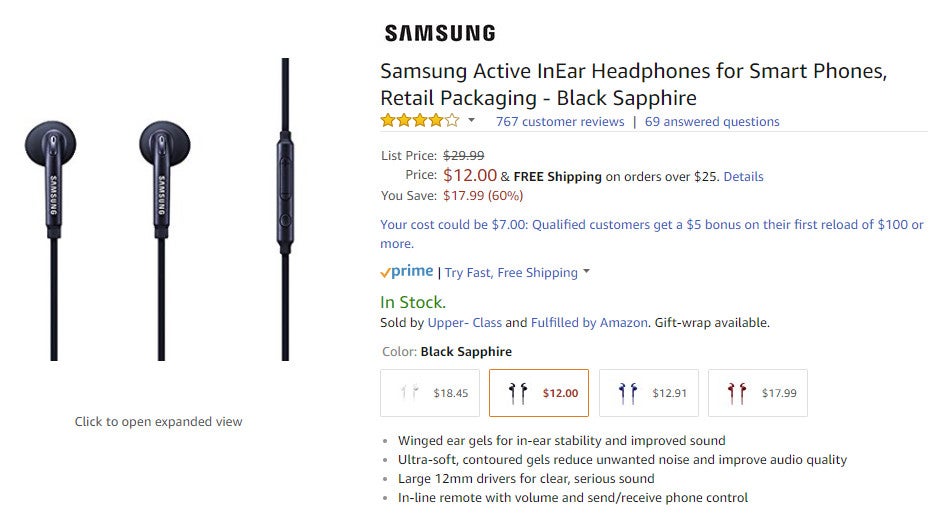 Samsung's Active InEar headphones for smartphones are getting cheaper with each passing month.
Three weeks ago
, the earphones went on sale at Amazon for just $14.50, but if you missed that deal or decided that it's still a little bit too much to pay for them, you're in luck.
Amazon is running another sale on the Samsung Active InEar headphones, but this time the retailer has slashed 60% off the MSRP. Basically, you'll be paying just $12 for the earphones, which usually cost around $30.
There's a catch though: only the Black Sapphire variant is discounted by $18. The next best deal would be to get the Blue version, which costs $12.91. Then, there are the Red and White color options up for grabs for $17.99 and $18.45, respectively.
If you're an
Amazon Prime customers
, you'll also get free shipping. On top of that, qualified customers receive a $5 bonus on their first Amazon.com gift card balance reload of $100 or more, so you might end up paying just $7 for the headphones. Crazy, right?