Best smartphone cameras compared: HTC U Ultra vs Galaxy S7 edge, iPhone 7 Plus, LG G6
85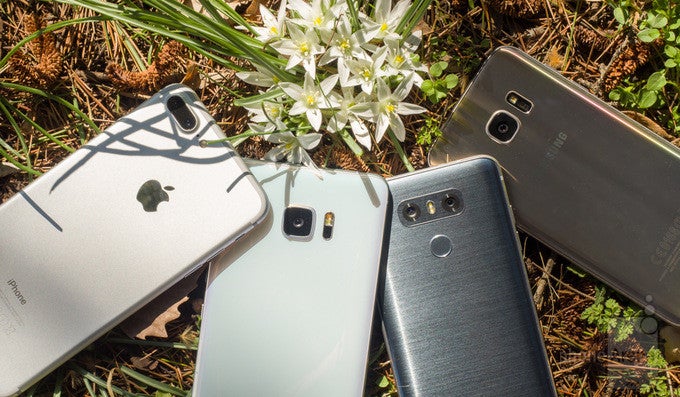 Not long ago, we had the pleasure of reviewing the
HTC U Ultra
– the company's most-recent high-end phone. Long story short, it does not quite tick all the right boxes a $750 phone should, but the flashy design does impress, and the camera performed pretty well during our testing. Now it is time to focus on that main 12MP shooter the
U Ultra
boasts – more specifically, to compare it against some of its rivals.
For the purposes of this camera comparison, we took the HTC U Ultra, the
Galaxy S7 edge
, the
iPhone 7 Plus
and the
LG G6
out for a camera shootout. We're about to comment on the photos that they produced in just a moment, but before we get to that, let us take a look as the cameras' specs.
Camera Specs
HTC U Ultra
LG G6
Galaxy
S7 edge
iPhone 7
Plus
Resolution,
aspect ratio
12MP@4:3
4096x3072px
13MP@4:3
4160x3120px
12MP@4:3
4032x3024px
12MP@4:3
4032x3024px
Sensor and
pixel size
1/2.3"
1.55μm
1/3"
1.12μm
1/2.5"
1.4μm
1/3"
1.22μm
Aperture
F1.8
F1.8
F1.7
F1.8
Focus and
stabilization
PDAF
Laser AF
OIS
PDAF
Object track
OIS
Dual-pixel AF
Object track
OIS
PDAF
OIS
Looking at megapixels alone, the 13MP LG G6 might appear to be a step ahead of the rest, but as we've said many times before, megapixels are far from all that matters in a camera. The HTC U Ultra, for example, has the advantage of packing the largest sensor with the physically largest pixels. In plain words, this should let it absorb more light more easily and with less noise. At the same time, the
Galaxy S7 edge
has the widest aperture, which should give it a boost in low-light performance. And after that theoretical overview, let us proceed by examining some actual samples.
The photos in the galleries below have been scaled down from their full resolution to make them load faster. Full-resolution images are available at the end of this article.
The LG G6 used in this comparison is a pre-production unit running close-to-final software.
The Galaxy S7 edge is running the Android 7.0 Nougat update.
Scene 1: The rusty ride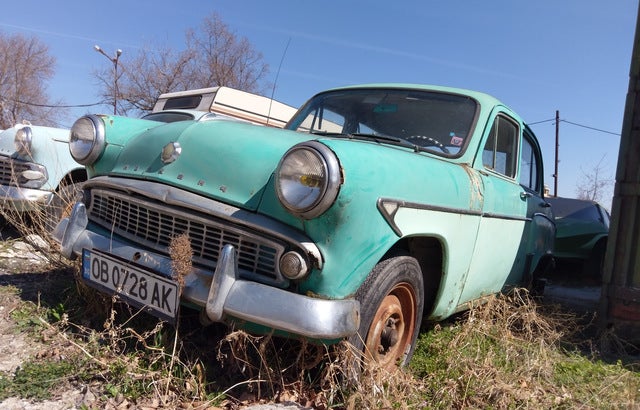 This is a scene I wanted to include because it visualizes a common conflict – realistic images aren't always the ones that look best to the average viewer. To be more specific, the image out of the HTC U Ultra appears bland compared to what the other three cameras deliver, even though it is a more accurate representation of what my eyes could see then and there. Looking at the images out of the Galaxy S7 edge and LG G6, I see that contrast, saturation, and sharphess have all been given a boost, and honestly, I'd be okay with that if I was simply sharing that photo on social media for the likes (as most people surely would). The iPhone has taken things a step further by adding a dose of warmth to the image – something that Apple's cameras tend to do.
So all in all, the HTC U Ultra is off to a good start, even though its image isn't quite as attention-grabbing as the others. But it looks like it will be facing some serious competition throughout the rest of this comparison.
Scene 1: score
Galaxy S7 edge
7.5
LG G6
7.5
HTC U Ultra
7.0
iPhone 7 Plus
6.5
Scene 2: The darling daffodils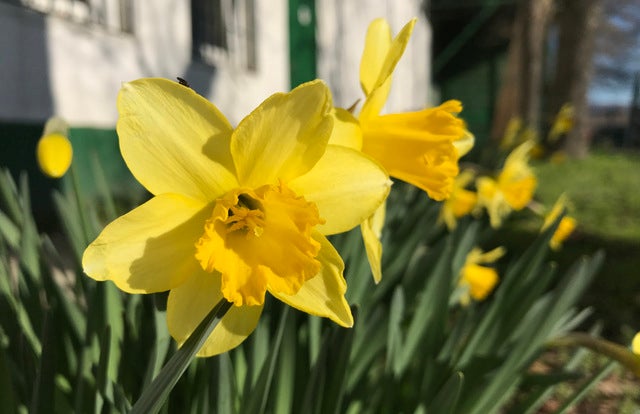 It is easier to pick a favorite in this next scene, and that would be the
iPhone 7 Plus
. The reasons: first of all, colors are spot-on, with the natural warmth of the morning sun captured quite well. Also, I really like how the phone managed to capture the whole flower in focus, while parts of it are blurry in other shots due to the shallower depth of field of the other cameras. As for the HTC U Ultra, it is also delivering great results, especially when it comes to color reproduction. While the photos out of the Galaxy S7 edge and LG G6 are okay, I see an excessive amount of green in them.
Scene 2: score
iPhone 7 Plus
8.5
HTC U Ultra
8.0
Galaxy S7 edge
7.0
LG G6
7.0
Scene 3: The monolithic mansion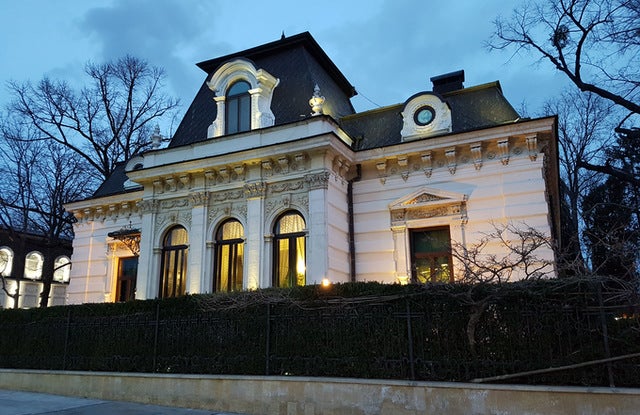 Remember that part in the beginning where I said that larger camera sensors with larger pixels could prove an advantage in low light? Here's a set of shots that support my words. Zooming in on the photo out of the U Ultra and S7 edge, both of which lead in that respect, reveals more detail, as can be seen more clearly in the draperies and the ornaments on the building's facade. But as a whole, all four images look more than acceptable.
Scene 3: score
Galaxy S7 edge
7.5
HTC U Ultra
7.0
iPhone 7 Plus
6.0
LG G6
6.0